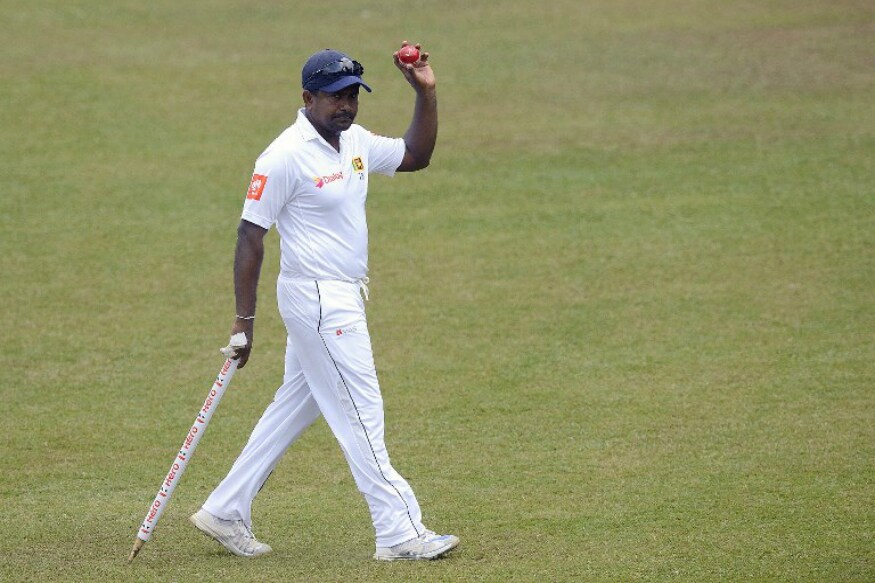 It was the summer of 2009. The 31-year-old Rangana Herath was playing club cricket for Moddershall Cricket Club in England. He was dropped after just two Tests the previous year, which too had come after a gap of three years. Muttiah Muralitharan was still around, and younger spinners like Ajantha Mendis and Suraj Randiv were arriving on the circuit in Sri Lanka.
In the nine years prior to that, Herath had played only 14 Tests picking up 36 wickets. Hopes of a comeback might have been fading away, when his phone rang one fine afternoon.
"It was Sanga," Herath would recall to cricbuzz more than eight years later. "He asked, 'Are you in good shape? Are you prepared to play a Test match?"
There was less than two days' time for Sri Lanka's home series against Pakistan to begin, and Muralitharan had hurt his knee. Herath was in Stoke-on-Trent, around 270 kilometres away from London. He said yes, and then had to figure out how to reach Galle within 48 hours.
"Even if I took a taxi, it would take me some five hours to get to London," he said. "I was trying to see whether I could take a flight from Manchester, but that wasn't possible as there were no connecting flights. Then I decided to go to London to get the direct flight to Colombo. I managed to do it. It was touch and go though. I think I would have reached the airport only by 8:00PM or so."
Within a week of that phone call, Herath had the Man of the Match award in his hands. Pakistan began the fourth day on 71 for 2 chasing just 168, but were bowled out for 117 with Herath picking up 4 for 15. It changed Herath's life, and gave hope that Sri Lanka wouldn't have to worry about post-Muralitharan life.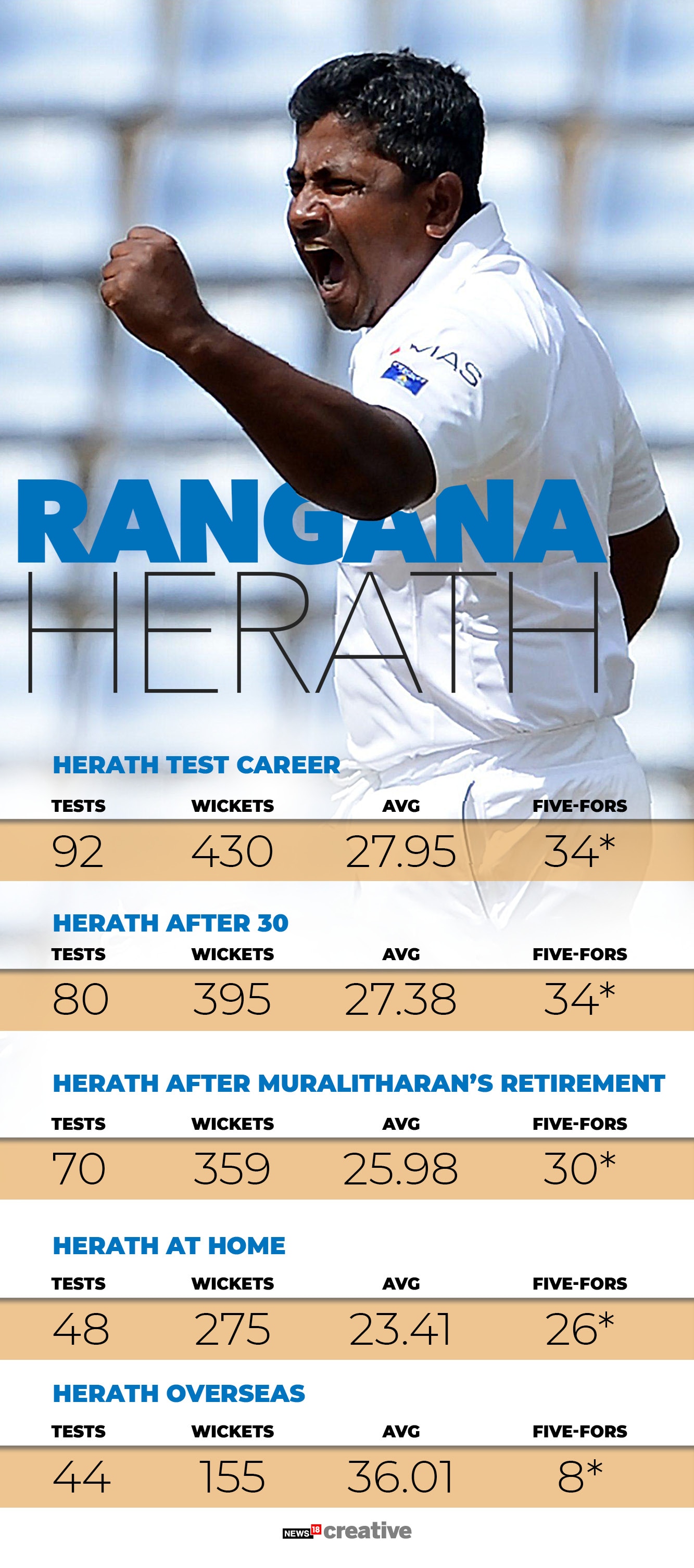 Those hopes became stronger with each passing year. In less than two years of Muralitharan's retirement, Herath bowled Sri Lanka to their first ever win in South Africa picking up nine wickets in Durban 2011. He improved on it by becoming the highest wicket-taker in 2012, picking up 60 wickets.
Gradually, Sri Lanka began losing stalwarts like Tillakaratne Dilshan, Mahela Jayawardene and Kumar Sangakkara too. Herath was one day away from turning 37 when Sangakkara retired, his dodgy knees giving up on him with every passing Test. Even that didn't stop him from bowling Sri Lanka to victories and keeping them afloat. That Sri Lanka are placed sixth (and not below) in the Test rankings is mainly because of their tireless left-arm spinner.
A whopping 230 of Herath's 430 Test wickets have come after he turned 35, a record in cricket. If he picks five wickets in his final Test, he'd have 400 Test wickets after turning 30.
Herath, with a pot-bellied frame, wasn't the fittest of cricketers in the world circuit. But he certainly was among the most skilful. He had extreme control, and used subtle changes in pace and flight to deceive batsmen. He even had a carrom ball, which would skid and turn back in to the right-handers.
These skills were close to unplayable at home, where Herath has 275 wickets from just 48 Tests. But his performances outside home were excellent too. He has played a big part in historic wins in South Africa (2011) and England (Leeds, 2014). Even in Sri Lanka's tour of Australia in 2012-13, Herath was the lone bright spot picking up 12 wickets from three matches. Overall, he has been a part of seven wins/draws in SENA (South Africa, England, New Zealand and Australia), picking up 57 wickets from 21 matches.
What makes Herath's achievements unparalleled is that he had no big names for support at the other end. Top wicket-takers around the globe often hunted in pairs. Stuart Broad and James Anderson. Anil Kumble and Harbhajan Singh. R Ashwin and Ravindra Jadeja. Dale Steyn and Morne Morkel. Wasim Akram and Waqar Younis. Shane Warne and Glenn McGrath. Muralitharan and Chaminda Vaas.
Herath bowled with Dhammika Prasads, Nuwan Pradeeps, Suranga Lakmals, Lakshan Sandakans and Dilruwan Pereras.
Herath was predominantly a Test specialist, but had his moments in other formats too. The most impactful of them all came in Sri Lanka's final group match in the World T20 2014, when he stunned New Zealand with 5 for 3. Sri Lanka had been bowled out for just 119, but Herath skittled out New Zealand for 60 to help them qualify for the semifinals. Sri Lanka ended winning the tournament for the first time ever.
Rather fittingly, Herath will call time on his career in Galle. It was where he made his debut in 1999. It was where he made a comeback in 2009. Overall, Herath has 99 wickets at the venue.
Galle is where Muralitharan played his last Test too. Sri Lanka have played 81 Tests since then and won 27. Herath has been a part of 26 of those victories.
It's time for Sri Lanka to worry about post-Herath life.