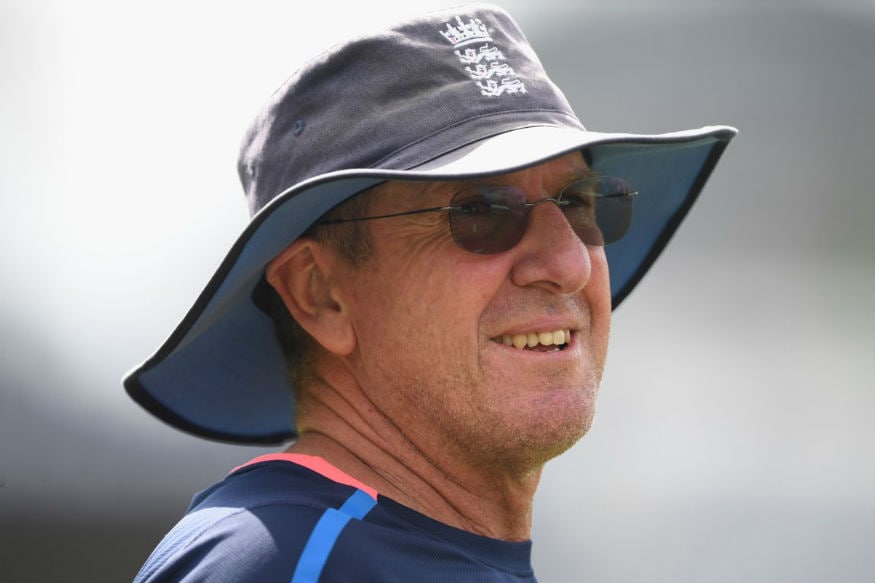 After completing the series win against Sri Lanka in Pallekele in the second Test, England coach Trevor Bayliss believes his side benefitted from their new bold approach towards team selection.
Bayliss, who had coached Sri Lanka from 2007-11, was finding it difficult to transfer the success in white-ball cricket to the longer format and said that he felt liberated after England secured their first overseas series win in three years and a second in Sri Lanka since 2000/01.
"Obviously it can be very difficult to come here and play a team in their home conditions, but it's been a fantastic effort by all 11 players," Bayliss was quoted as saying by Sky Sports.
Their last visit to Asia saw them return home shattered after drawing the series against Bangladesh and being drubbed 4-0 by India. On this trip however, Bayliss and co. followed the 'horses for courses' cliché as they left senior fast bowler Stuart Broad on the sidelines in spinner-friendly conditions and asked the batsmen to stay positive in their methods.
"I think the fact that we have gone in a little differently has shown that, in past series we've talked about possibly playing different combinations but when it's got to it we haven't," said Bayliss. "But on this occasion we said 'no, look, it's time to actually play the conditions', and if that means some good players miss out then, unfortunately, that's the way it goes."
The coach insisted that the performance on this tour was a complete team show before adding that the newer players had benefited from having the senior pros around and were starting to settle into their roles well too.
"Jonny Bairstow and Stuart Broad have been fantastic behind the scenes," he said. "The work they've done as 12th men is very significant. It's been very much a team effort
"Both Rory [Burns] and [Ben] Foakes, they are only playing their second Tests, but they looked so calm, they looked like it was their 30th or 40th, which is a great sign going forward. They might have been feeling a bit more underneath but outwardly they were very confident, and that sends a message to the opposition."
The coach was also effusive in his praise for skipper Joe Root's second innings century in Pallekele that helped him secure the Man-of-the-Match award after he had helped England post a defendable total
"It was right up there, especially in these conditions, which were something completely different to what he's faced before," said Bayliss. "He was under a bit of pressure of wanting his players to go out and play that way, so it was a great innings. He was probably a little bit nervous early on, but once you got in on this wicket, it wasn't impossible to play, which we saw from a number of players getting 50s and 60s in this match. But the wicket was hard to start on so credit to him."
Bayliss was also very impressed by spinners Moeen Ali, Jack Leach and Adil Rashid as they took 19 wickets and set a national record to complete a comprehensive win.
"In the first innings we were a bit below par, with not enough balls in the right area, but we spoke about that and, under pressure to perform in the second innings, they did a fantastic job.
"It's good to know that all the hard work from a coach's point of view pays off as well," he added. "We certainly don't have to goad the players into doing anything extra, sometimes it's quite the opposite. But there were some brilliant catches."