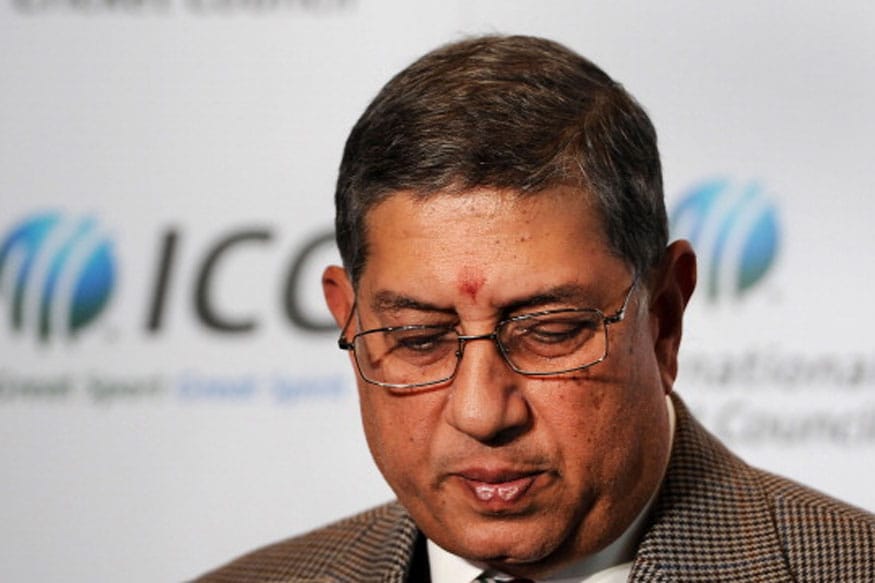 New Delhi: Former BCCI president N Srinivasan on Saturday called upon the BCCI state units for dinner with suspense still continuing over whether he will enter the Special General Meeting, scheduled here on Sunday.
As per Supreme Court order, if the 72-year-old Tamil Nadu Cricket Association (TNCA) strongman takes part in the SGM, it could lead to contempt of court and violation of Lodha reforms.
The meeting could be then termed illegal and anyone signing the minutes of the meeting could be charged for contempt of court.
"I have to attend a meeting now. I will come here tomorrow," was all Srinivasan said as he left the five star facility where SGM is scheduled.
He was accompanied by close aide and current treasurer Anirudh Chaudhry.
Meanwhile, Supreme Court is scheduled to hear the COA plea seeking directive on BCCI's ICC nominee on Monday.
In another separate development, Justice (Retd) Vikramjit Sen has decided that under prevailing circumstances, no one from Delhi & Districts Cricket Association (DDCA) will be attending the SGM on Sunday.
"I am not attending the SGM neither have I authorised anyone from DDCA to attend the SGM under prevailing circumstances. And I don't see any reason to change my mind," Justice Sen said.
Acting president of BCCI C K Khanna will be attending in capacity of being a Board office bearer.
Some of the notable names attending the meeting are Sourav Ganguly (CAB), Avishek Dalmiya (NCC), Ranjib Biswal (Odisha CA) and Abhijit Kamat (Goa CA).
@media only screen and (max-width:740px) {
.quote-box{font-size:18px; line-height:30px; color:#505050; margin-top:30px; padding:22px 20px 20px 70px; position:relative; font-style:italic; font-weight:bold}
.special-text{font-size:24px; line-height:32px; color:#505050; margin:20px 40px 20px 20px; border-left:8px solid #ee1b24; padding:10px 10px 10px 15px; font-style:italic; font-weight:bold}
.quote-box img{width:60px; left:6px}
.quote-box .quote-nam{font-size:16px; color:#5f5f5f; padding-top:30px; text-align:right; font-weight:normal}
.quote-box .quote-nam span{font-weight:bold; color:#ee1b24}
}