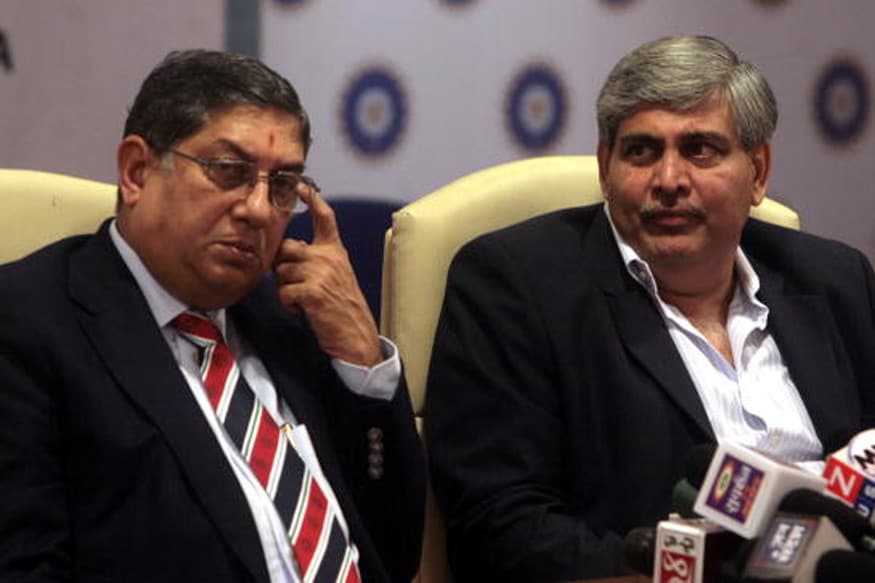 New Delhi: Around 10 loyalists of former BCCI president N Srinivasan engaged in a teleconference where the options of pulling out of the upcoming Champions Trophy and taking legal action against the ICC were discussed.
"It was brought to our knowledge that some of the officials were engaged in a teleconference and wanted to take a decision on the said matter. One needs to understand that this kind of a decision cannot be taken in haste," Committee of Administrators head Vinod Rai said.
A section of BCCI officials is eager to pass a resolution in favour of taking legal action against the global body headed by former BCCI chief Shashank Manohar.
Also Read: BCCI & COA Divided on Champions Trophy Pull Out After ICC Snub
In case the BCCI SGM decides on a pull-out, there is every possibility that COA will seek a directive from the Supreme Court.
With the ICC clipping BCCI's financial wings in its new financial model for the next eight years, the Indian board is contemplating pulling out of the Champions Trophy unless the ICC agrees to pay them USD 450 million. But the COA believes that it is not a feasible option as that could hamper the future of not only Indian cricket, but also the IPL.
Speaking to Cricketnext, a senior BCCI official who was present in Dubai during the meeting had said that the board has no option but to pull out of ICC events because the current revenue promised to BCCI — $293m — is just not acceptable and agreeing to that would set a wrong precedent for the future.
"We realise that pulling out of the Champions Trophy would also mean pulling out of the future ICC events, including the World Cup as per the Members Participation Agreement (MPA). But we have our back against the wall and there is no option left with us because to come down from $571m to $293m is just not possible.
Also Read: ICC Still Open to Negotiate, Offers BCCI USD 390 Million
"Also, let me reiterate, it is not just about the money. We are also not willing to accept the changes in governance model. At the end of the day, it is about our country and the interest of Indian cricket which cannot be sacrificed under any circumstance. We had requested them to wait for 2-3 months, but Manohar took the opportunity to kick us when we are down," he said.
Asked if the BCCI is willing to accept the further $100 that the ICC is still willing to give BCCI — making the new revenue stand at $390m — the official had said: "Going into the meeting, Amitabh Chaudhary had in a very polite tone told them that an offer of $450 million would still put him in a position where he would return to India and convince the BCCI members. But ICC chairman Shashank Manohar refused to relent.
"We are not willing to accept anything less than $450 and also, there should be no change in the governance structure as I already told you. If that means pulling out of ICC tournaments we will, because according to the MPA, if the ICC changes the revenue or governance structure which BCCI is not keen on, the board can terminate the MPA."