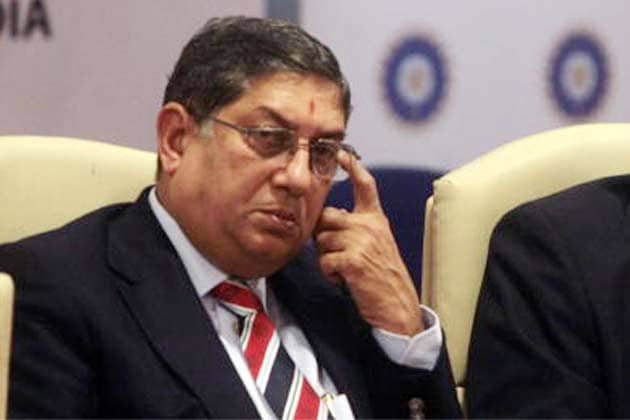 New Delhi: Barred by the Supreme Court to contest the elections, BCCI's president-in-exile N Srinivasan has called an informal meeting in Chennai on Thursday for some of the affiliated units to decide his future course of action.
"Srinivasan has called a meeting in Chennai on February 5 which can be called a core committee meeting of the closest associates. Obviously, the date of the AGM and future course of action will be decided on that day. We will also get a clearer picture about Srini's course of action on that day," a top BCCI member, who will be going to Chennai, told PTI on Monday.
While it is expected that key office-bearers like secretary Sanjay Patel, interim president Shivlal Yadav will be present at the meeting, a notable absentee might be joint secretary Anurag Thakur, who apparently has "not been intimated" about the meeting.
"Thakur will be busy as Delhi is going to polls on February 7 and there are lot of political commitments. But he did express his surprise that Srinivasan has not intimated him about the said meeting. He only came to know about it through another BCCI bigwig. He was taken aback as he is the sitting BCCI joint secretary, who is an executive functionary," a source very close to the BJP MP and president of Himachal Pradesh Cricket Association (HPCA) said.
The source also hinted that Thakur may no longer be a part of the Srinivasan camp after having been one of the important members of that faction.
"Anurag told a few of his close associates that probably Srinivasan didn't like his straight forward stance of telling him to "step aside" after the spot-fixing controversy and subsequent arrest of Gurunath Meiyappan happened in 2013. You can say that probably, he is no longer a part of the Srinivasan faction," the source added.
According to a top BCCI official, BCCI vice-president Rajiv Shukla, Assam Cricket Association's secretary Bikash Baruah have been invited by Srinivasan.
Shukla is among the contenders for the BCCI president's post if gets the support of the east zone units. However, till Monday evening, Cricket Association of Bengal (CAB) has not received any intimation about the Chennai meeting.
The Supreme Court, in its judgement on January 22, had ruled that "no individual with commercial interests will be allowed to contest the elections," meaning that Srinivasan cannot contest for the post of BCCI chief until he clears himself of conflict of interest.
The SC also served a directive to BCCI to hold its AGM and elections within six weeks of the judgement.
As per norms, before annoucing the date of the AGM, the BCCI needs to give three weeks notice to all members before the meeting. Effectively it means that Srinivasan and his associates will have to decide the date of AGM by February 12 as it has to be held within first week of March as per SC ruling.
The court ruled that Srinivasan will have to dissociate himself completely from Chennai Super Kings which also being probed by a Court-appointed three-member committee headed by ex CJI R M Lodha.
With committee being given six months time to decide on the quantum of punishment for CSK and Rajasthan Royals, it is practically impossible for Srinivasan to dissociate himself from the franchise within six weeks time and contest the BCCI polls.