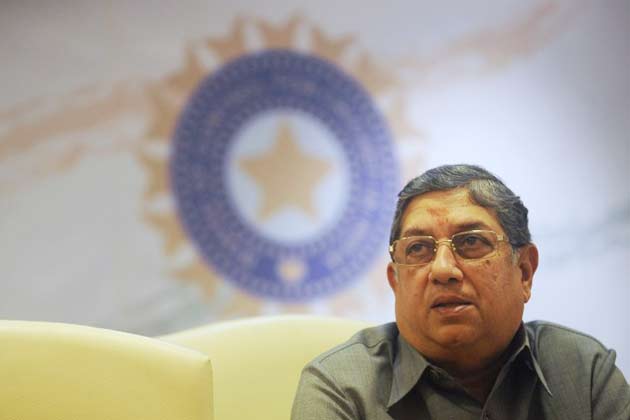 New Delhi: N Srinivasan might have stepped aside as the BCCI chief taking no part in the day-to-day functioning of the Indian cricket board, but as per a report in a leading daily, Srinivasan will attend the International Cricket Committee's (ICC) annual board conference to be held on June 26 on London.
India will oppose the proposed uniform implementation of the Decision Review System (DRS) at the meet and BCCI officials are keen on Srinivasan representing BCCI as he has been advocating again the uniform use of DRS from the start.
"Srinivasan will attend the meeting on behalf of the BCCI. He has been attending the meetings in the past and is a strong voice when it comes to opposing the decision review system," said a BCCI official as quoted by The Indian Express
On June 3, N Srinivasan had refused to resign as the BCCI president, but had agreed to 'step aside' till the board's internal probe into the IPL 6 controversy involving his son-in-law Gurunath Meiyappan is over.
BCCI's interim chief, Jagmohan Dalmiya, along with newly-appointed secretary Sanjay Patel and treasurer Ravi Savant will meet Srinivasan on Thursday in Chennai and it is expected that noen of them will oppose Srinivasan's decision to attend the ICC meeting.
Earlier in the week, Patel had stated that India will continue to oppose the uniform implementation DRS at the Annual Conference."It was a unanimous decision taken by the Working Committee that BCCI will be opposing DRS as we don't find it foolproof. If we have to change our stand then it needs to be ratified by the Working Committee which hasn't been done in this case. So the question of agreeing with DRS doesn't arise as it doesn't have the approval of the working committee," Patel had explained.