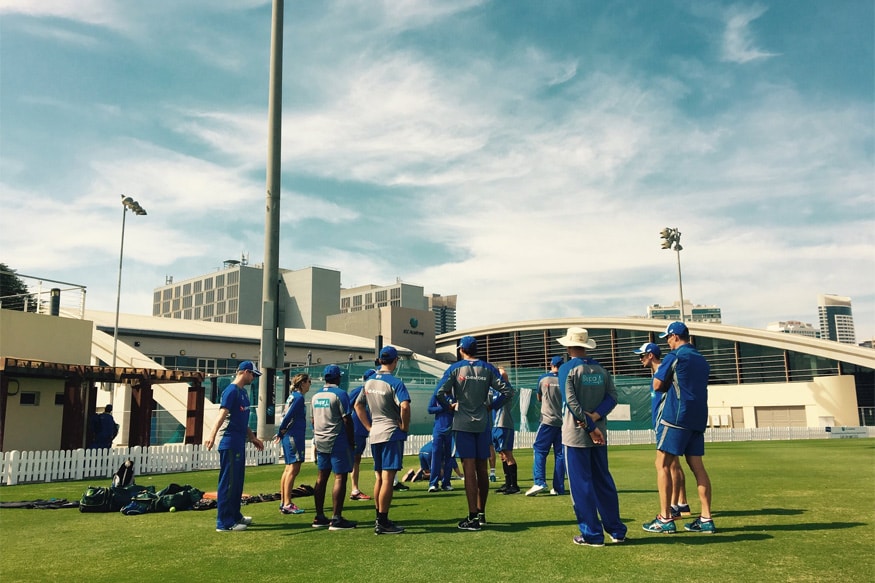 New Delhi: While the Indian team is gearing up to take on Bangladesh in the one-off Test in Hyderabad, the Australian team has reached Dubai and is preparing for the upcoming four-match Test series against Virat Kohli and his boys.
Steve Smith and his boys are training at the ICC Academy as they look to adapt to sub-continent conditions. The Test series will see Kohli trying to gain the upper-hand by unleashing the likes of R Ashwin and Ravindra Jadeja at the Australian batsmen on turning tracks.
"What they can do in Dubai is do a lot of different preparation with different types of pitches," Cricket Australia team performance boss Pat Howard had said.
"The ICC have done a really good job where they'll have different pitches of the cities."
Cricket Australia took to Twitter to post a photo of the boys training at the Academy and the caption read: "The Aussie Test squad getting ready to train in Dubai!"
The Aussie Test squad getting ready to train in Dubai! pic.twitter.com/ftPYjARFS6

— cricket.com.au (@CricketAus) February 6, 2017
Whitewashed 0-4 by India in their last tour in 2013, Smith and his boys will definitely look to put up a better show this time round.
In fact, skipper Smith had also posted a photo on Instagram talking about working on his injured ankle in Dubai as the team prepares for the tough test in India.
Former England skipper Kevin Pietersen had already sounded the warning bells for the Aussies and said that they shouldn't go to India if they are not ready for the spin challenge.
"You've got to learn to play spin quick," Pietersen told Cricket Australia's web site cricket.com.au in an interview.
"Learn to play spin very quick. If you can't play spin, don't even go.
"When you get there (India) you've got to practice it, and you can actually practice it here.
"I can do spinning drills in Australia, I did them on a South African wicket to make sure that my feet were going and picking length.
"You can, you don't need to be on a spinning wicket to play spin properly or practice spin, you can be on any type of wicket.
"It's about picking length, and picking lines and getting your feet going."
First Published: February 6, 2017, 3:25 PM IST