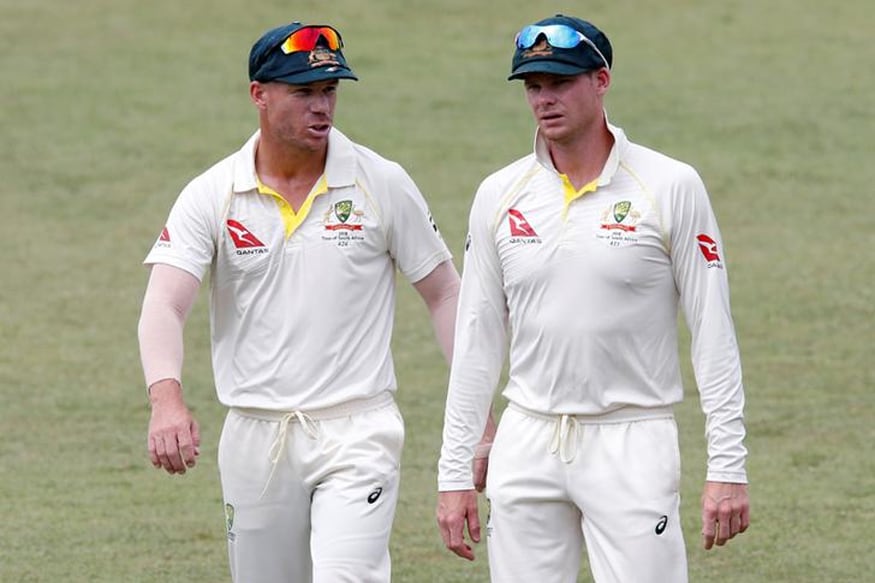 The misery and troubles aren't over yet for the tainted Australian captain Steve Smith as a Cricket Australia probe could yet cause him more pain along with the ICC's ban and fine. According to reports in The Guardian, Smith could be banned from representing his country for a year due to the ball-tampering controversy that has hit the Aussies while on tour in South Africa.
Smith, along with David Warner and Cameron Bancroft will be subjected to a probe led by CA CEO James Sutherland and the players are expected to learn their fate within the next 48 hours.
Reports suggest that the trio are unlikely to be part of the final Test match at Johannesburg. Warner and Bancroft both escaped ICC bans are unlikely to play any further part on the tour. Queensland openers Joe Burns and Matt Renshaw who are currently in the midst of a domestic game are on standby for the final Test match.
Cricket Australia, who on Tuesday morning will have Sutherland join Executive General Manager Team Performance Pat Howard and Senior Legal Counsel and Head of Integrity Iain Roy in the probe are under pressure from sponsors and the Australian Government to be 'strong and decisive' in their actions.
Earlier, in the aftermath of the ball-tampering incident coming out in the open, both Smith and Warner stepped down from their respective posts of captain and vice-captain of the team before the start of the fourth day's play in Newlands and Tim Paine took over the responsibility of leading the team.
Whilst Australia and the rest of the cricketing fraternity await the results of this internal probe, South African cricket writer Neil Manthorp expects both Warner and Smith to be flown back at the end of the probe with immediate effect.
As expected, Warner will join Steve Smith on an early plane home as soon as the Cricket Australia inquiry is concluded tomorrow evening. May be others...

— Neil Manthorp (@NeilManthorp) March 26, 2018
This is will be a huge body blow to the already demoralised Australians as they will be then without two of their best batsman in a Test they must win to draw the series.
Even though the spotlight at the moment is on Smith, the Sydney Morning Herald reports that Warner is unlikely to get away lightly from this incident because the plan was his brain child.
Incidentally, in the second Test in Port Elizabeth there had been close attention from local television broadcaster, SuperSport, on the bandaging on Warner's left hand and fingers, which he has broken repeatedly. Australian players though had strongly denied there was anything untoward taking place.