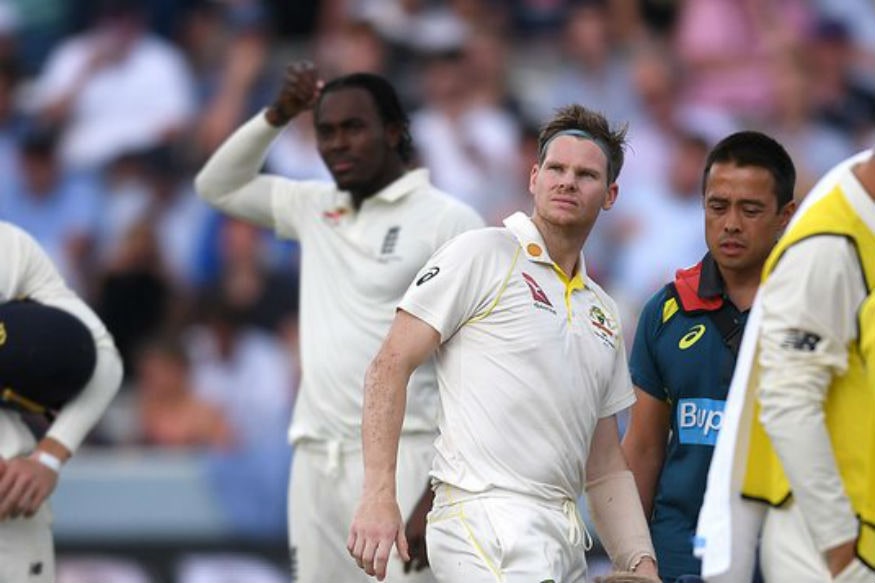 Every time one sees an image or a replay of Steve Smith copping a sickening blow the back of his neck from a 92.4 mph bouncer by Jofra Archer at Lord's, thoughts about concussion effects spring to mind.
Smith looked groggy and disoriented while walking off on Saturday, but soon was cleared to complete his innings. He added another 12 runs before being dismissed and then woke up the next morning dizzy, forcing the management to withdraw him from the Test.
The brain injury charity Headway, according to a report in The Guardian, said Smith should not have returned to the pitch after his "brutal" injury, because a quick off-field test by a team doctor was not always able to diagnose a concussion and a second blow to the head could have led to extremely severe consequences.
"What this incident highlights is that no test for concussion is foolproof," Headway's deputy chief executive Luke Griggs said. "The signs can be delayed for several hours and sometimes even a couple of days. You cannot take any risks with concussion, which is why we have always said that all sports have to take an 'if in doubt, sit it out' approach."
Initial tests did not show any signs of trouble and Smith who says he felt 'normal' went back out into battle.
"When I came off the ground the results were normal," he said. "I passed all the tests and felt fine. I felt normal. I was allowed to go back out and bat. Upon discussions with the team doctor and coach as well, they were both happy and I was comfortable as well. We were all happy and I was able to go and continue batting."
Only recently has cricket taken seriously the problems of concussions and allowed a change in rule by opening the doors on a like for like substitution.
Headway however believes this should have been done earlier, especially given the unfortunate evidence from Phillip Hughes' passing.
"Cricket has been caught on the back foot a little bit with concussion," said Griggs. "We thought it was an American football, rugby or football issue, but we are slowly beginning to realise that it affects all sports.
"The reaction time of a batsman facing a 90 mph-plus delivery is incredibly small and yet it is absolutely vital they are fully concentrated. But with concussion the vision can be blurred, and the brain can be slow at processing information. That leads to delayed reaction times, and that is just incredibly dangerous."
"If there is even an hint of concussion when someone is bowling at 90 mph, there is absolutely no way a player should be on the pitch," added Griggs.
Scientists have begun to understand much more about concussions recently, including the dangers of a "second impact", a second concussion when someone has continued to play on after the initial blow. That is partly why the ICC's rules now suggest that a recovery process takes about seven days – which would likely rule Smith out of the Headingley Test beginning Thursday.
"Cricket may need to consider this, while making it abundantly clear that players should have absolutely no say in the decision," added Griggs, who believes that independent doctors is the need of the hour.
In the longer term, scientists are hoping to use molecules in the blood, saliva or urine, known as microRNAs, to allow them to better detect brain injuries. The hope is for a simple test that detects concussion.
"I liaise closely with key researchers in this area, and they are all very positive that in the medium term there could be more reliable sideline diagnostic tools available, such as saliva tests or blood biomarkers for different proteins to indicate there could be an issue going on in the brain," said Griggs. "But we have got to be realistic and say these are some way away from coming to fruition and actually being put into action."