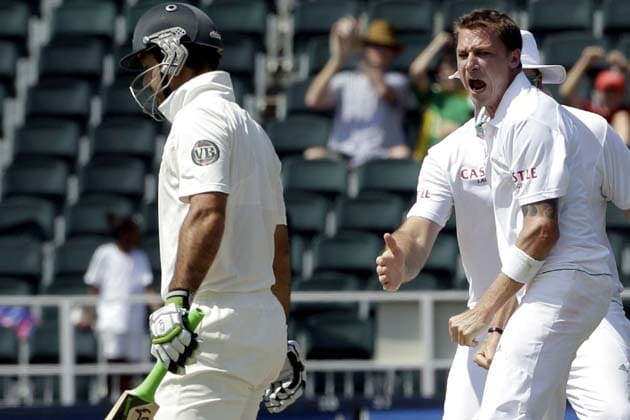 Johannesburg: Eliminating the inconsistent bowling South Africa produced while Australia openers Shane Watson and Phil Hughes were batting was the key to their fightback in the second and final Test, paceman Dale Steyn said on Friday.
Watson and Hughes, who both made 88, shared a quickfire stand of 174 at the start of the second day but South Africa rallied to dismiss the visitors for 296 in reply to the home team's 266 all out. The openers scored 169 in an extended morning's play, racing along at more than five runs an over, before Australia lost all their wickets for 122 runs.
"We were staring down the barrel," Steyn told a news conference after picking up four for 64. "We had bowled well in parts but after three good balls we'd concede a boundary, bowl two more good balls and then get hit for four again."
"It didn't go our way this morning. Every time we bowled a bad ball it seemed to go for four and we had to get it in the correct areas, which we didn't do enough in the first session. We had to reassess and after that, the bowlers came out and did a great job."
"We had a chat at lunch and we managed to slow the run-rate down and pull the game back. Morne Morkel and Vernon Philander started it and we created more pressure," added Steyn.
South Africa were 0-0 in their second innings, after facing just four balls, when bad light ended play for the day.
Steyn said his team had not yet discussed what sort of target they wanted to set Australia.
"I'm not sure what a good lead will be," said the fast bowler. "We want to knock off the 30-run deficit without any damage and then assess from there."
"It's hot, the pitch is pretty flat and you have to work really hard for wickets out there."
Hughes said Australia, who lost the opening Test, needed to bowl well to avoid losing a series in South Africa for the first time since 1970.
"South Africa bowled some very good lines and found their areas more consistently after lunch and that made it tough to score," said the opener.
"We need to go in with that attitude tomorrow with the ball, we need to bowl like we did in the first innings. The ball swung all day and we need to start well with the ball and hold our catches."
"It was a good partnership with Shane ... but it was disappointing we both failed to cash in and score big 150s," added Hughes.