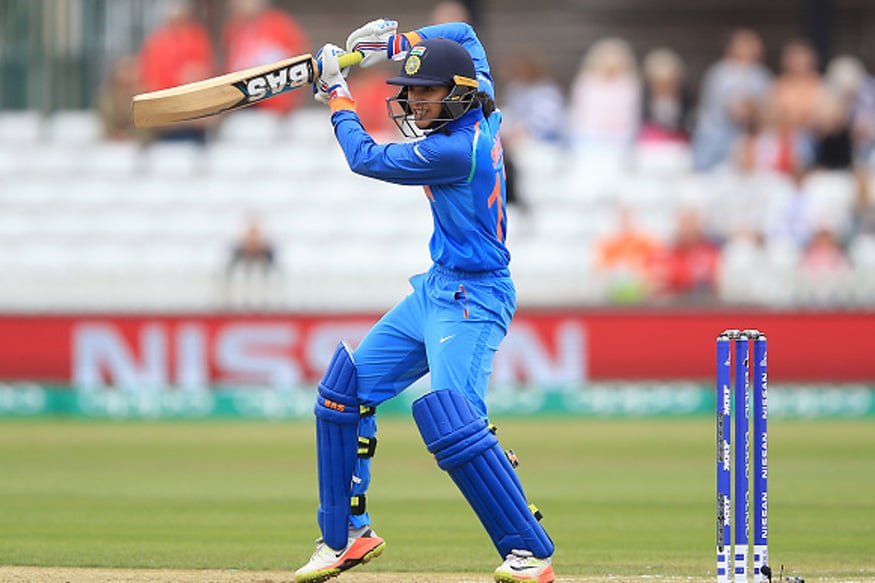 The importance of a blip is often ignored. When Smriti Mandhana suffered an untimely knee injury just months before the World Cup was to get underway in June 2017, she was consumed by a plethora of thoughts. Mandhana was all of nine when the 2005 World Cup had ended in a loss in the final and since she picked up a bat for the first time a few years later, Mandhana had been eager to set things right.
As she raced away to a match-winning knock of 90 in the first league game against England in the event last year, it stirred the country into looking closely at the Indian team's progress at the Women's World Cup. With great ease, and in unfriendly conditions, Mandhana navigated the pace bowling of Katherine Brunt. The array of shots, especially on the off-side forced the fanatics, still brooding after Pakistan drubbed Virat Kohli's Men in the final of the Champions Trophy, to shift their gaze to another cricket team from India.
There were unmistakable flashes of Sourav Ganguly and Adam Gilchrist in her method as Mandhana first hoicked an in-swinging delivery towards the square leg boundary. A mid-wicket boundary off Brunt with a perfectly timed pull shot was reminiscent of the Australian and her back-foot cover drives and back-foot glides would have warmed the hearts of ardent Ganguly fans. With an ounce of nostalgia rubbing off on the audience, they were determined to watch the team's progress and more importantly cheer for the side that had received scant attention over many years.
With their attention seized, Mandhana whizzed away to a ton in the next match against West Indies, almost as a reply to the ones who chose instead to focus on her appearance than her prowess with the willow. From 'cute-faced' and 'adorable' after the game against England, the cricketer started to be described as 'special' and 'a worthy successor to Mithali Raj'. It would not be a hyperbole to suggest that the knocks played by Mandhana went a long way in announcing India's arrival on the big stage.
The innings were enough to imbibe confidence and though Mandhana's bat went quiet after the two games, she had done more than enough to make her presence felt as the Indians romped away into the finals. The team of Raj and Jhulan Goswami was expanding and in a span of a few weeks, Mandhana along with Harmanpreet Kaur, Punam Raut and Ekta Bisht were rightful owners of the adulation that came pouring in after their runner-up finish.
A year later, Mandhana's journey can only be described as a roller-coaster. She faced public admiration yet saw her technical flaws come to the fore. She was seen as a worthy replacement of Raj yet inconsistencies kept crawling in. In the period right after the World Cup, her fame reached the zenith but her iffy footwork was scrutinized more than ever.
The importance of a blip has often been ignored, they say, but it is only when the chips are down that Mandhana gets her game together. He off-side play was always strong and she opened up her stance just a wee bit to allow her shots to penetrate towards the on side as well. The result was a player who could score runs around the park with a strike-rate in excess of 90. In the tri-series against England and Australia earlier this year, Mandhana was the sole positive from her side that failed to replicate their showing from the English summer of the previous year.
With the fastest half-century in women's T20s for Western Storm against Surrey Stars in the Kia Super League on Sunday, Mandhana's attacking instinct was visible yet again. The knock of 52 in just 19 balls was scored in a 6-over encounter as the new pair of Mandhana and Rachel Priest took the attack to the cleaners. The Indian was considerably calm under pressure, a trait developed by playing with boys since she was 12.
Under the tutelage of Anant Tambwekar, who was Mandhana's elder brother's coach in his Under-16 days, she transformed from just any other eager child to a meticulous student of the game. By practising every flaw for days at an end or by showing intense concentration skills while watering and rolling the 22-yards, Mandhana was clearly determined to go far. She perfected her art by playing on turf wickets against boys who were 4-5 years elder to her and Tambwekar didn't make it easier for her. He kept asking them to bowl faster at her, a major reason why she stands tall and uninhibited whilst facing fast bowling.
This drill allowed Mandhana to develop an impressive back-foot technique where the short balls were either pulled or hooked. With her natural front-foot play as well as an organised back-foot technique, Mandhana mastered the craft of transferring the weight on her back foot that explains her success against teams that are strong in the fast bowling department. It even resulted in her winning a Big Bash League contract in 2016, the same tournament where she suffered a knee injury that almost scuppered her World Cup participation.
Mandhana has accumulated 531 runs in nine ODI matches in the last 12 months - the fourth-best among openers in this period. At just 22, she has age on her side and the potential to stamp her name as one of the greats of the modern game. This ongoing stint in England, earned after she scored 343 runs in South Africa and the tri-series later, will help develop her skills against swing bowling even further. And even if she does suffer a blip in form, rest assured, Smriti Mandhana has perfected the art of tiding through it.
(Sarah Waris has made it a habit of jinxing every cricketer's purple form. On a normal day, she'll be found slouched, blabbering nineteen to the dozen whilst awaiting the next sporting triumph. She tweets @swaris16) ‏