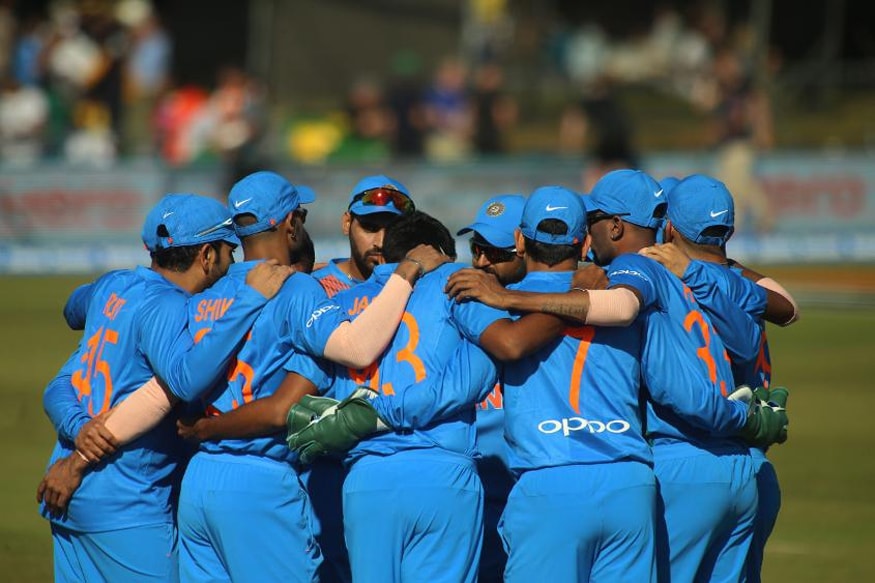 Listed below are the various squads announced by the BCCI Selection Committee for tournaments scheduled between June and August 2018. (This does not take into account last minute substitutions on account of injury, yo-yo tests and other acts of God).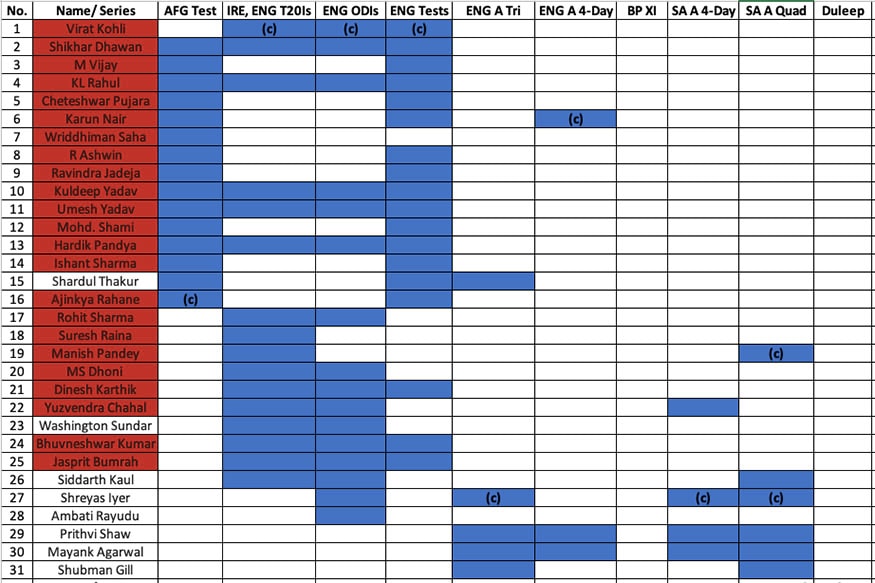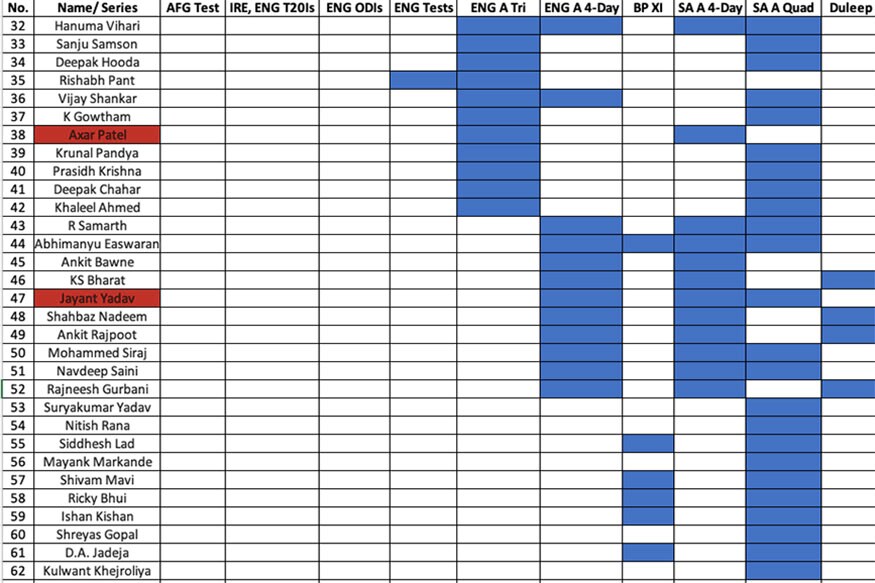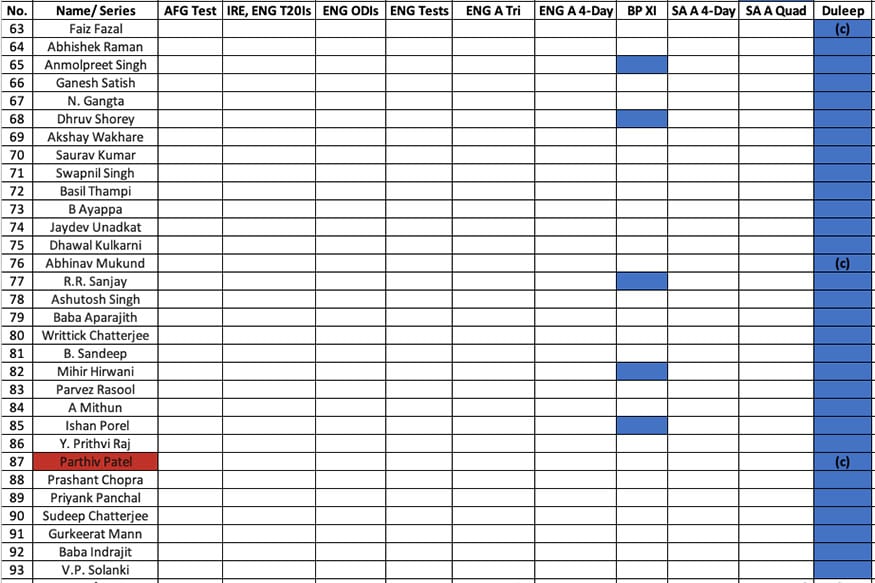 Red – BCCI Contracted Players                             Blue – Players Picked

102 players playing, almost concurrently, across 13 teams, in the span of 4 months, between June and September.

India's current centrally contracted pool of players' number 27. Making allowance for the fact that Kedar Jadhav is hors de combat, the senior selectors have 26 players to pick from, at any given point in time. Making further allowance for single format specialists, there still remains a sufficiently large pool to pick a team from.

So, the question arises, what is the purpose of spreading so thin?

Even if one were to consider the mitigating circumstances, of 3 concurrent series being played, there still is neither coherence nor consistency with regards to the teams selected.

Two questions arise:



Is there a method to this madness?


Is there a value associated with being selected, both monetary and otherwise?



Consider, for example, the case of two left handed wicketkeeper batsmen. One is a centrally contracted player, the other is not. Yet, Parthiv Patel does not find his name penciled in for the 'A' team currently touring England, while Rishabh Pant is a member of the squad selected for the first three tests against England.

And the MSK Prasad led panel is not the first to do this either. Previous selection panels have done the same, going well beyond the pool of centrally contracted players, sometimes picking players from the periphery at the cost of a centrally contracted player.

India, as things stand today, has a large enough critical mass to expand the game. With cricket permeating into tier 3, 4 and 5 cities, the talent pool available is second to none. And this is not going to ebb anytime soon.

As things stand today, the BCCI has 28 domestic teams. With the addition of 9 new teams, 37 will be participating in BCCI competitions from the upcoming season onwards.

If one were to estimate a team roster consisting of 15 players, this would give us 555 active players in the domestic season, starting 2018.

If one were to cull the top 10% of the active players that number stands at 55. Which is sufficient to accommodate 4 full teams (including substitutes), or 5 full playing XIs.

Even with the current state of affairs with 28 teams, the BCCI should have 42 players available.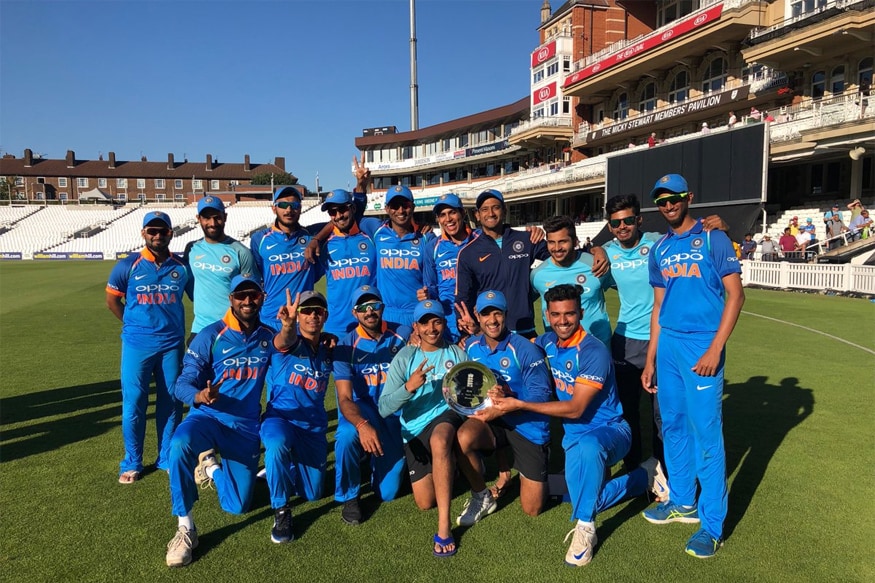 (IMAGE: BCCI)

The A team is supposed to be the shadow team, with ready replacements should Team India so require. With A tours now dovetailing Team India's travels (as evidenced in England and probably Australia, if reports are to be believed), that puts 30 players at ready availability for selection, at any given point in time.

Add to that a 'B' team, and the roster calls for no more than 45 players.

And yet, the selectors have gone for over 100 players, in a six-month span that neither points to a coherent vision or an established goal. More like shooting arrows in the dark, hoping they stick.

And what about incentivizing these selections?

Is there be a case for expanding the scope of the central contracts, something along these lines:





Each group, not consisting more than 14 players, gives a total pool of 56 players. As stated above, the 'A' team is the feeder to the main team, shadowing and playing concurrently with the main team.

The C and D teams can then be engaged in playing Associates, and teams like Afghanistan and Ireland, furthering their cricket, and ours.

Additionally, being under the ambit of a central contract, players can be made accountable for certain minimum prescribed fitness levels, which are then non-negotiable. Which then avoids situations like when Sanju Samson and Ambati Rayadu failed yo-yo tests and had to be left out of the squads they were picked in.

Also, given a roster of 56 players to pick from can help avoid selectorial gaffes like the selection of Punjab's Abhishek Gupta in a Duleep Trophy team although he was serving a ban for a doping violation.

India's Central contracts currently run from October through September. India's domestic season, including the IPL spans (over the last 8 years)

Year                                       Period

2018-19:               17-08-2018 - 19-05-2019

2017-18:               07-09-2017 - 27-05-2018

2016-17:               23-08-2016 – 21-05-2017

2015-16:               01-10-2015 – 29-05-2016

2014-15:               15-10-2014 - 24-05-2015

2013-14:               26-09-2013 – 01-06-2014

2012-13:               01-10-2012 – 26-05-2013

2011-12:               01-08-2011 – 27-05-2012

Given the inconsistencies in the start and end of the domestic season, is there a case to be made to announce the Central Contracts at the end of the IPL, as both reward and recognition for the entirety of the domestic season, and as a marker for the start of the next season?

[Should this be the case, the three teams for the Duleep Trophy pick themselves, with the A, B and C sides playing both the Duleep and Challenger Trophies.]

India is currently riding the wave, with the current team having both age and experience at their side. And given their average ages, they will comfortably outlast the tenure of at least one more selection panel. And then what?

If history is any guide, success breeds complacency.

In cricket, we have the ready examples of the last two great dynasties – the West Indies and Australia.

The West Indies believed that they would dominate in perpetuity, and that the talent pool will not dry up. And when it did, they have been in a free fall.

Australia, on the other hand, have had probably the greatest "lost generation" there was. In their period of dominance, the number of players coming through the domestic grind were good enough, if not better, than most first XI's, including their own. And yet, they have not managed to sustain this.

India has to guard against both, if their ambitions extend to dominating the game, both on and off the field, extend to beyond the here and now.

Given that selectors are no longer honorary positions, but fully paid employees of the BCCI, the legacy of a Selection Panel should lie in the strength and depth of the "D" group, for this is reflective of the strength of the domestic structure and correspondingly, the strength of Indian cricket.

A good starting point then will be revisiting the talent pool and incentivizing performance, starting with central contracts.

(The author grew up obsessing about cricket and hasn't overcome that obsession in his middle age. He fancies himself as an armchair critic and tweets @HomerOpines)

First Published: August 1, 2018, 12:25 PM IST