Old-school Test openers go back and across. Shikhar Dhawan goes across and back. As in, he plays across the line, and goes back to the dressing room.
Dhawan's 'technique' if you can call it that, has fetched him an average of 23 across 11 Tests in Australia, South Africa and England. When Dhawan bats overseas, he's literally that: at sea. Instead of a bat, he should be carrying a paddle. And a well-baited line, to aid his fishing outside the off stump.
But everything changed at Trent Bridge.
In all fairness, Dhawan should not have been playing. He had, after all, bagged a pair in the pre-series tour game, and had failed at Edgbaston. Murali Vijay would have perhaps stayed in the XI if he'd scored even a single run at Lord's. As it transpired, Vijay bagged 0 and 0, and India had no option but to give Dhawan another go. India were so bad at Lord's, that England gladly invited them to bat on a slightly cloudy first morning.
They would not have reckoned Dhawan coming out with a plan that was more than just bluster and blind luck.
In the first few overs on Day 1, Dhawan did not jab routinely away from his body. And he shelved the booming cover drive. Pitched up by Stuart Broad, seaming away - left alone. Back of a length from James Anderson, holding the line, angling away - left alone. Broad tested him with zingers going either way off a length, and Dhawan showed enough awareness to not go hard, even when he was getting beaten. Thirty minutes done, the first half hour to the bowlers, now spent after their opening spells. The sun was now out, as was the jury on England's decision to field.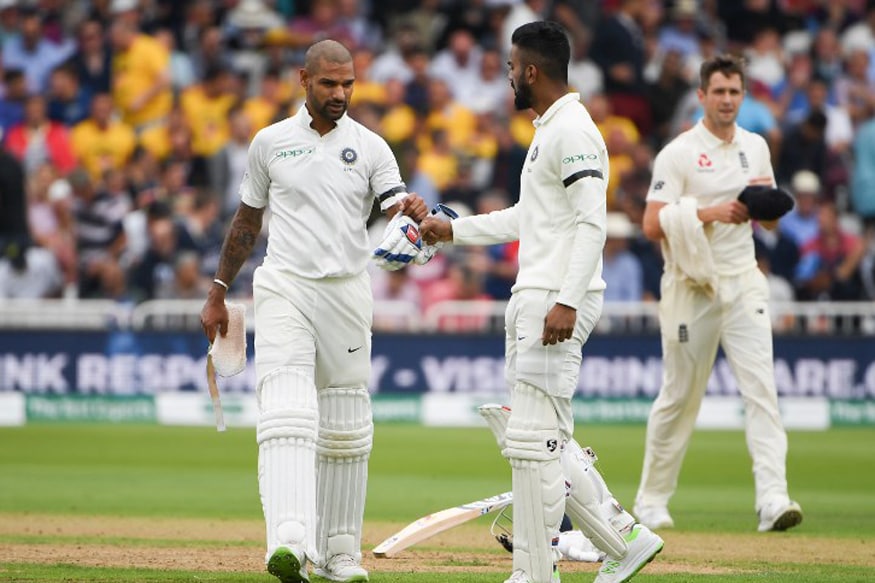 (AFP PHOTO)
Having forced the bowlers to bowl straighter with his inertness, Dhawan then proceeded to do something super smart and inventive for a Test opener. He started shuffling to his off, without losing his balance and picked off legside boundaries. Ben Stokes then came on, bowling a few short and wide, and by now Dhawan had earned his driving license.
By the time Dhawan fell for 35 in the 19th over, the new ball had been neutered, and India were away. At times, 19 overs of intensity can win you a Test match day. In the end analysis, Dhawan's 35 don't amount to much on paper. He sure did not win India the Test there, but his start with KL Rahul ensured that India's batsmen were finally in the contest - one that Virat Kohli and Ajinkya Rahane would go on to so emphatically win during Day 1.
***
Test debut. In a foreign land. Your entire life of 20 years has been leading up to this moment. Your captain, the world's best batsman, has just been dismissed for 97, and the game is in the balance. A wicket here, and the hard work is undone. A silly wicket here, and your career could be done. It's your second ball, and the legspinner wheels in, and serves up a well-pitched googly. You've spotted it, it is turning away, and it is safe enough to let go.
Not if you are Rishabh Pant.
Pant hit 37 sixes in IPL 2018 - more than anyone else in that tournament that is essentially a parade for six-hitters. You generally watch Netflix when you are bored. Pant hits sixes when he is bored. You generally resort to LOLs and smileys when you are tongue-tied. Pant hits sixes when he is tongue-tied. Sixes are how he expresses himself.
And so that's what he did to his second ball in Test cricket, in spite of how delicately the game was balanced. In spite of not being to the pitch of the ball. In spite of the gravity of what a bad shot could have meant for him, on debut.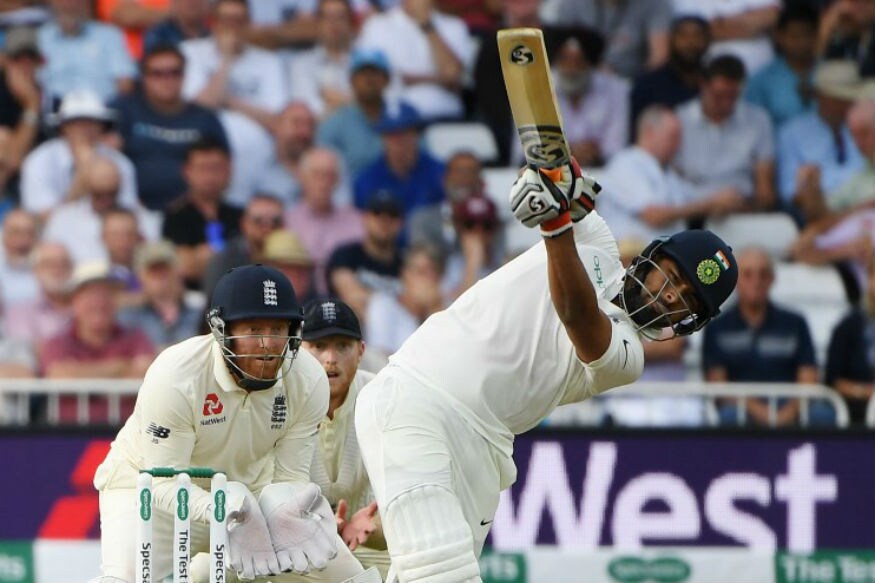 (AFP PHOTO)
But thereafter, something clicked in Pant's head. This IPL whizkid, the bludgeoner of wide yorkers, the producer of on-demand sixes, knuckled down with incredible game awareness. As Anderson and Broad came back for a crucial tilt with the second new ball, Pant hung in there gamely.
Like Dhawan, Pant's technique is not ideal for the conditions. He has the tendency to drive away from the body, and also tends to fall over and play around the front pad more often than he should be. But in that last hour of play, Pant just watched the ball like his life depended on it, and kept it out. Sometimes, that's all it takes, technique be damned.
In the end analysis, it didn't matter much - India didn't score too many on Day 2 thereafter. But Pant's obduracy, like Dhawan's grit earlier, ensured India won the first day, and that set the agenda for the rest of the match.
***
This Test was a Kohli-Rahane and a Pandya-Ishant-Bumrah show. Days from now, no one will remember what Dhawan and Pant brought to the table. But it's important to acknowledge the small individual efforts that add up to a big Test win. The lack of these mini-efforts had left India narrowly defeated at Edgbaston. And it was the sum of all of these that set up this famous victory. That it came from two flashy, flamboyant, 'look ma, see what I am doing' players at different stages in their career only makes their contributions all the more special.
(Nitin Sundar is a full-time cricket tragic who yearns for the return of the wonderful ODI jerseys of the 90s. He is stuck in a Bangalore traffic jam and tweets @knittins)