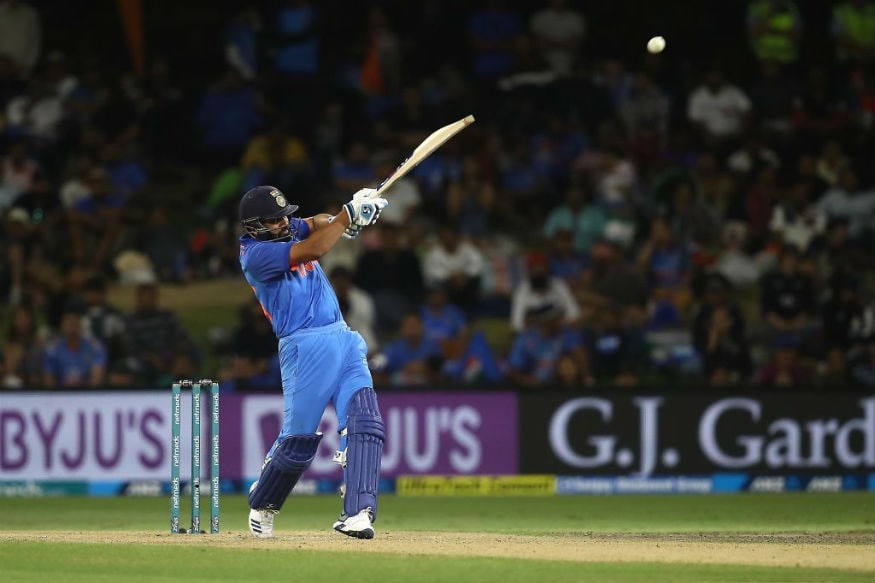 It's the World Cup final. The openers of the team batting first consume 45 balls between them for 12 runs. The Nos. 3 and 4 take their time playing themselves in, and the score meanders past 100 well after the 30 over mark. Game over, you'd think?
Anything but. On the contrary, it's the bowling side that's under the pump. For the year is 1992, and the cornered tigers from Pakistan are poised to pounce. And pounce they do, ransacking nearly 150 runs in the last 20 overs, on their way to a famous win.
1992 was still an innocent time in one-day cricket. For all the spectacle offered by coloured clothing and floodlights, it was still a format evolving within the constraints imposed by Test cricket. Still, that was the World Cup when 'doubling your score after 30 overs' became mainstream. In fact, like Pakistan in that final, teams backed themselves to save wickets and go well beyond twice as far in the last 20 overs.
The Sanath Jayasuriya revolution circa 1996 lit the fuse at the top end of the innings as well. Now teams would go for broke in the first 15 as well as in the last 10, bookending a dawdle in the middle overs, and that remained the norm for a good 15 years. Sometime in the late 2000s, we entered the era of the obscene run-glut. Powerplays, two new balls, big bats, small grounds and range hitting came into the game. What this meant was that teams were scoring big in the first 30 overs, and still managing to double their score in the last 20.
(Getty Images)
Incredibly, they were managing to do this largely without power-hitting in the first 10-15 overs the way Jayasuriya, Adam Gilchrist and Virender Sehwag once used to. Run-making in the back end of the innings became so prolific that teams saw value in building a base and conserving wickets for the final push. In 2015-16, teams batting first on average had a 'Double Your Score' factor (let's call it DYS) of 2.2x of their 30 over score.
This trend has finally tailed off in the last 3 years, with the advent of the extra fielder outside the circle in the last 10 overs. In 2016, the average DYS factor across teams dropped well below 2, to lower than it had been in over a decade. It has stabilised under 2 since then, as seen in this handy chart put together by Himanish Ganjoo.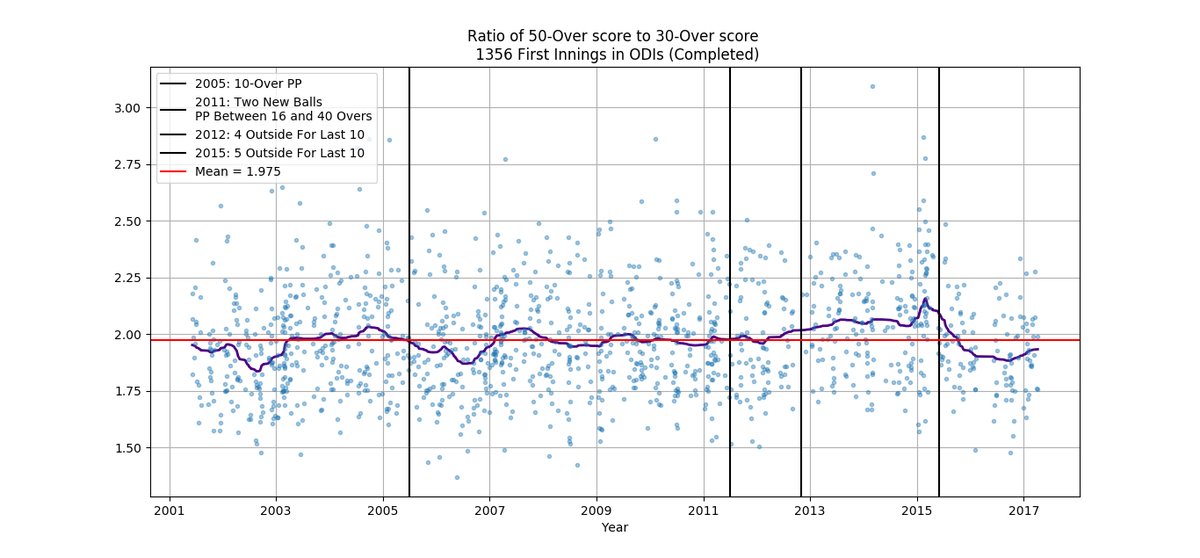 (Himanish Ganjoo)
It is instructive to see how teams have fared in this new era of throttled death overs hitting. Sri Lanka are at the lower end of the DYS spectrum with 1.86, while Pakistan are on top with 1.97. All other teams are clustered within this range, and no single team has emerged an outlier to the trend. Of course, the DYS is also a function of how hard a team has gone in the first 30 overs: it is far easier to double 150 than it is to double 170.
Average 30 over and 50 over scores in completed 50 overs innings (Batting first, since July 2015)

A fifth fielder on the boundary mathematically implies a shot is 25% more likely to be stopped before it reaches the boundary. It also means there's a 25% extra chance of a mistimed big hit resulting in a catch. A smart batsman (say, MS Dhoni) knows and plays these percentages, and is hence likely to be more cautious while chancing his arm in the slog, for the alternative is to lose wickets, lose momentum and settle for lower scores.
Aided by circumstances of manpower and benign home conditions, England have taken a unique approach to dealing with this issue - they have revived the Jayasuriya mode. Jason Roy, Alex Hales and Jonny Bairstow go hard at the top. They know they have the stability of Joe Root and Eoin Morgan to follow, and then the power hitting of Ben Stokes, Jos Buttler and Moeen Ali. England's 30 overs par score is 172, which is significantly ahead of the rest of the pack. They are typically in a position of such great strength after 40 overs that they run up scores of 330+ despite the fifth fielder.
Every other side continues to play conservatively in the top half of the innings, a habit that was picked up during the run-glut era. There are outliers like Colin Munro, David Warner and Sharjeel Khan who have consistently gone hard at the top, but each of them is tempered by slow and steady partners at the other end.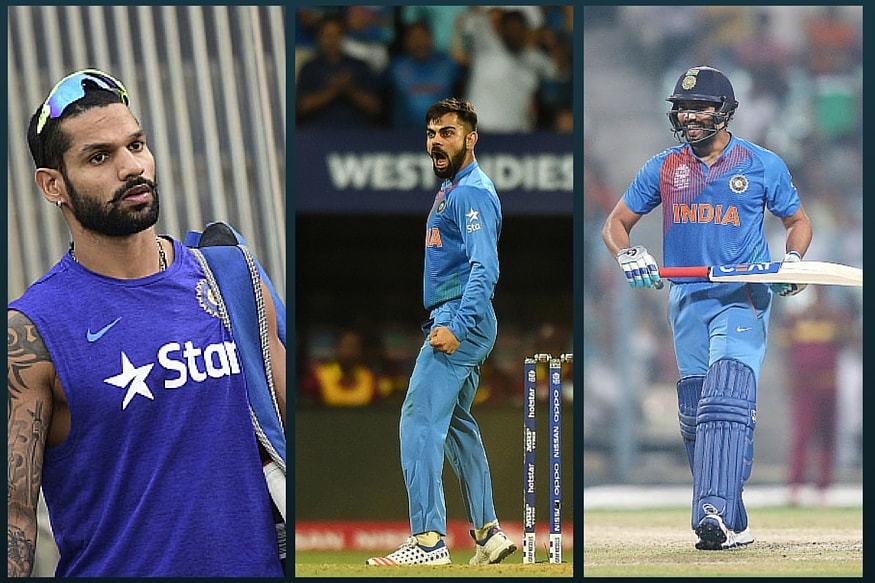 (Getty Images)
India, too, have largely stuck to the conservative approach. They have a prolific top three in Rohit Sharma, Shikhar Dhawan and Virat Kohli, who build big partnerships in each other's company. Each of them has a different method. Rohit Sharma's game features a lot of sixes and a lot of dot balls - he makes bowling sides pay once he gets past 50. Shikhar Dhawan spends a lot of time at the non-striker's, picks up singles and the occasional boundary. Kohli ticks along more fluidly, but seldom goes at better than run-a-ball for his first 25-odd runs.
India's ODI method is to get to be about 155-160 in 30 overs with at least one of these three still in the middle. It was the perfect approach before 2015, when players like Yuvraj Singh, Suresh Raina and Dhoni in his prime could turn it on in the last 10 overs. It is a more fraught approach now, though, with the fifth fielder lurking in the deep. As a result, India have struggled to convert great starts into ungettable scores. For instance, the second ODI in this New Zealand series where 173 for 2 in 30 overs could only lead to 324 for 4 in 50.
England head to the World Cup as favourites, with India their worthy challengers. South Africa, New Zealand and Pakistan are all vying for semi-final berths, and - despite their woeful form - you never discount Australia in a World Cup. However, in order to topple England, each of the other contenders should find a way to overcome the fifth fielder and run up huge scores. One approach will be to start the end overs charge as early as the 31st over. Another will be to make the first 30 overs count for just that little bit more. The third will be to somehow find the luxury of batting depth, to allow the top order to keep going after the bowling. It's going to be fascinating to see how these teams figure a way out.
For one thing is clear - they aren't going to find a way past that fifth fielder.
(Nitin Sundar is a full-time cricket tragic who yearns for the return of the wonderful ODI jerseys of the 90s. He is stuck in a Bangalore traffic jam and tweets @knittins)