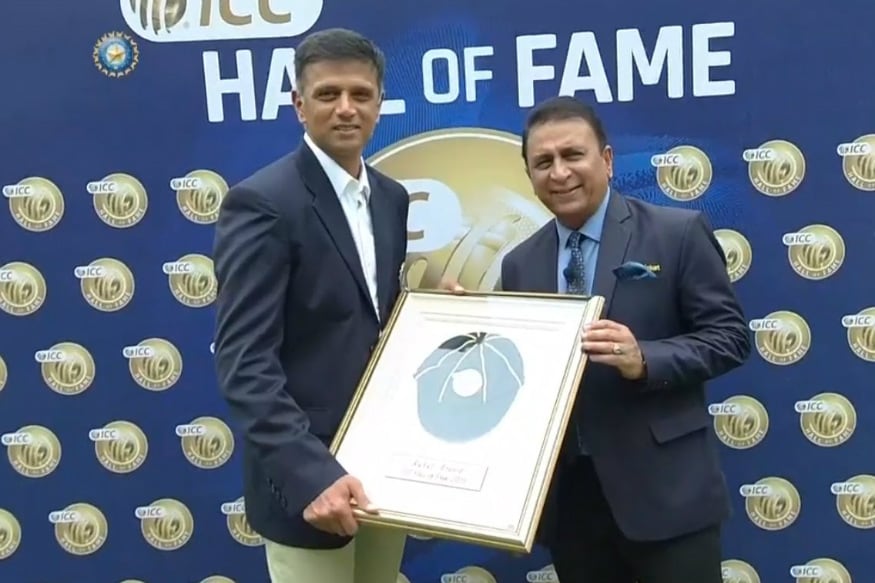 Former Indian captain Rahul Dravid was on Thursday (November 1) formally inducted into the ICC Hall of Fame becoming the fifth Indian to be named in the elite list. In a ceremony held ahead of the fifth and final One-Day International between India and WIndies in Thiruvananthapuram, Dravid was presented with the HoF cap by Sunil Gavaskar.
"Rahul, Congratulations, welcome to the ICC Hall of Fame, you fully deserve it. You have been the conscience of Indian cricket and international cricket. Continue with all the great work that you have done and keep on doing it," said Gavaskar, himself a Hall of Famer while presenting Dravid with the memoir.
Rahul Dravid becomes the 5th Indian to be inducted in the @ICC Hall of Fame. Congratulations to the legend on joining a list of all-time greats across generations. pic.twitter.com/RAyQ8KrtWR

— BCCI (@BCCI) November 1, 2018
Dravid, also popularly known as 'the Wall' had been a long-standing rock of Indian cricket for over 15 years. In all, he aggregated 13,288 runs in 164 Tests with 36 centuries and 10,889 runs in 344 ODIs with 12 centuries. He was also a brilliant slip fielder and finished his Test career in 2012 with 210 catches, which is a world record. He is currently the head coach of India A and India U-19 sides.
In July this year, in a ceremony in Dublin, Dravid along with former Australian captain Ricky Ponting and retired England Women wicketkeeper-batter Claire Taylor were inducted into the ICC Cricket Hall of Fame for their achievements in the sport.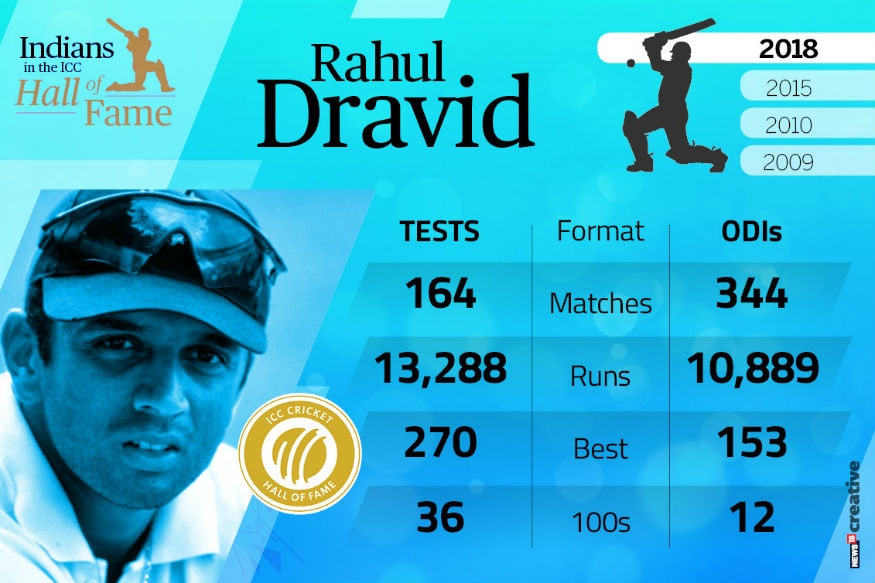 The ICC has certain criteria for cricketers to be inducted into the Hall of Fame and most importantly, it has to be five years from the time of retirement for a player to be eligible to enter the elite club.
Along with Dravid the four other Indians in the list are Bishan Singh Bedi, Gavaskar and Kapil Dev who were inducted in 2009 while Anil Kumble was included in 2015. CricketNext takes a look at the other Indians inducted into the ICC Cricket Hall of Fame over the years:
Anil Kumble (Inducted in: 2015)
The former India skipper will be remembered as one of only two bowlers in Test cricket to pick 10 wickets in an innings of a Test match. He registered the feat against Pakistan at the Feroz Shah Kotla in Delhi in 1999. Having shown great determination and grit on the international stage, Kumble finished with 619 Test wickets and 337 ODI scalps. He also led the team in 14 Test matches before hanging his boots.
Kapil Dev (Inducted in: 2010)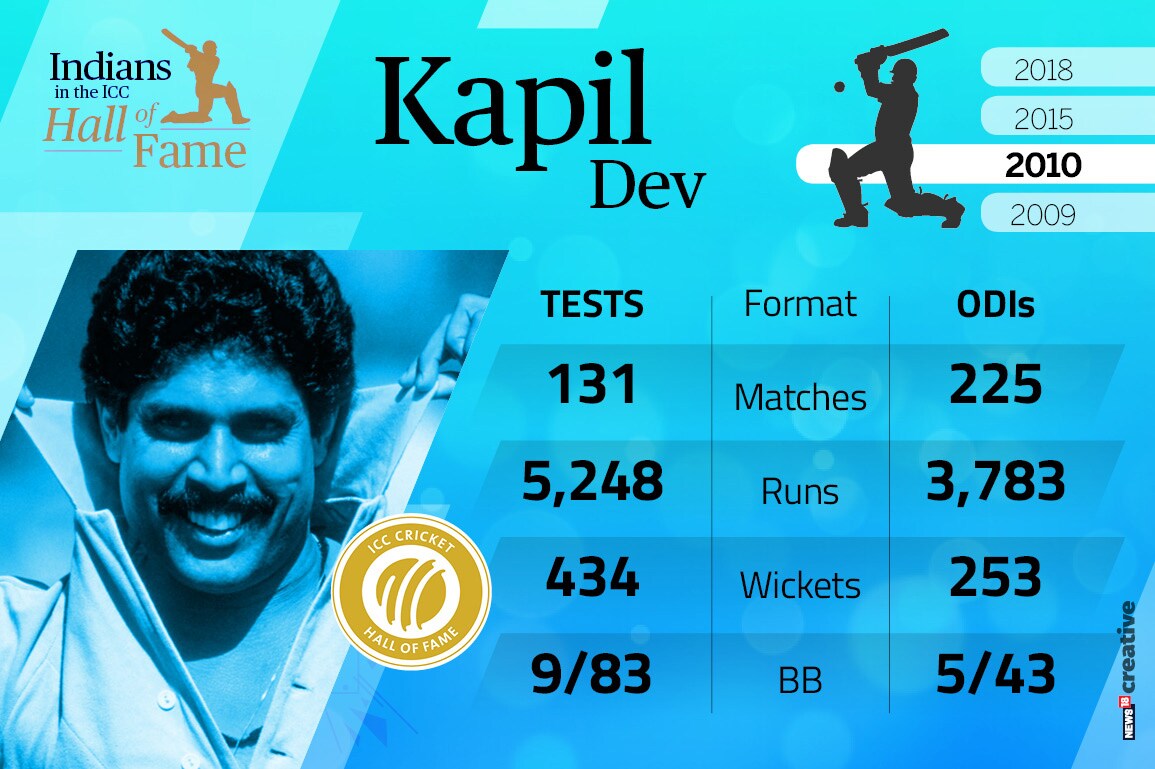 Undoubtedly one of the best all-rounders to have played the gentleman's game, Dev was the first Indian captain to lift the coveted World Cup in 1983. Not to forget the 434 Test wickets he scalped, a world record that was later broken by Courtney Walsh. Apart from being the captain of the 1983 World Cup winning squad, he played an instrumental role in the game against Zimbabwe when he scored an unbeaten 175 to help India recover from a tottering start. Dev played 131 Tests and 225 ODIs and finished with 434 and 253 wickets respectively.
Bishan Bedi (Inducted in: 2009)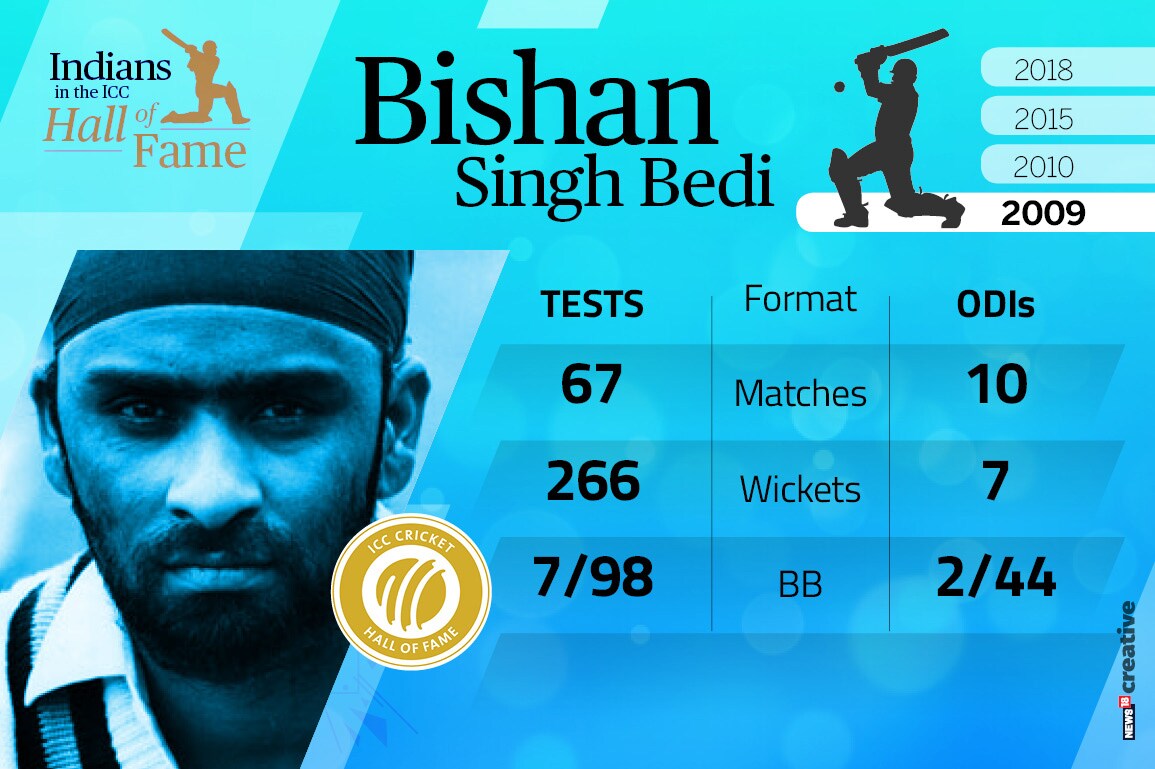 Born in an era where spinners dominated the scenes in Indian cricket, Bedi was not only an astute spinner, but also a fine leader. Bedi was the highest wicket-taker for India in Tests among spinners before Kumble broke his record. Bedi bagged 266 wickets, deceiving batsmen time and again with his loop and guile. He was at the helm of the revolt against John Lever in 1976-77 when the bowler was said to have used vaseline to tamper with the ball. He captained India in 22 Test matches and still has a record 1560 wickets in first-class cricket.
Sunil Gavaskar (Inducted in: 2009)
The little master as Gavaskar was fondly called, represented India in 125 Tests and 108 One-Day Internationals. One of the best opening batsmen of all times, Gavaskar made batting look easy even on the difficult (uncovered) wickets and with minimal protective gear through the major part of his career. Gavaskar ended with 10,122 Test runs with 34 centuries and 3,092 runs in ODIs. He held the record for most runs in Test cricket before Allan Border overtook him. The record currently lies with Sachin Tendulkar.