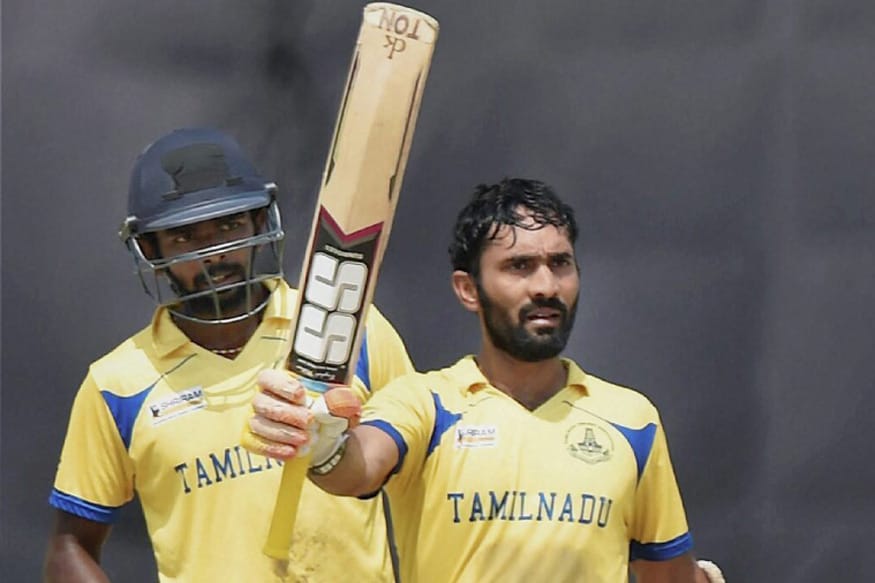 The 2019 Syed Mushtaq Ali Trophy continued on Sunday (November 17) after a day's break and the competition continued to see some good performances as the group stages come closer to ending.
Here's a wrap of the day's results.
Bengal Stunned by Puducherry
Puducherry notched up a hard-fought four-wicket win over Bengal to go third in the Group D standings.
Put in to bat first, Bengal could only make 132-6 as none of their batsmen bar Vivek Singh (43) got going. Suresh Kumar was the pick of the bowlers, finishing with 4-17 in his 4 overs.
In reply, skipper Damoden Rohit scored 55 atop the order but a middle-order collapse nearly gave Bengal a way back into the game before useful contributions from the lower order finished the game in the final over.
TN Thrash Vidarbha
Vijay Shankar and R Sai Kishore took 6 wickets between them as Tamil Nadu ran through Vidarbha, registering a massive win by 113 runs in the process.
Batting first, a half-century from skipper Dinesh Karthik as well as useful contributions from Vijay (26) and Baba Aparajith (33) saw TN score 168-8.
In reply Vidarbha were bundled out for 55, with only 3 batsmen registering scores in double figures.
Karnataka Too Good for Goa
Karnataka put on an all-round performance to beat Goa by 35 runs and remain atop the table of Group A on NRR ahead of Baroda.
Put in to bat by the opposition, Karnataka rode on useful contributions from their top five batsmen to post a commanding total of 172-9.
In response, all their bowlers chipped in with wickets as they bundled out Goa for 137.
Brief Scores:
Group A
Uttarakhand (138-4; K Kaushal 56, A Mandwaal 2-18) beat Bihar (134-8; M Rahmatullah 64, S Shekhar 2-25) by 6 wickets.
Services (151-5; GR Singh 41, M Kumar 2-27) beat Andhra (147-7; DN Reddy 43, KV Sasikanth 3-32) by 5 wickets.
Group B
Chandigarh (108-0; M Vohra 68, J Singh 4-25) beat Arunachal Pradesh (106-9) by 10 wickets.
Rajasthan (74-1; M Lomror 50, A Choudhary 3-15) beat Tripura (69-7) by 9 wickets.
Kerala (119-8; S Samson 38, J Saxena 2-11) beat Uttar Pradesh (42-4) by 1 run (VJD method).
Group C
Hyderabad (174-3; T Agarwal 90*, M Hassan 2-13) beat Chhattisgarh (153-9; H Singh 62, VP Singh 2-38) by 21 runs.
Group D
Mumbai (206-5; A Tare 82, S Dube 2-3) beat Assam (123-8; R Parag 33) by 83 runs.
Haryana (162-6; S Kumar 44, H Patel 3-34) beat Madhya Pradesh (159-6; R Patidar 69, P Sahani 2-17) by 4 wickets.
Meghalaya (207-4; Ravi Teja 53*; RR Biswa 1-29) beat Mizoram (182-2; T Kohli 90, H Lalsangzuala 1-33) by 25 runs.
Group E
Delhi (91-1) beat Sikkim (88-7) by 9 wickets.
Jharkhand (131-1; Virat Singh 56, V Aaron 2-26) beat Gujarat (128-7; U Patel 47, A Nagwaswalla 1-25) by 9 wickets.
Jammu & Kashmir (155-4; P Rasool 59*, A Nabi 4-43) beat Saurashtra (149-7; S Jackson 55*, C Sakariya 2-34) by 6 wickets.
Odisha (149-9; S Senapati 42, Pappy Roy 3-21) beat Nagaland (104 all out) by 45 runs. ​