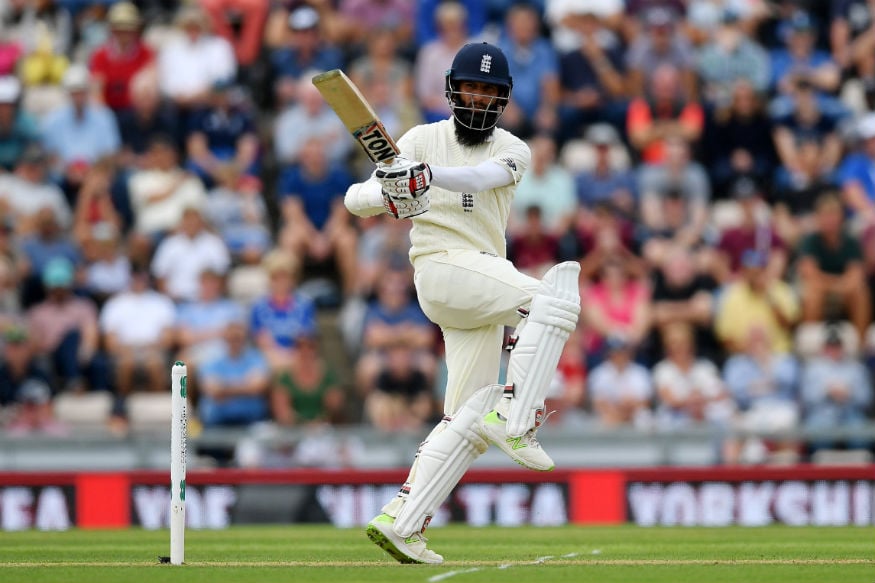 Moeen Ali has claimed that he was subjected to racial slurs by an unnamed Australian player, who allegedly called the England all-rounder 'Osama' during the 2015 Ashes.
Moeen said the incident took place in the first Test in Cardiff, which England won by 169 runs with Moeen scoring a crucial 77 apart from picking five wickets.
"It was a great first Ashes Test in terms of my personal performance," he wrote in his autobiography which is being serialised in the Times. "However there was one incident which had distracted me. An Australian player had turned to me on the field and said, 'Take that, Osama.' I could not believe what I had heard. I remember going really red. I have never been so angry on a cricket field."
Moeen revealed that England coach Trevor Bayliss raised the issue with his Australian counterpart, Darren Lehmann. However, the Australian player denied the allegation when asked by his coach.
"I told a couple of the guys what the player had said to me and I think Trevor Bayliss must have raised it with Darren Lehmann, the Australians' coach," wrote Moeen.
"Lehmann asked the player, 'Did you call Moeen Osama?' He denied it, saying, 'No, I said, 'Take that, you part-timer.'' I must say I was amused when I heard that, obviously I had to take the player's word for it, though for the rest of the match I was angry."
Moeen said he was subjected to further racial slurs from the Australian crowd during the Ashes tour down under last year, saying he got abused even during practice games.
"Guys were sticking their fingers up at me," he wrote. "I expected Australia to be quite rough, but not as bad as this. I hadn't heard such comments for a long time. I got some of this abuse even in the practice games."
Cricket Australia (CA) has taken cognisance of the whole matter and have released a statement saying it will meet with the ECB to probe the incident.
"Remarks of this nature are unacceptable and have no place in our sport, or in society," a CA spokesperson said. "We have a clear set of values and behaviours that comes with representing our country.
"We take this matter very seriously, and are following up with the ECB (England and Wales Cricket Board) as a matter of urgency to seek further clarification around the alleged incident."
In an interview with the Times on Friday, Moeen had said Australia are the only team he dislikes, purely for their disrespect towards people.
"Everyone you speak to ... they are the only team I've played against my whole life that I've actually disliked," Moeen had said. "Not because its Australia and they are the old enemy but because of the way they carry on and (their) disrespect of people and players.
"The first game I ever played against them, in Sydney, just before the 2015 World Cup, they were not just going hard at you, they were almost abusing you. That was the first time it hit me. I gave them the benefit of the doubt, but the more I played against them they were just as bad, the Ashes here (in 2015) they were worse actually.
"Not intimidating, just rude. Individually they are fine and the Aussies we've had at Worcester have been fantastic, lovely guys."