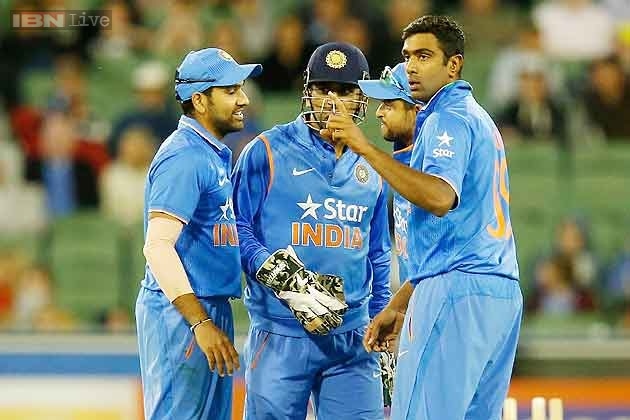 In the past, Indian teams overseas have donned haunted, hunted visages. They have looked shell-shocked, uncertain, hesitant, weighed down by one defeat after another. They have shunned eye contact with people beyond their cocoon of despair and negativity, bogged down by their incapacities, racked by self-doubt. To travel overseas, the players seemed to assume even before they left Indian shores, meant old failings exposed, old wounds reopened.
Mahendra Singh Dhoni's current Indian team isn't doing any of these things. The guys aren't sulking and moping, they aren't searching for answers through blank eyes and cluttered minds. They haven't won a match on tour, but somehow, they have managed to retain their spirits and their beliefs. If they don't make eye contact today, it isn't because they are afraid to do so. If they are caught up in their own bubble, it is because they are comfortable in that space, not because they are afraid of what lies outside of it.
India are the World Cup champions. And they begin the defence of that title in a little over two weeks, against a team they have never lost to in World Cup cricket. Pakistan loom as the first in a string of obstacles between India and an anticipated place in the quarter-final. Long before that Adelaide humdinger on February 15, however, India have much work to do, many knots to untie.
Several of those knots pertain to the usual suspects - injuries, form. There are slightly less tricky knots that have gradually unknotted themselves - the ones concerning batting orders and team compositions. The triangular series was the experimental ground on which India sowed seeds and waited to see which of them would germinate. Not many did, but even in that non-development, there are lessons to be learnt.
As of this time, 14 of the 15 men chosen to defend the World Cup are available for selection. That's a start, and an impressive one, given that 13 of these 15 figured in the Test match squad as well, only Stuart Binny and Ambati Rayudu of the World Cup side uninvolved in the Test series. The one man over whom there is an injury cloud - and it is a dark, thick, ominous cloud - is Ishant Sharma, the most experienced paceman.
Dhoni said on Friday (January 30) that the physio has told him that Ishant "may be fit" in four days' time. Ishant hasn't played any cricket since December 30. If he doesn't pull up fit in the next few days and is unavailable for the warm-up games against Australia (February 8) and Afghanistan (February 10), it is unlikely he will start the tournament, if that.
That was one of the reasons why Mohit Sharma got a game on Friday, against England, ahead of Bhuvneshwar Kumar and Umesh Yadav, who are both in the World Cup 15. Dhoni and Duncan Fletcher would have liked what they saw. Mohit was quick, sometimes seriously so; he was also accurate right through his ten-over spell. His length was outstanding, his channels impeccable, his control over the slower ball impressive. Mohit is the better fielder, he is a pretty decent bat as well, though if India start relying on their No. 10 for runs, then clearly something is wrong. If the think-tank doesn't have furrowed brows on Ishant's account, you know why.
From No. 10, let's go to No. 1, and the third Sharma on tour - Rohit. His excellent hundred in his only tri-series outing, against Australia at the MCG, and the continued travails of the rest of the top order in his hamstrung absence, have served to catapult the 'Is Rohit fit' question to a matter of grave national importance. Rohit is fit, worry not. He will be an integral part of India's title defence. India will hope his return to the XI will add not just weight, but also stability and greater substance to a line-up that has gone off the boil after the excellence of the Test series, when pretty much the same group topped 400 in the first innings of each of the four games.
Where is M Vijay, some might ask. Where, indeed? In the Ranji Trophy, that's where. When he should have been here, providing the unglamorous blocks for the elegant artists to paint pretty pictures on.
There has been plenty of debate, some of it extremely heated, over where one of those artists should bat. Surprisingly, there has been little talk of how Virat Kohli has batted, or not batted - after all, his tri-series scores are 9, 4, 3* and 8. He has been caught pulling, trying to run the ball over the slips and trying to clear long-off respectively. No. 3 or No. 4? Never mind. India need Kohli to fire so that the others can bat around him, so that both ends aren't open for exploitation as they were for much of the tri-series. Kohli has batted plenty at No. 3, he has batted enough at No. 4 as well. He has had greater success at 4 than at 3, but as Dhoni took pains to point out the other day, it is not so much where his deputy bats as when he comes in to bat.
Kohli is dynamic, he is energetic, he loves engaging the crowd, he loves being prickly and abrasive. He is also the lynchpin of the batting group, the man with four hundreds in as many Tests in the last month and a half, the master of the chase, the dynamo that drives the Indian side. Just as the team understands that he must be given every opportunity to express himself, Kohli too realises that team comes first. As it must in a team game. Whatever differences are perceived between the captain and his lieutenant lie largely in the imagination; both men are comfortable in their skin.
Where Dhoni has had to go against his natural grain is in the batting method he has been forced to adopt outside the subcontinent, and particularly during this tri-series when he didn't have Ravindra Jadeja to fall back on in the lower-middle order. Almost fearful of the lack of big-hitting capabilities behind him, Dhoni forced himself to merely nudge and nurdle instead of thrash and bash; he wasn't around for the last seven to eight overs to cut loose. Now with Jadeja back and with Stuart Binny exhibiting his not limited prowess in hitting a long ball, Dhoni can afford to be a lot more adventurous at No. 5 and 6.
Binny slotting in reasonably well has opened up a world of opportunities from a combination point of view. The Karnataka allrounder has held his own with both bat and ball in the limited opportunities, looking as much at home here in Australia as anyone else. His presence as the third seamer will allow Dhoni the use of two of Jadeja, Axar Patel and R Ashwin; if the conditions don't warrant a second specialist spinner, India can always bring in an additional quick without losing too much batting firepower.
Various pieces of the jigsaw have neatly slotted into place, though that isn't any guarantee for success. India have given their players the next few days off to unwind and chill before re-gathering in Adelaide, well ahead of the warm-up games. That's when the team will enter lockdown mode. After that, there are no second chances, no scope to try things out. For now, India appear a team in disarray, a king with his crown perilously balanced, a defending champion ripe for the taking. Don't go entirely by appearances, though.