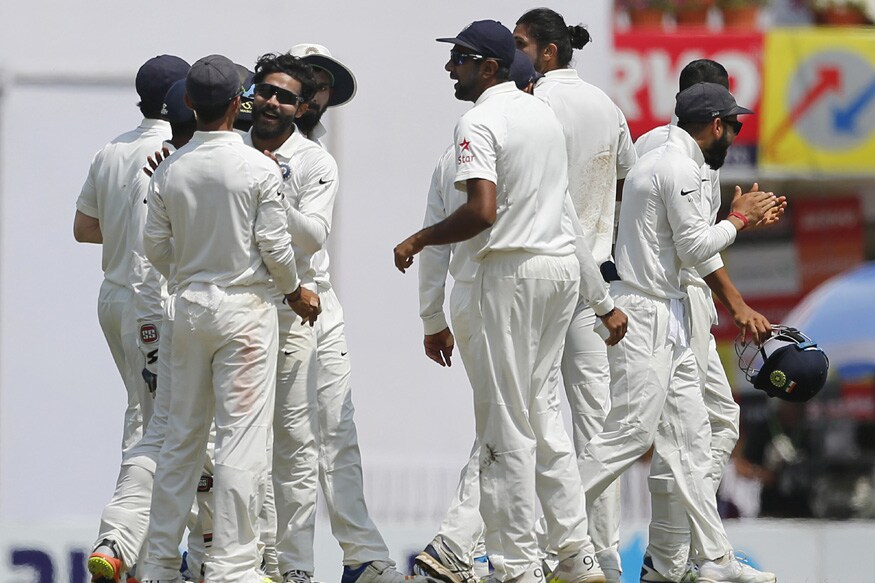 New Delhi: Team India came extremely close to taking the all important lead in the Border-Gavaskar series, but a last ditch effort from the Australian batsmen saved the day and the hosts had to settle for a draw. There were exceptional batting performances from both sides and eventually a draw in many ways was a fair result.
Here is CricketNext's Report Card of Team India for the third Test as we evaluate the performance of each player during the match:
KL Rahul: Rating 8: Verdict: Very Good
KL Rahul has been in pristine touch throughout this series and that was on display yet again in Ranchi. Coming in to bat after Australia had piled up 451 runs in their first innings, India needed the openers to provide a solid start and it was Rahul who got off the blocks in fine fashion. Playing shots all across the park, Rahul was a paragon of great technique and fluent strokeplay as he took the pressure off Murali Vijay and brought up his half-century in no time. His duel with Pat Cummins was the highlight of the second day's play as he defanged the Aussie paceman. Cummins though would have his revenge as he sent Rahul back with a vicious short delivery. Rahul had scored 67 runs by then and his 91-run opening stand with Vijay had put India in a strong position.
Murali Vijay: Rating 8: Verdict: Very Good
Murali Vijay's absence was felt by India in Bengaluru and 'The Monk' had his task cut out after the Aussies scored big in the first innings. Vijay though was as solid as the 'Rock of Gibraltar' and came into his own after taking his sweet time to get going. Vijay was first involved in a 91-run opening stand with Rahul and then in a 102-run stand with Cheteshwar Pujara providing the hosts a strong foundation. Vijay was eventually dismissed for 82 as the opener missed out on his 10th Test century.
Cheteshwar Pujara: Rating 10: Verdict: Excellent
Cheteshwar Pujara is India's only 'true blue' Test batsman and he seldom fails the team in an hour of need. Pujara, who has been India's most prolific batsman in the home season so far, once again showcased his credentials as one of the world's top Test batsman as he made his way to a fine double century. India needed to get close to Australia's first innings total of 451 and it was down to Pujara to take India to safety after a middle-order collapse. Pujara then strung up a workman-like 199-run stand with Wriddhiman Saha to not only take India to safety but put the hosts in a position from where they could push for victory. He faced 525 deliveries during his knock of 202, thus etching his name in the history books for facing the most number of balls in a Test innings for India, going past the man whose big shoes he is trying to fill, Rahul Dravid.
Virat Kohli: Rating 3: Verdict: Poor
Virat Kohli's bad run of form against Australia continued in Ranchi too, as the Indian captain was dismissed for just 6. Pat Cummins did the damage as he enticed Kohli to play a drive to a well-pitched up delivery outside the off-stump and the Indian captain was caught in the slips after getting an outside edge. Kohli had to sit out most of the first and second day of the Test after injuring his shoulder. His captaincy on the final day also looked a bit flat after Shaun Marsh and Peter Handscomb put together a match saving partnership.
Ajinkya Rahane: Rating 3: Verdict: Poor
Ajinkya Rahane had a chance to continue his return to form but failed to do so. Coming in to bat after the fall of Kohli's wicket, Rahane's primary job was to give support to Cheteshwar Pujara, who looked in good touch. But Rahane departed after scoring just 14 runs, leaving the hosts in a precarious situation. The decision to play an upper cut to a delivery which was way above his shoulder, almost as an afterthought, left pundits dumbfounded, because Rahane had almost found a new way to get himself out. His captaincy in Kohli's absence on the first day of the Test also didn't inspire any confidence. A quiet character himself, Rahane doesn't look to be the man cut out for a leadership role.
Karun Nair: Rating 3: Verdict: Poor
Karun Nair flattered to deceive yet again. The youngster played some crisp strokes to make his way to 21 but was done in by a reverse swinging delivery from Josh Hazlewood. Nair is a man who likes to play his shots and that is visible from his batting style. But to survive in Test cricket, the youngster will have to learn the art of grinding it out in the middle and it has to happen soon.
R Ashwin: Rating 2: Verdict: Poor
It might sound harsh that a player who has been the team's biggest match-winner over the past two years is being given a poor rating for failing to fire in a match, but Ashwin's performance at Ranchi did leave a lot to be desired. Ashwin bowled a total of 64 overs in the entire match and picked up just two wickets, one in each innings, and that was the difference between victory and a draw for India. Ashwin never looked threatening on a Ranchi pitch that obviously didn't help the spinners to the extent the pitches at Pune and Bengaluru did and it is on such occasions that you expect the team's premier bowler to put his hand up. Unfortunately it wasn't Ashwin's match.
Wriddhiman Saha: Rating 10: Verdict: Excellent
Wriddhiman Saha's wicket-keeping and catching prowess is unquestionable, but his batting at the highest level has been questioned several times. Saha though silenced his critics once and for all as he played the innings of his Test career so far, threading together a 199-run crucial stand with Pujara to put the hosts in a commanding position. Saha faced 233 deliveries to score 117 runs, his third Test century, a truly commendable performance.
Ravindra Jadeja: Rating 10: Verdict: Excellent
It has taken a while but Ravindra Jadeja is surely coming out of Ravichandran Ashwin's large shadow and establishing himself as the go to man when the conditions are not helpful. Jadeja's unique ability to stick to a nagging line and length has bore fruit and given him a bagful of wickets off late and that is what happened in Ranchi as well. The left-arm spinner was in great form with the ball as he picked up a total of 9 wickets in the match. Unfortunately he didn't get enough support from the other end to guide India to victory. He also smashed a quickfire unbeaten 54 down the order to extend India's lead.
Umesh Yadav: Rating 7: Verdict: Good
Umesh Yadav once again produced a good display of pace bowling on a difficult track, showing the spirit which has been a hallmark of his second coming in Test cricket in this home season. Umesh bowled with pace and verve in the first innings to snare away three scalps. He failed to pick up a wicket in the second innings though as the Australians survived the Indian onslaught.
Ishant Sharma: Rating 5: Verdict: Average
Ishant Sharma looked off-colour in the first innings and failed to pick up a wicket as the Australian batsmen made the best use of good batting conditions. Ishant though was sharp in the second innings and got the important breakthrough of Matt Renshaw. But more wickets are expected from India's most experienced paceman.
First Published: March 21, 2017, 1:47 PM IST