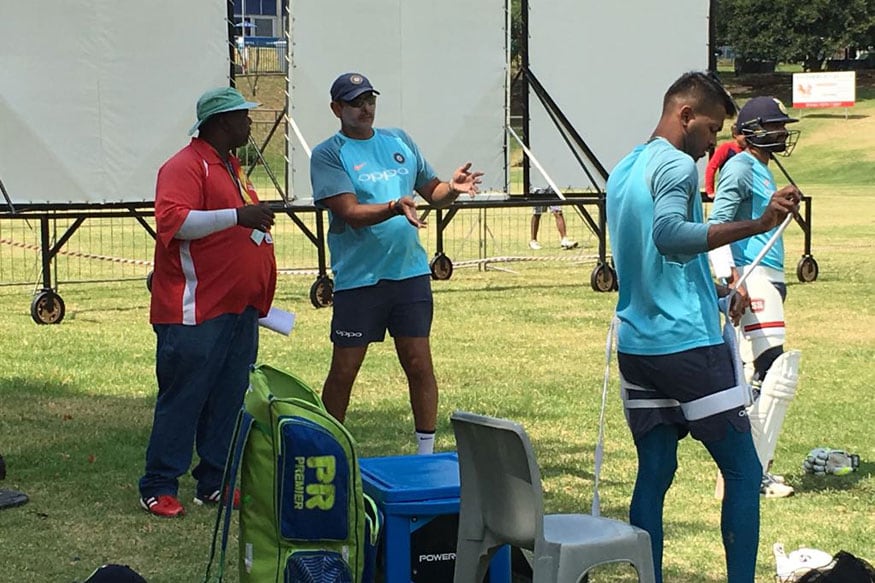 Johannesburg: Even as most of the Indian players were busy playing football at the main ground at the Wanderers Stadium in Johannesburg on Monday, batting coach Sanjay Bangar took bowlers Mohammed Shami, Bhuvneshwar Kumar, Ishant Sharma and Umesh Yadav for a batting session before they got down to bowling at the batsmen.

Bangar though didn't look very happy with the practice wickets and immediately turned to chief coach Ravi Shastri. Shastri then called on the chief curator Butuel Buthelezi and asked him to roll the wickets again.

Buthelezi had a small chat with Shastri as the coach turned to Bangar and asked what needs to be done. Bangar immediately said that all the three wickets should be rolled one by one as training continued on the even ones.

Interestingly, umpires Aleem Dar and Ian Gould could also be seen fine tuning their umpiring skills at the nets as India skipper Virat Kohli engaged in a chat with Gould.



Indian captain Virat Kohli speaks to umpire Ian Gould during training (Courtesy: CricketNext)

Cricketnext had earlier reported that the Indian team management had taken a close look at the Wanderers pitch on Sunday. India coach Ravi Shastri was the first to walk to the square to have a look at the match wicket at the Wanderers Stadium in Johannesburg on Sunday. Batting coach Sanjay Bangar followed soon after as the two were seen having a close discussion before they walked back towards the dugout. Interestingly, even as the boys walked into the ground, Shastri headed back to the pitch, this time with skipper Virat Kohli in tow.

Du Plessis has promised a fast and bouncy welcome to the Indian boys and by the looks of it, curator Butuel Buthelezi is not willing to offend the Proteas skipper who made his displeasure known after Centurion curator Bryan Bloy failed to produce a fast and bouncy wicket.

First Published: January 22, 2018, 2:22 PM IST