Rahul Dravid made a career out of taking Team India out of troubled waters in Test cricket. He also played some epic knocks, which resulted in historic victories for the team in cricket's oldest and longest format.
On his 44th birthday, CricketNext pays tribute to 'The Great Wall' of Indian cricket, by listing 10 knocks of Rahul Dravid when he proved he is better than the best, his teammate and the legend himself, Sachin Tendulkar.
1) 148 vs South Africa at Johannesburg, January 1997
India were down 0-2 in the three-match series and were playing for pride in the last Test. Rahul Dravid stroked his way to a masterful century, his first in Test cricket, against a bowling attack comprising Allan Donald, at his devastating best, and a young Shaun Pollock. What was great about the knock was that barring a young Sourav Ganguly (73), no one else could even cross the fifty-run mark. He also scored 81 in the second innings and his efforts allowed India to almost seal victory.
2) 190 vs New Zealand at Hamilton, January 1999
India was down in the series yet again and the Kiwis had put on a formidable 366 in their first innings. Rahul Dravid showed great skills to deflate the New Zealand attack on seam-friendly conditions. His mammoth knock of 190 gave India a first innings lead. The bowlers though couldn't stop the Kiwis from getting a big score again and India's best chance was to salvage a draw. Dravid scored another century in the second innings, (an unbeaten one this time), to help the team's cause.
3) 180 vs Australia at Kolkata, March 2001
Rahul Dravid and VVS Laxman's partnership laid the foundation of India's winover Australia (Getty Images)
Rahul Dravid became a part of Indian cricket's folklore when he partnered VVS Laxman to plot the greatest escape in modern cricket history. Steve Waugh's rampaging Australians had decimated India at Mumbai to notch up a record 16th straight Test win and had the hosts on the ropes again at the Eden Gardens. Following on after conceding a 264-run lead, Dravid joined Laxman at the crease with the score reading 232/4. While Laxman was at his strokeful best, Dravid played the role of the second fiddle perfectly. The duo batted out an entire day to put India in a situation from where they could aim at winning the match. Dravid's 180 came in a 376-run stand with Laxman. The partnership laid the foundations of a great victory, which was later fashioned by Harbhajan Singh's heroics with the ball.
4) 143 vs England at Leeds, August 2002
India were down 0-1 in the series after losing the first Test. The third Test at Leeds was seen as an opportunity for England to seal the series, provided India's poor record at the venue and also the seam-friendly conditions that gave the home side the edge. But Rahul Dravid had other ideas as he batted with great control and showcased how technically correct a batsman he was. His knock of 148 laid the foundations of a huge Indian first innings total as Tendulkar (193) and Ganguly (128) cemented the start given by Dravid and Bangar. India went on to win the Test match and draw the series 1-1.
5) 217 vs England at The Oval, London, September 2002
The series was tied at 1-1 and England pushed for victory in the final Test after scoring a mammoth 515 in the first innings. One man stood between England and a series win and that was Rahul Dravid. The India no 3 mixed caution with aggression to carve out a double century, his knock of 217 had 28 boundaries which were a delight to watch for a cricket purist. Such was Dravid's expertise that even the English fans were celebrating his success. What made his knock so valuable was that the next best score by an Indian batsman was just 54. India managed to draw the match and the series, all thanks to Dravid's knock.
6) 233 vs Australia at Adelaide, December 2003
Rahul Dravid exults after taking India to victory over Australia at Adelaide in 2003 (Getty Images)
Perhaps the best knock of his career, Dravid's legend as one of the best batsmen in Test cricket, of his generation, was already popular and Australia gave him the opportunity to take it to the next level. His knock of 233 in the first innings against an all conquering Australian side, who had put on 500-plus themselves, allowed the visitors to respond aggressively. His partner in crime again was VVS Laxman (148), whose liking for Australian bowling attacks was also a stuff of legends by then. A magical spell by Ajit Agarkar ensured India had a shot at victory down under for the first time in over two decades. Dravid was in the thick of things again as he scored an unbeaten 72 in the second innings to guide the tourists to a landmark victory.
7) 270 vs Pakistan at Rawalpindi, April 2004
India had never won a Test match on Pakistani soil, prior to the visit in 2004. While Virender Sehwag's triple century had sorted that out in the first Test at Multan, Pakistan made a strong comeback to level the series in Lahore. India was far away from the dream of winning a maiden Test series in Pakistan but a Laxmipathy Balaji blitz sunk the hosts to a below par first innings total in the series decider in Rawalpindi. Dravid, had endured a surprisingly subdued series till then and he decided to break free at just the right time. Boundaries flew of his bat as he gave the neighbours a lesson in batsmanship. A knock of 270, which would remain his best score in Test cricket, gave India the perfect platform to push for a victory. India managed to win the match to complete a historic series win.
8) 81 & 68 vs West Indies at Jamaica, June-July 2006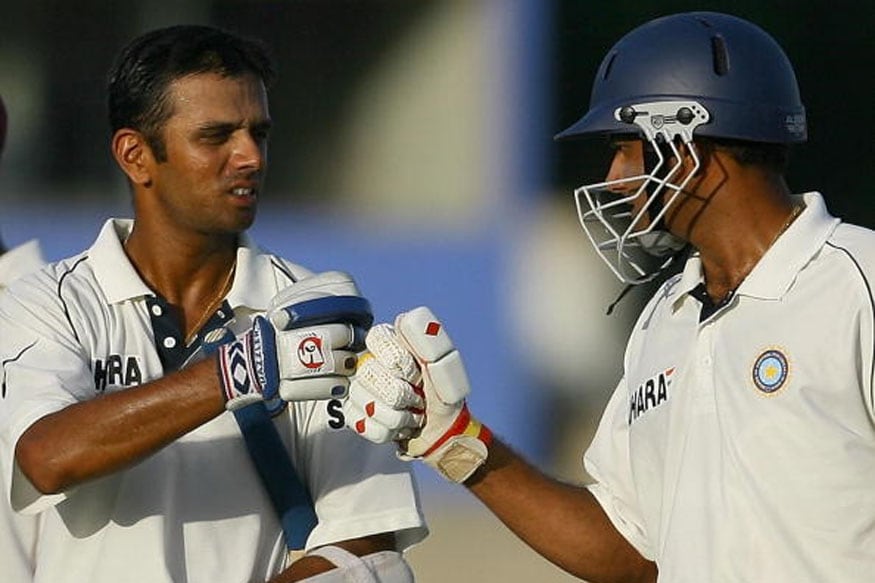 Rahul Dravid played a captain's knock in Jamaica to take India to a series win in West Indies after 35 years (Getty Images)
Prior to India's visit to the Caribbean islands in 2006, India had won only one Test series against the mighty West Indies in their home, which came in 1971. Under Rahul Dravid's captaincy India had a great chance and with the first three Test matches drawn, all eyes were at Sabina Park in Kingston, Jamaica for the series decider. The Windies pace battery was in full flow as the Indians were bowled out for a paltry 200. Captain Dravid stood out with a knock of 81. The importance of that knock became immense when Harbhajan Singh's fifer allowed India to bowl West Indies out for 103. A lead of close to a hundred runs was a luxury on that wicket but India needed to bat well in the second innings to force a victory. The Indian batsmen floundered again, but another crafty half century by Dravid (68) pushed the Indian total to 171, setting the Windies a target in excess of 250. Indian bowlers did the rest and Dravid's exploits ensured India won a series in the West Indies after three decades. He was rightly adjudged Man of the Match and Man of the Series.
9) 191 vs New Zealand at Nagpur, November 2010
A feisty New Zealand side had ensured two back to back draws against India, the then No 1 Test team in the world, in their own backyard. MS Dhoni's team needed to win the last Test to maintain their superiority if not their ranking. A classic Dravid knock of 191 on a not-so-easy Nagpur deck helped India seize the initiative and eventually win the match and the series.
10) 103* vs England at Lord's, London, July 2011
Nothing went right for India on their tour of England in 2011 except a certain Rahul Dravid, who gave a last glimpse of the 'class' that he had stood for in his entire Test career. England had seized the initiative in the first Test at Lord's with a total of 474 in the first innings. The pace trio of Anderson, Broad and Tremlett had the famed Indian batting on their knees, except Rahul Dravid. He started his Test career with a 95 at the same venue in 1996. A decade and a half later, Dravid would finally get his name of the Lord's honours board as he remained unbeaten on 103. India lost the Test macth and the series 0-4 to lose their top billing in Test cricket to a much superior English side. Dravid though went on to score two more centuries in the series to return home with his head held high.