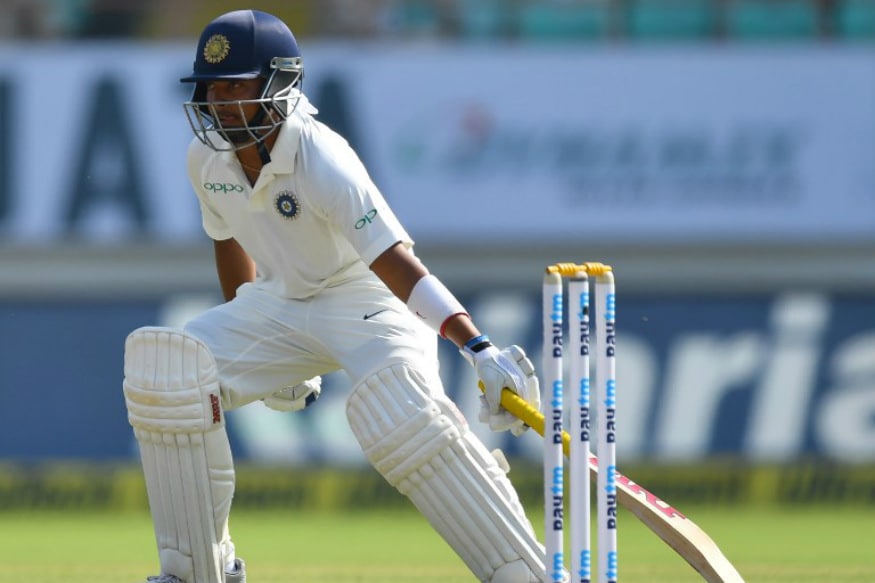 The graduation from domestic circuit to international cricket is not easy. The moment Prithvi Shaw scored those 546 runs off 330 balls at the age of 14, the expectations of becoming the 'next big thing' started to follow him. However, Shaw remained unfazed and kept heading down the right path.
Four years later, the right-hander from Mumbai walked out at the Saurashtra Cricket Association Stadium on Day 1 of the first Test against the Windies, donning the Indian white jersey for the first time and announced his arrival with an eye-pleasing 134. Former Indian great Sachin Tendulkar, who has known Shaw for quite some time now, said this century will give the 18-year-old a sense of satisfaction and a belief that he belongs at this level.
"I'm sure it must be extremely relieving that he's been able to get a big score in his first outing," Tendulkar told Times of India. "A big question mark always is 'a guy has done well at the domestic level, now will he be able to do the same at the international level?' However talented the guy is, there is always a question mark. And a century kind of seals it. The figure is magical. Everyone starts thinking differently. As far as I am concerned, the first hurdle that he was going to encounter is out of the way now. It cements your spot in the team and help you announce to the world that you belong here."
Tendulkar feels Shaw has the ability to adapt to any condition, and that's his biggest strength. "Whatever I have seen of him, he's been a fast learner," said the 45-year-old.
"To me, being talented is one thing but what you do with that talent becomes more important. If you want to succeed at the international level you've got to be a fast learner. And Prithvi is a very good learner. When somebody has to perform and sustain at this level, and play cricket at different grounds and conditions across the world for a long time to come, adaptability becomes the critical factor. I feel he has the knack to adapt to different situations and conditions. To me, that is Prithvi's biggest strength."
Shaw's journey to international cricket has been somewhat similar to Tendulkar's. Both scored big in school cricket, notched up tons on their respective Ranji Trophy and Duleep Trophy debuts, and took off from there on. Tendulkar met Shaw almost 10 years ago and predicted that the young batsman will play for India in future. The story is well-documented.
"Yes, we had spoken almost 10 years ago. Jagdish Chavan a friend of mine from MIG once asked me to take a look at Prithvi. He said 'there's this young kid who wants to meet you and it would be nice if you could have a look at him'. Prithvi wanted to discuss his game and he was very young at that time. So I had a look at him and at first glance, I told him (Chavan), this boy will end up playing for India. I remember telling him 'you're looking at a future India cricketer'. He said 'are you sure?' I said 'mark my words, this guy will end up playing for India'. So, that was my very first impression of Prithvi," Tendulkar revealed.
"At that age, the handeye coordination he had. The way he picked up the line and the length. It was really exceptional. At that age, no one can generate power. That comes with age. But technically how many guys are so correct. I could see that he had that natural talent, a gift and I felt not many guys have that."
Meanwhile, former Indian captain Sourav Ganguly too heaped praise on Shaw and said his back-foot game will allow him to do well in the upcoming Australian tour. Shaw became the youngest Indian batsman, fourth overall, to score a hundred on Test debut and played a key role in helping India finish Day 1 on a strong 364 for 4.
"What stands out is the way he batted, big temperament. He dominated the bowlers on way to his hundred. Big game, first match, he just played the way he knew," Ganguly said at the announcement of the fifth edition of Tata Steel Kolkata 25K running event. "It's positivity, temperament and attitude to batting which is fantastic. Playing the U-19 World Cup and playing a Test math for India is completely different. What I saw today was extremely pleasing to the eye and hopefully he can play for India for a long long time."
"He will go to Australia in a couple of months. I am sure he will do well because he is a good back-foot player. You want to see young players doing well. It's still early days, he will have to go the distance going around the world. But congratulations to him and I thought he was absolutely marvellous today."
While Suresh Raina compared Shaw's game to Virender Sehwag's, Ganguly suggested the youngster should be left alone.
"He played really well. Nice, hardworking guy. He reminds me of Viru. The brisk rate at which he scores runs and his fearlessness," Raina told IANS. "The way he played his shots is pure class. He is one for the future."
Meanwhile, Ganguly said: "Don't compare him with Sehwag. Sehwag was an absolute genius. Let him go around the world, I am sure he will get runs in Australia, England and South Africa but don't compare him with Sehwag."
Sharing some pearls of wisdom, Tendulkar said Shaw should just enjoy his game rather than thinking too much about it.
"Just go with the flow. Don't calculate or think too much. Just enjoy your cricket. Every outing is a special outing. Every outing, you go out with a lot of pride. That's what it was for me. I took a lot of pride in walking out on the field — be it for India or Mumbai or any club for that matter. Just give all the possible respect you can to the game," he concluded.