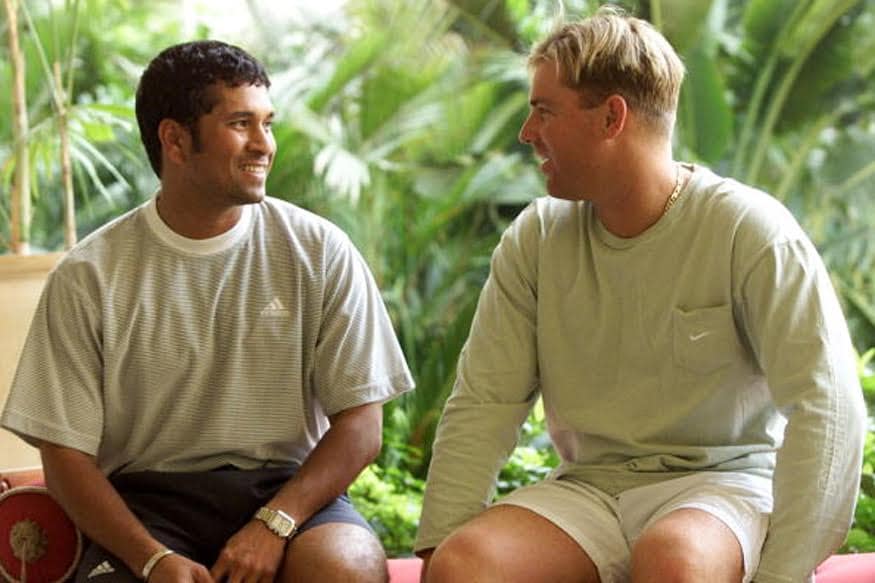 Former Australian legspinner Shane Warne, in his new book No Spin doesn't mince words when he talks about his personal experiences about life outside the cricket field. Without a doubt one of the best bowlers to have played the game, Warne's biggest arch-rivals have been Sachin Tendulkar and Brian Lara.
While speaking to NDTV about his newly released book, the ace-legspinner said that if he needed a century on the last day of a Test match his pick would be Lara, but to bat for his life he would turn towards Sachin Tendulkar, on any day of the week.
"Sachin Tendulkar and Brian Lara, easily, were the best batsmen of our generation, my time. If I want someone to score a hundred on the final day of the Test series, I would send Lara. But if I want someone to bat for my life day in, day out, I would send Tendulkar, he was a class act," Warne said.
The former Rajasthan Royals captain made his debut in a Test match against India in Sydney in 1992 and remembers dropping a caught and bowled chance of Ravi Shastri, the current head coach of the Indian team.
"I didn't know half my team. I had to introduce myself to the team. I remember playing the Test match, where Ravi Shastri played beautifully."
While Shastri went onto score a double hundred, a 17-year-old Tendulkar scored a magnificent ton to kick-start one of the greatest individual rivalries of modern day cricket.
Australia though went onto win the five-match Test series with a comfortable 4-0 scoreline.
"It was a great way to start my friendship with Sachin and Ravi and it was great to play against India," Warne quipped.
Warne's contests with the likes of Tendulkar and Lara are well documented. The ace spinner also had his run-ins with match-fixing. In his book, he also recalls a couple of incidents of being approached by former Pakistan cricketer Saleem Malik and a bookie in Sri Lanka.