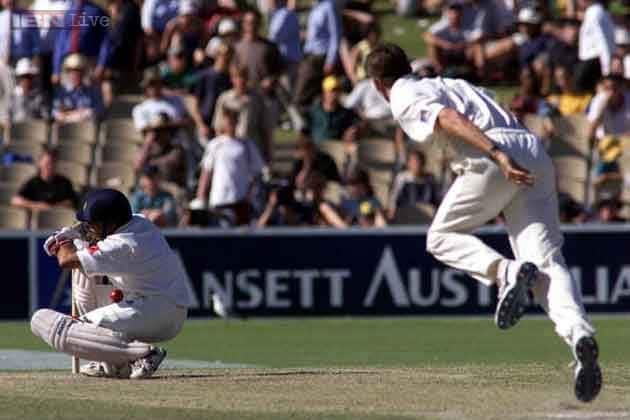 When Glenn Donald McGrath, Test batting average of 6.53 in November 2004, tells the story, it is with unholy and unabashed glee. He could be a toddler who has been handed the keys to the toy shop and the sweet shop. The tale is of how 6.53 bumped up to a high 7.27 after one innings, the much-celebrated Test match half-century in a career that threatened for long periods to have more wickets than runs.
But while there was relish on McGrath's face, if any batsman of his era had been around, he would have had the same look of stunned disbelief the Australian team sported when their No.11 hit a six during his knock. Because this was a McGrath radically different from the menacing, snarling, in-your-face, at-your-throat character they had battled. This was a McGrath who was working an audience over with a mic in hand as skillfully as he had done batsmen with ball in hand. In India as brand ambassador for Hardy's wines, McGrath held a rapt room in splits at an event hosted by ESPNCricinfo, the role of master-of-revels sitting lightly on those broad shoulders.
By his own reckoning, McGrath told Wisden India that in the great Australian side he was part of from 1993 to 2007, "the bowlers were always more fun and relaxed. The batsmen were a bit more boring, surly." On the evidence of how often a room with a capacity of 100 broke out in guffaws that could have come from 500, McGrath wasn't far off the mark.
Over to the man who, in another life, might have had a good whack at replacing Ryan Stiles on Whose Line is it Anyway.
McGrath has just confirmed Shane Warne and Sachin Tendulkar have spoken to him about their in-the-works Twenty20 league for retired stars. The talk, naturally, moves to whether there could be another McGrath v Tendulkar battle royale.
Yeah, I've had some great battles with Sachin. A lot of people in India come up to me and say they still haven't forgiven me for getting Sachin out in the 2003 World Cup final. And I don't think they will ever forgive me for getting him out lbw when he was hit in the shoulder.
Sachin sent me a copy of his book the other day, signed with a message, which was really nice. I'll treasure it. When you're reading a book by a teammate or a guy you've played against, you don't flick through from the start. You go straight to back and go through the index! So I went straight to those pages to see what page numbers were against 'McGrath'.
There was the 1999 Test match in Adelaide. I bowled a short ball that didn't bounce. Sachin - he's only sort of this tall anyway (indicates waist height) - and when he ducks he's even shorter. And he said the ball was clearly going over the stumps. Clearly. I must say, I do disagree with that statement. From where I was, I could see over the top of Sachin and I could see the bails. So I said, it's clearly, clearly hitting the stumps.
I thought the umpire had the easiest job in the world when I was bowling. If I appeal, it's out, if I don't, it's not out. Simple isn't it?
McGrath explains Warne's charisma.
He looks younger now than he did at the time he played. He was going out with Liz Hurley a little while ago and that was amazing. Everyone in Australia, we couldn't believe Shane was going out with Liz Hurley. But then, he seems to have a bigger profile in the UK or South Africa or places like that than he does in Australia. And in the UK, they were going, 'Can you believe, Liz Hurley is going out with Shane Warne?'
Batsmen make McGrath sick. Sometimes even the ones sporting the Baggy Green.
The batsmen started their own club and called it the Platinum Club. They'd be sitting in coffee shops, sipping lattes and carrying on like idiots. We started what we called the Fast Bowling Cartel.
The world got a glimpse of the famous McGrath v Tendulkar rivalry for the first time in 1999. © AFP
The world got a glimpse of the famous McGrath v Tendulkar rivalry for the first time in 1999. © AFP
We were sitting around one day and were sick and tired of batsmen getting all the acknowledgement. Walk out, the crowd claps him. Get to 50, he raises his bat. Get to 100, he raises his bat. Gets out and walks off, he's raising his bat. He's after acknowledgment the whole time. So we decided, in the 2001 Ashes tour, from now on, if a bowler takes five wickets in an innings, we're going to raise the ball to the crowd and get some acknowledgment.
The first Test comes along, it's at Lord's, one of my favourite grounds in the world. I was lucky enough to take five wickets, so I got the ball and raised it high. All the bowlers stood around me clapping. The batsmen didn't know what was happening.
But we were pretty happy we got that one past the batsmen. So Damien Fleming came up with another idea. And he said from now on, when No. 9, 10 or 11 gets to 25, we raise our bats. So we put it to Steve Waugh. We said, 'Steven, from now on when we get 25 we're going to raise our bats, what do you think?' Do you know what he said? 'No.'
It's Nerds v Julios. And guess who the biggest Julio was.
We had two other teams in the group. The Nerds and the Julios. For the Julios, everything had to be perfect - their hair, their clothes, their designer gear. And the Nerds, we didn't care what we looked like. The Julios were the sort, when we were playing football, they'd be looking at their shadows while running.
We had a physiotherapist, Errol Alcott and he was a bigger Julio than anyone else. At one time, a player - I think it was David Boon - was injured and Errol ran out on the field. And he was doing this big run like they do in Baywatch. And as he was running, he was looking down at his shadow. And he ran straight past David Boon. That's what being a Julio is all about.
It's said McGrath remembers each of his 949 international wickets. He also has room in his memory to rustle up a readymade transcript (generous dose of creative license being a prominent ingredient) of his more famous run-ins. Just what did he say to Ramnaresh Sarwan? And is the Eddo Brandes story true?
If you see the pictures I'm just in his face. What happened was, the night before I asked him, 'Where do you go for dinner in Antigua?' And he told me about this restaurant, but it was very bad. So I was just saying, 'Mate that restaurant you told me about was horrid.' So that's what that was about.
There's one other sledge that everyone asks me if it's true or not, especially the English. For some reason they want this to be true.
We're playing Zimbabwe, and Eddo Brandes was batting. Apparently I was bowling to him, couldn't get him out, and I said, 'Mate, why are you so fat?' And he said, 'Because every time I sleep with your wife, she gives me a biscuit.' And the English want to know if it's true. Unfortunately it's not. And as much as I love Eddo, he wasn't out there long enough to sledge anyway.
The piece de resistance. Glenn McGrath remembers every tiny detail of the 61 he made against New Zealand in November 2004. And we mean: Every. Tiny. Detail. What follows is a condensed version.
I had a pre-match routine every game I played. I'd get up an hour and a half before the bus left for the ground, go down to the pool, swim half hour. Back to the room, pack, shower, half hour. And then down to brekkie, half hour. That was my pre-match routine every game I played.
If you see the pictures I'm just in his face. What happened was, the night before I asked him, 'Where do you go for dinner in Antigua?' © Getty Images
If you see the pictures I'm just in his face. What happened was, the night before I asked him, 'Where do you go for dinner in Antigua?' © Getty Images
Normally there was maybe one fast bowling teammate or I was all by myself in the pool. The batsmen - well they're still asleep. They're a lazy bunch. But that day, three of my teammates were there with me. Jason Gillespie, and two batsmen decided they'd get up early, Adam Gilchrist and Michael Clarke. There we are, swimming away, doing a few stretches, and over the wall flew two ducks and landed in the pool with us.
And as everyone knows, no player likes to associate ducks in any shape or form with cricket. I know batsmen can't even watch ducks flying past a cricket ground. Matty Hayden wouldn't even let his kids have rubber duckies in the bathtub. And you definitely do not eat duck the night before a big game.
So we were trying to scare these ducks, but they wouldn't fly away. We look at each other and think, 'We're not going to score a run between the four of us.'
And in the game, when Gilchrist got out, I've got my creams on, my inside guard, thigh guard, chest guard, pads - I'm happy to wear as much protection as possible. Finally the ninth wicket falls. I get up, grab my helmet, gloves and bat and start walking out. And I glanced over at Gilly. He has changed into fresh creams and sitting there taping his fingers. He's getting ready to go out and field! I said 'Thanks for vote of confidence, Gilly.' And then I passed the rest of my teammates, all walking in from the viewing area. They were all coming in to get ready and go field.
I go out to the middle of the Gabba, take my guard, look up at the players' viewing box, a big glass structure. Not a single one of my teammates there. I walk down the wicket, tapping it. I'm not actually sure what I'm doing, but I've seen the batsmen do it.
But I faced up, hit a few in the middle and got a few runs. I get to 11, and get dropped twice. A slower one that Mark Richardson dropped and a flicked one that Brendon McCullum dropped. 11 is my lucky number, it's my favourite number. I started to play a few shots, and I had been practicing hitting some short balls in the nets. And the more runs I scored, the more and more of my teammates came back to watch in the viewing area. I even hit a six that game. I've seen the highlights, and the thing I love the most about it is the camera goes from me, straight to the players. And to see my teammates' faces with massive smiles but that look of total, sheer disbelief is something I really loved.
In that innings, Gillespie and myself both scored maiden Test fifties. Gilchrist and Clarke both scored Test hundreds. I tell you, I look for those ducks every time we went back there, but they never came back.
McGrath puts his innings of 61 in context.
I was sitting with Ricky Ponting after the game and trying to explain to him what my 61 meant. 'Big picture,' I said. 'Rick, my average is 6. For me to get 61, is like you scoring 500.' He wouldn't see it from that perspective. I caught up with him the other day. At the end of my career I had only 641 runs in total. Of which I scored 10 percent of my runs in one innings. So I went to Ricky, who has scored some 13,800 runs, and just to put it in perspective for him, I said, 'Rick, my 61 was like you going out and batting and scoring 1300 runs in one innings.' And still he wouldn't look at it from that perspective. What can you do.
There was a shrug of the shoulders that accompanied that last deadpan line. His audience mirrored McGrath. But their shoulders were convulsing. Because of the unrestrained laughter.
What, indeed, can you do!