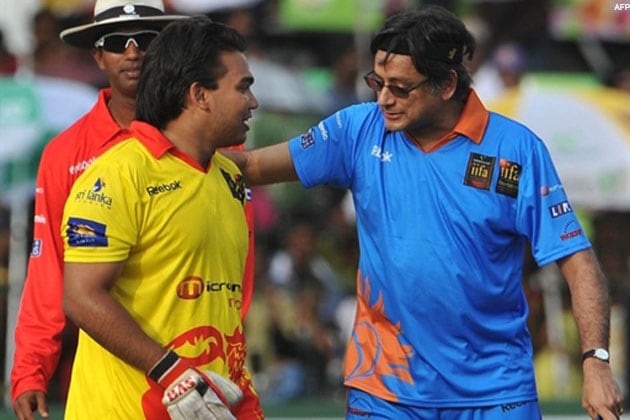 New Delhi: Former Union Minister Shashi Tharoor on Tuesday joined the bandwagon of ex-cricketers and experts who criticised Sri Lankan bowler Suraj Randiv's deliberate no-ball, which denied Virender Sehwag a hundred in last night's ODI match in Dambulla.
Tweeting in the microblogging site, the former Minister of State for External Affairs said the laws of the sport which deprived Sehwag from scoring his 13th ODI century are like "an ass".
"Had Sehwag run a single, while the ball was travelling into the stands, would he have scored a century? the Laws (of Cricket) are 'an ass'!," Tharoor tweeted.
"To those saying the game was over the moment no-ball was called, not true. Sehwag could have been run out off a no ball! (That's why Law=ass)".
Then, he went on to justify the words he used in his tweets.
He wrote: "By the way, 'the law is an ass' is a quote from Charles Dickens' Oliver Twist, not some new piece of unparliamentary invective to pillory me4 (me for)."
Last night, Sehwag was just one short of his hundred when Randiv deliberately bowled no ball which was hit by the opener for a six. However, it did not count as six because the no ball amounted to India's winning run leaving Sehwag on an unbeaten 99.
Randiv's antics drew sharp criticism from the batsman as well as many former cricketers, including Madan Lal.
However, the issue seems to be cooling off after Sri Lanka Cricket Board and the bowler apologised.