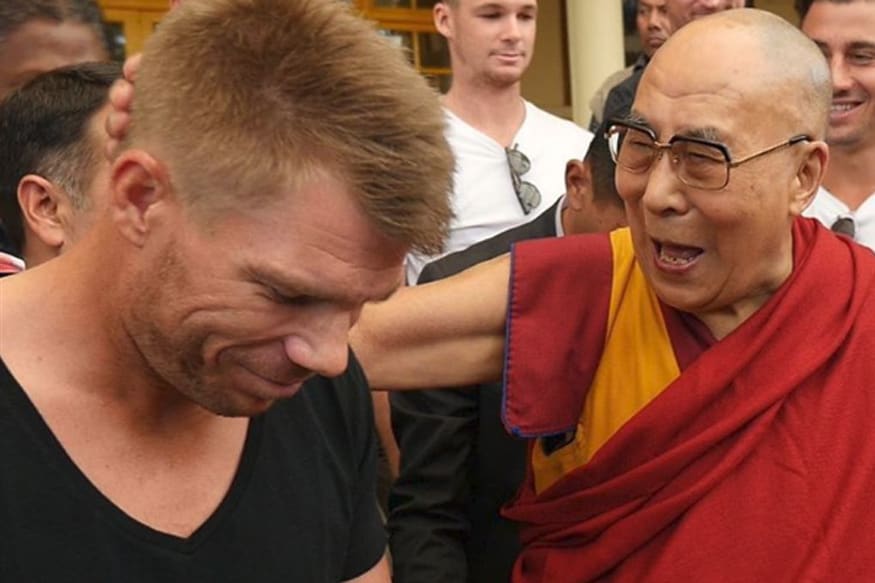 New Delhi: Australia vice-captain David Warner might not have had the best time on the field during the just concluded four-Test series against India, but he has loved every moment of it. And one memory that the Aussie will take back with him is meeting the Dalai Lama in Dharamsala.
An integral member of the Australian team, Warner managed to score just 193 runs in eight innings at an average of 24.12. In fact, the swashbuckling opener managed just one fifty and finished the series with a highest score of 56. But thankfully, the other batsmen chipped in as the Australians gave Virat Kohli and boys a run for their money before losing the series 2-1.
Taking to Instagram, Warner posted a picture with the exiled spiritual leader which read: "On this trip another memory I will not forget. What a pleasure and honour to meet his holiness the Dalai Lama who greeted all of the Australian team with warmth, joy and wisdom. What an amazing person!!!! #peaceofmind✌ #oneness #spiritual."
The Dalai Lama had spent time with the Australian team ahead of the fourth Test and even skipper Steve Smith had posted a picture with the spiritual leader. Smith had questioned him on achieving inner peace.
"He's all about compassion and oneness for every human being and it was great to hear something like that from someone as prestigious as the Dalai Lama," Smith was quoted as saying by Wide World of Sports.
"I asked him a question about sleep and how he could help me, and he gave me his blessing. We rubbed our noses together and gave me some blessings, so hopefully it'll help me with my sleep over the next five days.
"If we can learn anything from it, it is that perhaps sometimes we get a bit over the top when we are out there playing cricket. It's a tough game but at the end of the day it's just a game and you need to realise that at times."
Warner also spoke about how the team learnt a lot from the just concluded series even though they did not win. He again posted a team photo on Instagram which read: "What a series it was. Result did not go our way but we have grown as a team and as individuals. It's all about learning and adapting. Thanks to all the Australian supporters who travelled over here and the supporters back home and around the world. Look forward to our next challenge."
Both India skipper Virat Kohli and Smith has hailed the just concluded series as the best they had ever been part of.