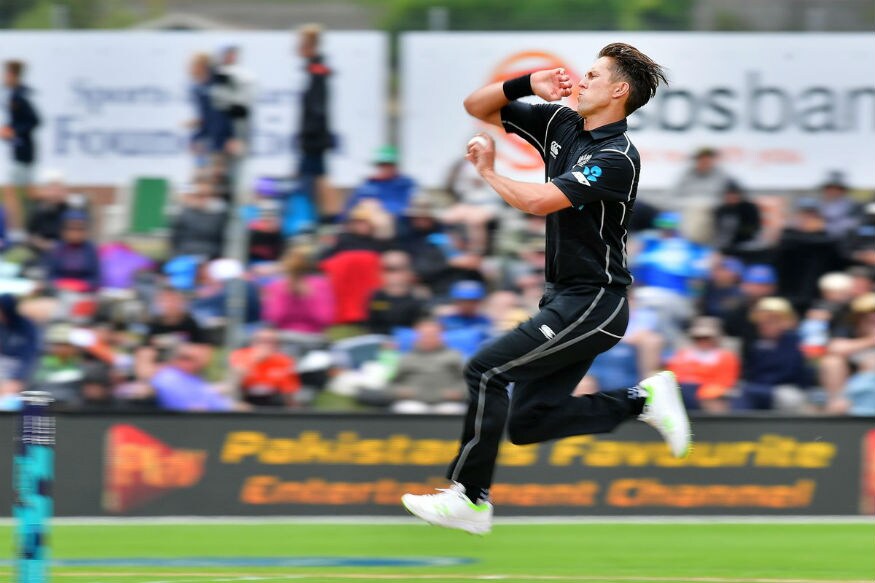 Solar Eclipses are rare. There have been 106 Solar Eclipses in 47 years since 1971. However, since this is not a piece on astrology, let's get back to cricket - the first ODI was played in 1971. What Trent Boult achieved against Pakistan in Abu Dhabi on Wednesday – has happened only on 46 occasions in 47 years of ODI cricket!
Fakhar Zaman, Babar Azam and Mohammad Hafeez became the victims of ODI cricket's 46th hat-trick.
So rare is the feat that Boult dedicated it to his wife and new-born son.
"The lucky charm," he gushed. "He must have been watching in the early hours of the morning back home. I haven't caught up with them yet but I'm sure they're pretty happy."
What makes a hat-trick so special is its low probability of occurrence – which is directly linked to the skill and difficulty level required to achieve it - three wickets in three balls – a lot of things have to be done just right for that to happen.
46 hat-tricks in 4186 ODI matches in history – that is one hat-trick every 91 matches!
A hat-trick assumes special significance in ODI cricket as there are lesser men in catching positions, more defensive fields and a white ball which does significantly less in the air and off the seam as compared to a red Test match cherry.
The first ODI hat-trick is accredited to Pakistan's Jalal-ud-Din – against Australia at Hyderabad (Pakistan) on the 20th of September, 1982. Rodney Marsh, Bruce Yardley and Geoff Lawson were at the other end of the hat-trick.
There have been 4 hat-tricks in the 1980s, 9 in the 1990s, 14 in the 2000s and 19 in the 2010s.
Boult's hat-trick was the third of the year after Shehan Madushanka (vs Bangladesh at Mirpur) and Imran Tahir (vs Zimbabwe at Bloemfontein).
It was also the third hat-trick in New Zealand's ODI history after Danny Morrison (vs India at Napier in 1994) and Shane Bond (vs Australia at Hobart in 2007).
Hat-tricks are dominated by fast bowlers with 37 of the 46 hat-tricks accredited to them. Spinners have only accounted for 9. In all, 8 spinners and 33 fast bowlers have taken Hat-tricks.
Maximum Hat-tricks By a Bowler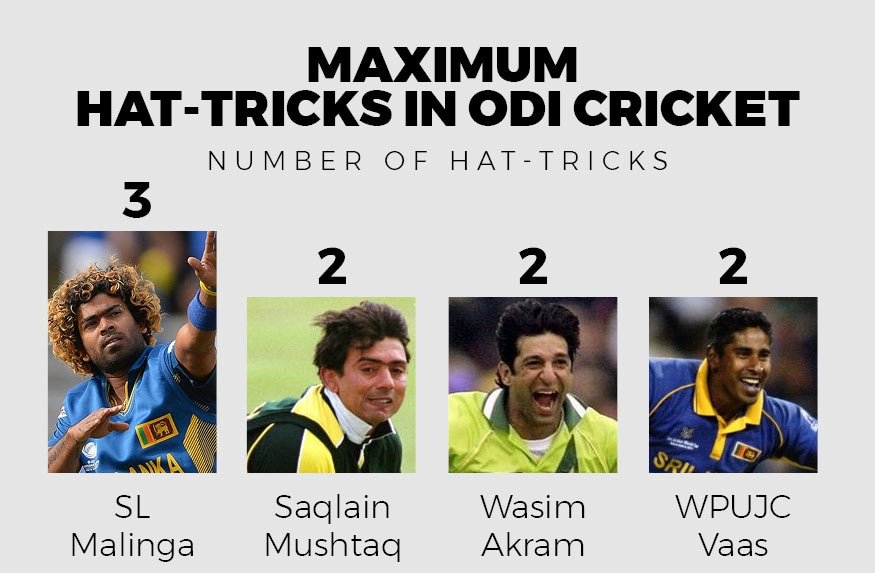 Lasith Malinga is the only bowler who has three ODI hat-tricks to his name. The most memorable of these was his first against South Africa in the 2007 World Cup at Providence. Sri Lanka were bowled out for 209. South Africa, after some hiccups, were within four runs of a comfortable win, at 206 for 5 in the 45th over. But Malinga had other plans.
He cleaned up Pollock with a slower one before Hall dug out a yorker only for Tharanga to pouch at cover. Two wickets in two balls. South Africa were reduced to 206 for 7 at the end of the 45th. Vaas conceded just one run off the next over. But more importantly South Africa hadn't lost a wicket.
Malinga again came in to bowl the 47th. It was Kallis (the highest scorer of the match) on strike. Euphoria struck when the South African nicked a full and fast delivery outside off to Sangakkara – to complete Malinga's hat-trick.
There was more drama. Ntini's stumps were uprooted off the next delivery – another yorker. The Proteas were choking. Three runs still needed. Langeveldt and Peterson negotiated the remainder of the over and the next one from Vaas. It what was a pulsating finish to a thrilling encounter, Peterson edged Malinga off the second delivery of the 49th – the ball ran away to the boundary past slip. South Africa won by one wicket.
Four wickets in Four balls – the feat had never been achieved before and has never been achieved after.
Wasim Akram, Saqlain Mushtaq and Chaminda Vaas are the other three bowlers to have taken more than one hat-trick – two each.
Same Mode of Dismissal, Country and Grounds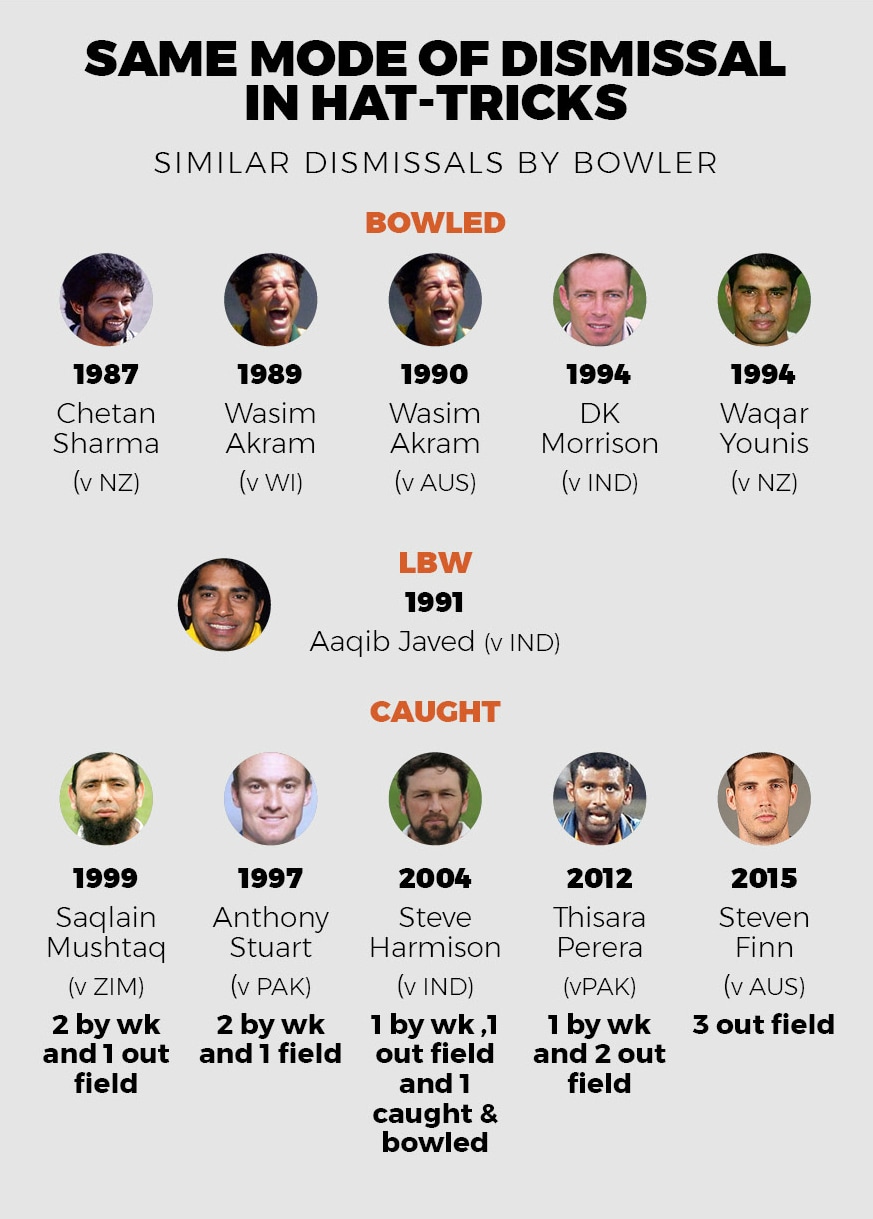 Akram picked both his hat-tricks at Sharjah. And all the six batsmen dismissed in his two hat-tricks were 'clean bowled' – not surprising as he was a master of swing, reverse swing and yorkers.
He cleaned up Dujon, Marshall and Ambrose in a Champions Trophy encounter in 1989 – Pakistan went on to win by 11 runs.
The following year, in 1990, he shattered the stumps of Hughes, Rackemann and Alderman to take Pakistan to a 36-run win in the final of the Austral-Asia Cup.
Akram's two hat-tricks are amongst the 11 hat-tricks when the mode of the three dismissals has been the same.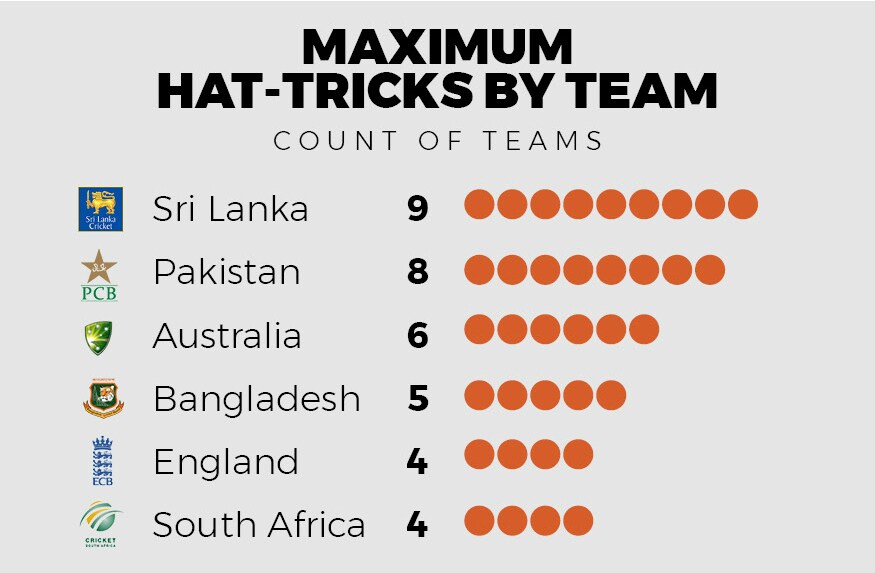 Interestingly, it is Sri Lanka who lead the country-chart with 9 ODI hat-tricks.
West Indies, who had a great fast bowling unit, till the late 1990s, surprisingly, have only 2 hat-tricks to their name – and both in the new millennium.
Amongst venues, the Sher-e-Bangla National Stadium in Mirpur has hosted the maximum number of hat-tricks – 5. The R Premadasa Stadium in Colombo and the Sharjah Cricket Stadium have witnessed 4 each.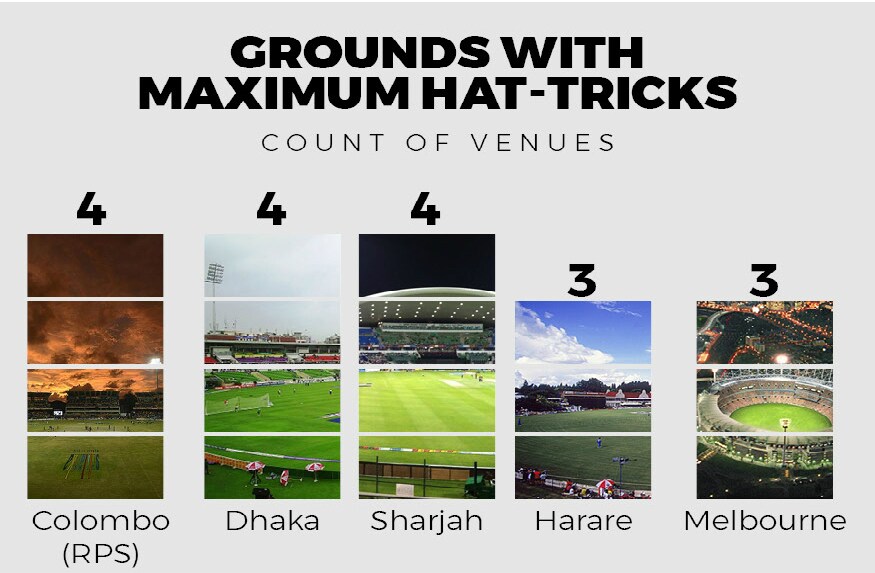 World Cups:
There have been nine hat-tricks in World Cup cricket.
Chetan Sharma holds the record for the first World Cup hat-trick which he achieved against New Zealand in India's final group game in the 1987 World Cup in Nagpur. Sharma went past the defense of Ken Rutherford, Ian Smith and Ewen Chatfield – all clean bowled.
The other memorable World Cup hat-trick, apart from Malinga's, involved the Sri Lankan left-armer, Chaminda Vaas in action against Bangladesh in Pietermaritzburg in 2003. This was indeed a unique one as Vaas got rid of Hannan Sarkar, Al Sahariar and Mohammad Ashraful off the first three deliveries of the match! This is the only instance of such a feat in ODI history.
Vaas got rid of Sanwar Hossain off the fifth ball – this made it 4 wickets in 5 balls.
But Vaas wasn't the first bowler to achieve this. Saqlain Mushtaq had already spun his name into the record books seven years earlier – against Zimbabwe in Peshawar (not in a World Cup match though). Saqlain had sent packing Grant Flower, John Rennie and Andy Whittall to complete a hat-trick and then got rid of Gavin Rennie a ball after.
The most unusual name in the World Cup hat-trick list is of JP Duminy – against Sri Lanka at Sydney in 2015. The South African off-spinner got rid of Angelo Mathews off the last ball of the 33rd over before returning in the 35th to send Kulasekara and Kaushal packing.
Other Interesting Hat-Trick Numbers:
6: Hat-tricks which involved first three wickets of the innings – Eddo Brandes vs England (1997), Chaminda Vaas vs Bangladesh (2003), Brett Lee vs Kenya (2003), Clint Mckay vs England (2013), Prosper Utseya vs South Africa (2014) and Kagiso Rabada vs Bangladesh (2015)
17: Hat-Tricks which involved last three wickets of an innings:
The most famous amongst these has to be Charl Langeveldt against West Indies at Barbados on the 11th of May, 2005. South Africa, courtesy a hundred by Dippenaar, amassed 284 for 6. Gayle's 132 took West Indies to touching distance of the target. But after his departure, what should have been a comfortable win turned into a tricky chase.
This is what it was reduced to - two runs from four deliveries with three wickets in hand – It was West Indies' game to lose, and lose they did! Rather, Langeveldt snatched it away from them.
He sent Ian Bradshaw's leg stump flying before cleaning Daren Powell who went for a mighty heave. He then trapped Collymore plumb lbw to give South Africa a memorable win and an unassailable 3-0 series lead.
4: Number of ODI Hat-tricks on debut
- Taijul Islam (Bangladesh) vs Zimbabwe at Dhaka in 2014
- Kagiso Rabada (South Africa) vs Bangladesh at Mirpur in 2015
- PWH de Silva (Sri Lanka) vs Zimbabwe at Galle in 2017
- DSK Madushanka vs Bangladesh at Dhaka in 2018
Note: Aaqib Javed was the youngest (19 years and 81 days) to achieve a hat-trick – against India at Sharjah on the 25th of October, 1991. He is the only bowler to have all his three hat-trick victims leg before wicket
Imran Tahir was the oldest (39 years and 190 days) to achieve a hat-trick – against Zimbabwe at Bloemfontein on the 3rd of October, 2018
2: Hat-trick Match Last ODI of the Bowler
Antony Stuart (Australia) vs Pakistan at Melbourne, 1997
Andrew Flintoff (England) vs West Indies at St Lucia, 2009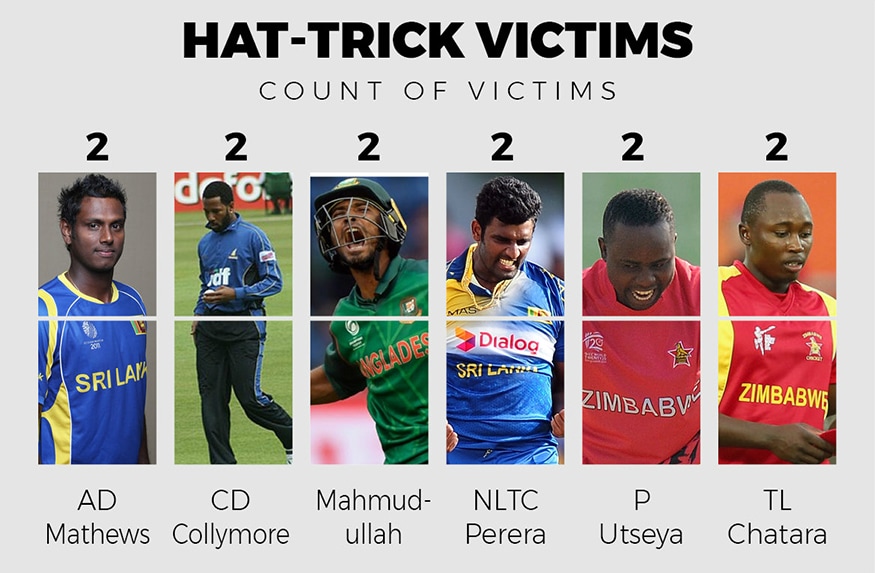 6: Batsmen who have been part of a hat-trick maximum number of times
Angelo Mathews, Corey Collymore, Mahmudullah, Thisara Perera, Prosper Utseya and Tendai Chatara (2 times each)