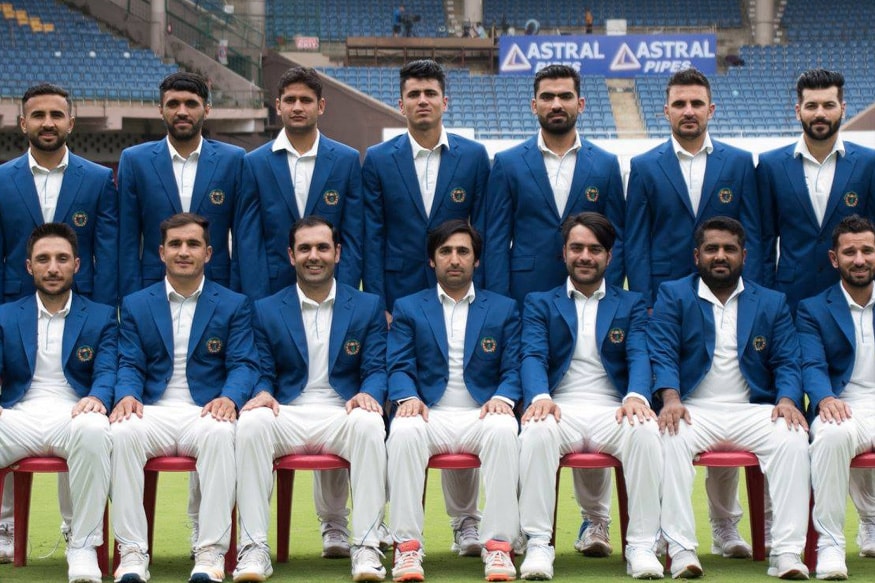 After two heartbreaks, Afghanistan ended their 2018 Asia Cup campaign on a high with a stunning tie against powerhouses India. They would have wanted a win but tying a game against a second-ranked Indian side will heal some of their wounds. It was reward for a team that had punched above its weight throughout the tournament. For all the attention focused on India-Pakistan clashes in the tournament, there is little doubt that this feisty bunch of men were the surprise package. They beat Sri Lanka and Bangladesh to top their group and then almost got the better of Pakistan and Bangladesh (again) in the Super four, losing narrowly to both – games that perhaps a more experienced outfit would have won.
Those disappointments notwithstanding, it has been a stunning journey for Afghanistan. They have shown that they arrive at tournaments not only to participate but to compete. And they have given enough evidence to the cricketing world that at least in the shorter formats of the game, they are here to stay.
However, it is worth recounting that this success hasn't come easy to the war-torn nation.
Many of the players grew up in refugee camps in Pakistan. That is where the likes of Nawroz Mangal, Mohammad Nabi and Karim Sadiq learnt their cricket – playing with bats made of sticks, cardboard wickets and paper balls. Some of them did not have food to eat. They could not make ends meet. They did not know whether there will be a tomorrow. They were driven out of home – their home had become a battle-ground. The ruling Taliban had banned every sport.
They had nothing. Nothing but a desire and a common will. A desire to form a team and see Afghanistan play cricket on a world stage.
Things began to change in 2000 when the ban on the sport was lifted by the Taliban. The Afghanistan Cricket Federation became an affiliate member in 2001. But the political situation remained grim and volatile. 9/11 happened in New York. America invaded Afghanistan a month later in October.
The country was in turmoil.
This was the backdrop on which the foundation of the Afghanistan cricket team was laid. But they never gave up their resolve. They were determined to succeed and here they are, looking some of the best teams in the world in the eye, and often beating them.
So, as we get a last glimpse of Afghanistan at the Asia Cup, it is worth revisiting the remarkable journey that has got them here.
1995:
Afghanistan Cricket Board is formed
Just for perspective Sri Lanka won the World Cup in 1996
2001:
Afghanistan become an Affiliate member
Just for perspective, England and Australia are Full Members since 1909, India and West Indies since 1926, Sri Lanka 1981, Zimbabwe 1992 and Bangladesh 2000.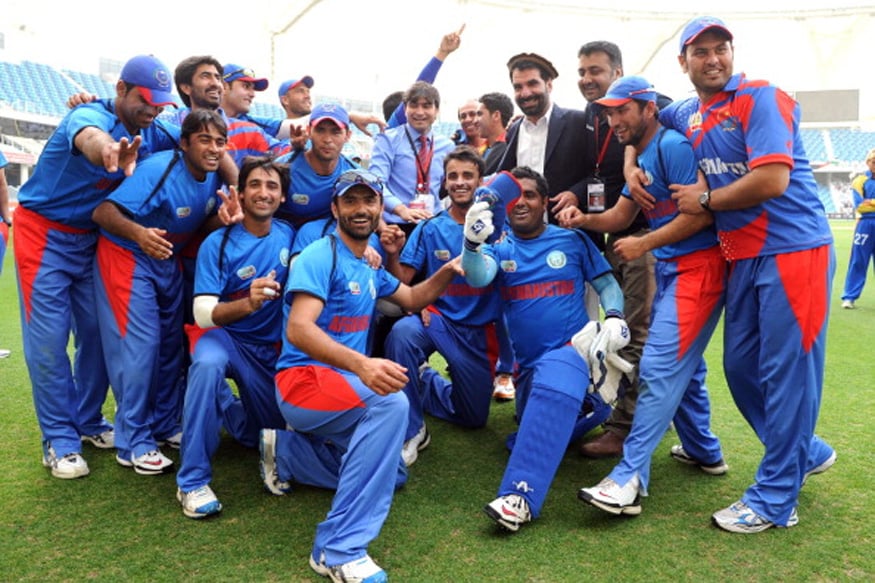 2006:
Finished third in the ACC Trophy defeating Nepal in the play-off
2008:
Won Division Five of the World Cricket League in Jersey
Won Division Four of the World Cricket League in Tanzania
2009:
Won Division Three of the World Cricket League in Buenos Aires
Fail to qualify for the 2011 World Cup but earn ODI Status for 4 years
19th April, 2009:
Played their first ODI against Scotland in the ICC World Cup Qualifier 5th place playoff in Benoni. Won by 89 runs. Mohammad Nabi was the Man of the Match.
Sept 2009-Feb 2014:
Afghanistan rose by leaps and bounds between 2009 and 2014. If we consider all ODIs between Afghanistan, Scotland, Ireland, UAE, Netherlands, Kenya, Zimbabwe, Canada, Nepal and Hong Kong during this period – it is only Ireland (18 out of 24) who won more matches than Afghanistan (15 out of 23).
Mohammad Shahzad was the leading run-scorer only after Paul Stirling with 797 runs at an average of 37. He notched up three tons during this period – again, with Stirling the only other batsman to do so.
Mohammad Nabi provided the impetus in the middle order as reflected in his strike rate of 95 during this period. Stirling scored at 98 runs per 100 balls and was the only batsman (minimum of 500 runs scored) who scored at a faster rate. Shahzad followed Nabi and scored at slightly above 92 runs per over.
Hamid Hassan and Samiullah Shenwari led the bowling attack with 29 wickets each in this time-frame.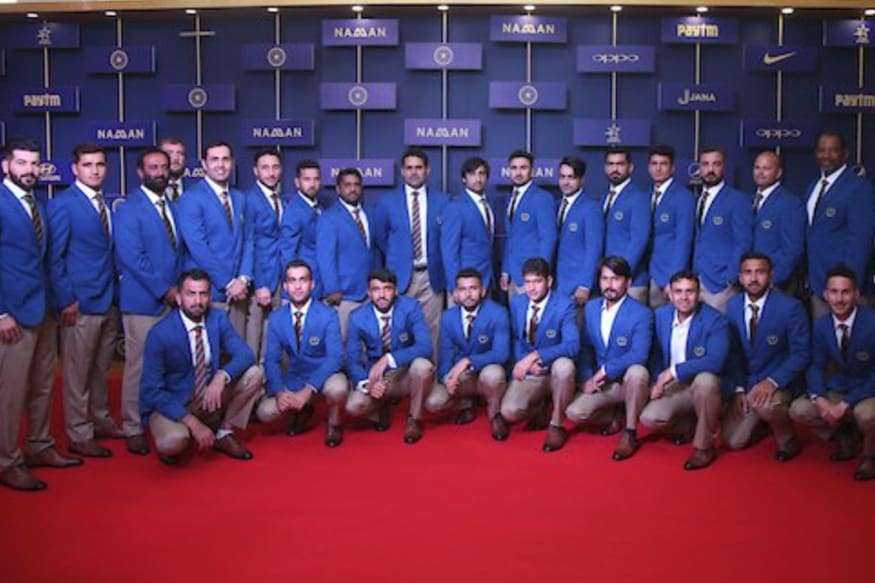 2012:
Played their first ODI against a Full member – vs Pakistan in Dubai.
2013:
Afghanistan was rewarded for its consistent performances and awarded the Associate Status.
Just for perspective - Afghanistan became the eighth Asian country to become an Associate member after Hong Kong (1969), Kuwait (2005), Malaysia (1967), Nepal (1996), Singapore (1974), Thailand (2005) and UAE (1990).
October 4, 2013:
Defeat Kenya in the ICC World Cricket League Championship in Sharjah and qualify for the 2015 World Cup
1 March, 2014:
First victory over Bangladesh in an ODI – at the Asia Cup at Fatullah. Afghanistan win by 32 runs. Asghar Afghan 90 in 103 balls. Samiullah Shenwari 81 off 69 balls, Hamid Hassan 2-26.
22 July 2014:
Afghanistan beat Zimbabwe by 2 wickets in Bulawayo.
Aftab Alam 2-44. Javed Ahmadi 56 in 57 balls,
Usman Ghani 43 in 43 balls, Mohammad Nabi 42 in 40 balls.
Afghanistan's historic first win over their African rivals was marked by another victory in the final ODI at the same venue. Afghanistan beat the hosts by 100 runs to draw the series 2-2.
17th Jan, 2015:
First win over Ireland in a Triangular Series in Dubai. Najibullah Zadran stars with 83 in just 50 balls. Hamid Hassan 3-24.
26th Feb, 2015:
Beat Scotland in Dunedin to win their first ever World Cup match. Shapoor Zadran stars with 4 wickets before Javed Ahmadi (51) and Shenwari (96) help Afghanistan to a nail-biting one-wicket win.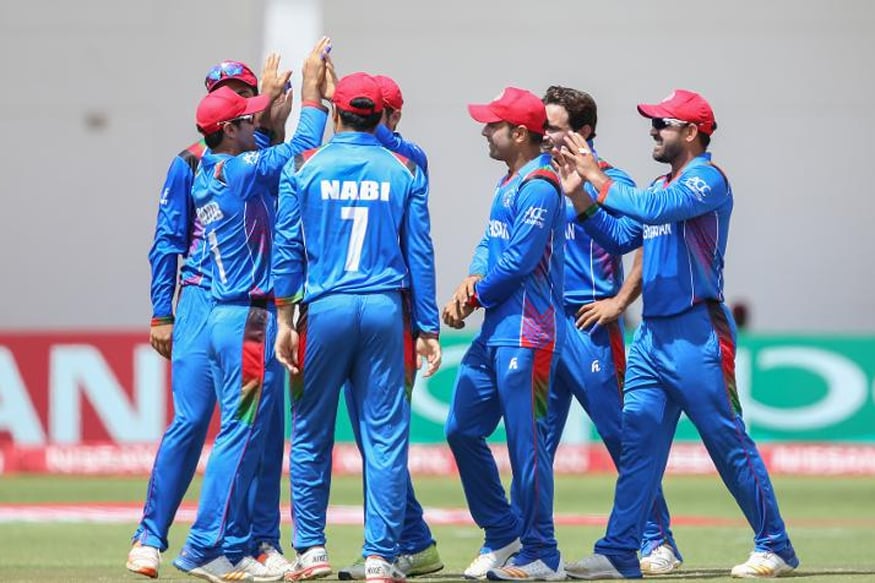 (Picture credit: ICC)
This victory marked a transformation for Afghanistan in ODI cricket. From October 2015 till September 2018, Afghanistan has won 29 of its 50 ODIs. They have a better win-loss ratio than Pakistan, Australia, Sri Lanka, West Indies and Bangladesh amongst others. Of course, this is also a result of playing Associate Members, but still their rise has been nothing short of sensational.
These included two series wins in Zimbabwe, maiden series wins in Sharjah and India (against Ireland), wins against West Indies and Sri Lanka.
24th October, 2015:
Maiden series-wins in Zimbabwe (3-2). Noor Ali Zadran and Nabi hit fifties.
Dawlat Zadran picks up 4 wickets.
Mohammad Nabi top scores in the series with 223 runs at an average of almost 45. Dawlat Zadran is the pick of the bowlers with 9 wickets.
6th January, 2016:
Maiden series-wins in Sharjah. Gulbadin Naib's unbeaten 82 in just 68 deliveries helps Afghanistan chase Zimbabwe's 248 in the series-decider. Nabi picks up two middle order wickets and is also very restrictive conceding just 23 runs in his 10 overs.
July 2016:
Afghanistan draw a series in Ireland.
Mohammad Shehzad and Rashid Khan are the standout performers with the bat and ball.
26th February, 2017:
Afghanistan beat Zimbabwe in another away series. Nabi is again the star performer in the decider scoring 48 in 40 balls before picking up three wickets for just 14 runs in under 4 overs. Afghanistan score 253/9 and skittle Zimbabwe for 54 runs to win by 106 runs (D/L method).
24th March, 2017:
Afghanistan beat Zimbabwe 3-2 in a five match ODI series played in Greater Noida. Rashid Khan took 4-29 in his 10 overs before Rahmat Shah's unbeaten 108 off just 128 balls helps them chase 230 with seven wickets in hand.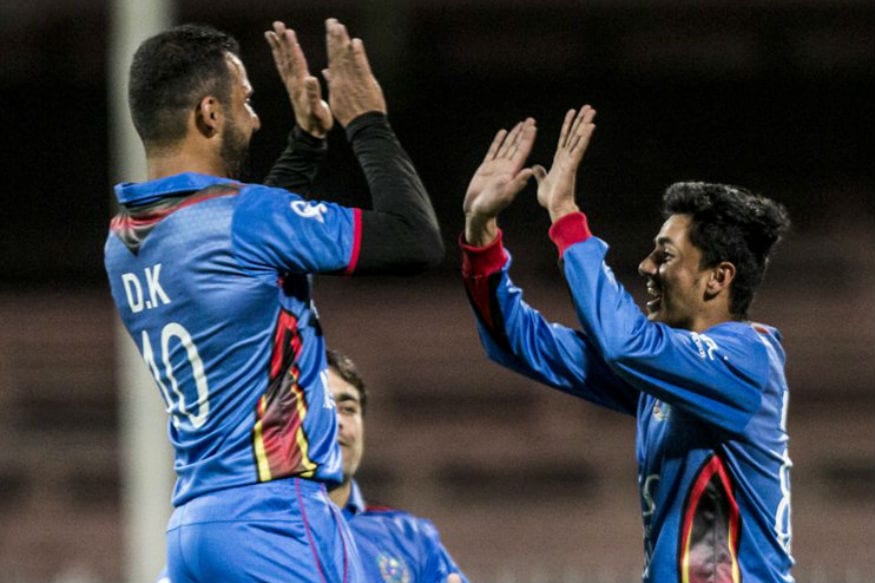 (Image: ICC/Twitter)
Rahmat Shah top-scores for Afghanistan with 262 runs in the series. Rashid Khan is the leading wicket-taker with 16 wickets.
9th June, 2017:
Afghanistan beat West Indies by 63 runs in the series opener at Gros Islet.
Rashid Khan picks up his career best of 7 wickets for 18 runs in 8.4 overs.
This is Afghanistan's first win over a major cricket powerhouse.
February 2018:
Afghanistan dominate Zimbabwe and beat them 4-1 in UAE. Rahmat Shah leads the run-charts with 272 runs in 4 innings at a strike rate of 91.
Rashid Khan picks up 16 wickets in 5 innings conceding just 8 runs per wicket and just over 3 runs per over.
March 23, 2018:
Beat Ireland by 5 wickets in the ICC WC Qualifier in Harare to secure a berth at the 2019 World Cup.
March 25, 2018:
Beat West Indies by 7 wickets in the final of the ICC WC Qualifier in Harare. This is the second time Afghanistan beat West Indies in the tournament. It was a remarkable comeback by Afghanistan who had lost the first three Group Stages matches to Scotland, Zimbabwe and Hong Kong.
Mohammad Nabi and Rahmat Shah were the leading run-getters for Afghanistan and Mujeeb Ur Rahman with 16 wickets the leading wicket taker of the tournament.
31st August, 2018:
Afghanistan won yet another away series beating Ireland in the decider in Belfast. The victory was set up by the bowlers led by Khan – 8 overs, 3 wickets and just 18 runs. Ireland were bowled out for 124 before Afghanistan chased the paltry total with eight wickets in hand.
17th September, 2018:
First win over Sri Lanka. Rahmat Shah scores 72 helping Afghanistan to 249 before the spinners trounce Sri Lanka for 158 in a group stage match at the Asia Cup.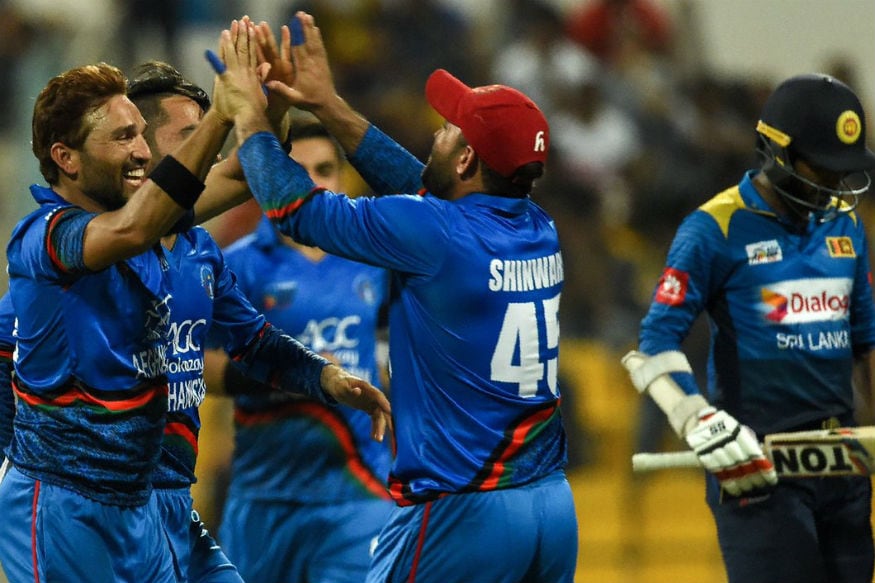 Image credit: Twitter/ICC
These results bring out a very interesting aspect of the character of the Afghanistan Team – their big-match temperament – which shows the ability of a player/team to raise their game in the matches which decide the fate of a series. It is not a coincidence that Afghanistan have raised their game in series deciders
The Chief Architects of Afghanistan's rise:
Rahmat Shah, Mohammad Shahzad and Mohammad Nabi are the three Afghanistani batsmen who have scored above 1000 runs in this period.
Shah has been the pick of the batsmen scoring marginally above 42 runs per dismissal. He has also scored 3 tons and 12 fifties in this time-frame. He has played the role of the anchor while Shahzad (strike rate 88) and Nabi (strike rate 86) have provided the impetus at the top and lower down respectively. Najibullah Zadran has played some cameos in the lower order which is reflected in his average of 31 and strike rate of 91.
Afghanistan's bowlers have been the real heroes and the main reason for the dramatic transformation of the team. Rashid Khan is the leading ODI wicket-taker in the world during this period (Oct 2015-Sep 2018) with 110 wickets from 46 innings – that is more than 2 wickets per game. He also has the best bowling average (14.20) and strike rate (21.7; i.e. wicket every three and a half overs) for any bowler in the world in this time-frame (minimum wickets 50).
Such has been the dominance of the spinners that Khan and Nabi turn out to be the most restrictive bowlers in the world in the last three years conceding just 3.92 and 4.16 runs per over (minimum 50 wickets).
Along with the young 17-year old, Mujeeb Ur Rahman, who has had a great start to his ODI career – 39 wickets in 19 innings at an average of 18 and economy under 4 – the trio is as good as any spin attack in the world.
Dawlat Zadran, the right-arm pacer, has supported the spinners brilliantly. He is amongst the top 10 wicket-taking pace bowlers in the world and only Bumrah, Starc and Hazlewood have been more restrictive among fast bowlers in this period.
Afghanistan's story is nothing short of a fairy tale. It has inspired thousands of Afghans – from different ethnic, tribal and clan differences. It has brought rival factions within the country together. Even the Taliban has supported the national cricket team – such has been their journey.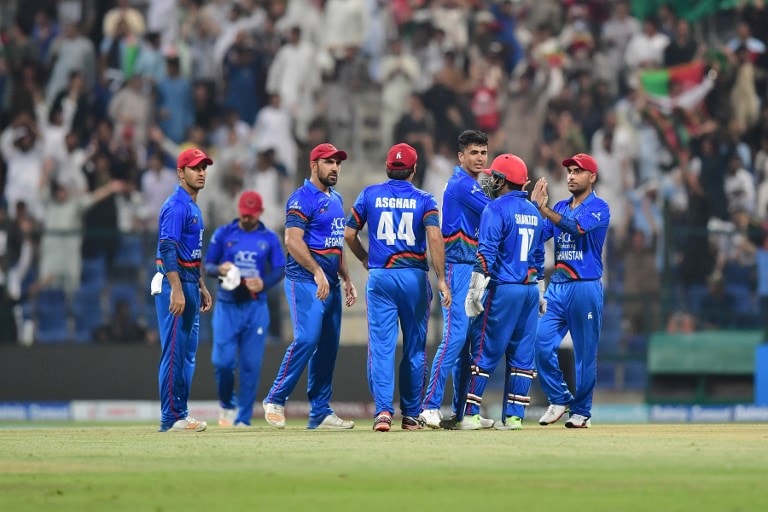 The players cannot take the only credit – from their first coach Kabir Khan who believed in them and built the nucleus of a national team to Inzamam-ul-Haq who took over in November 2015 to the current coach, Phil Simmons – everyone has played their part.
Afghanistan are ranked higher than Zimbabwe, Ireland and Scotland in ODI cricket. They are not far behind West Indies and Sri Lanka. Their exploits in T20 cricket is another great story. And they were also awarded the Test status last year.
They have overtaken and left far behind a number of other Associate teams who began their cricketing journeys long before.
Nothing has united the country like cricket. Yet the darker reality exists and hits them every now and then. Shapoor Zafran was attacked by terrorists in 2017 and Nabi, one of the three Afghanistani players to have played in their first and last (till date) ODI, saw his father being kidnapped in 2013.
Yet there is optimism and hope to take the game to newer heights. In the words of former captain, Nawroz Mangal, "We know the people will be watching us and we play for them. We want to give them something to be proud of and to represent the name of Afghanistan."
His words and sentiment sum up the success story of Afghanistan. They may not have won the Asia Cup, but they leave the tournament having won the admiration of the cricketing world.