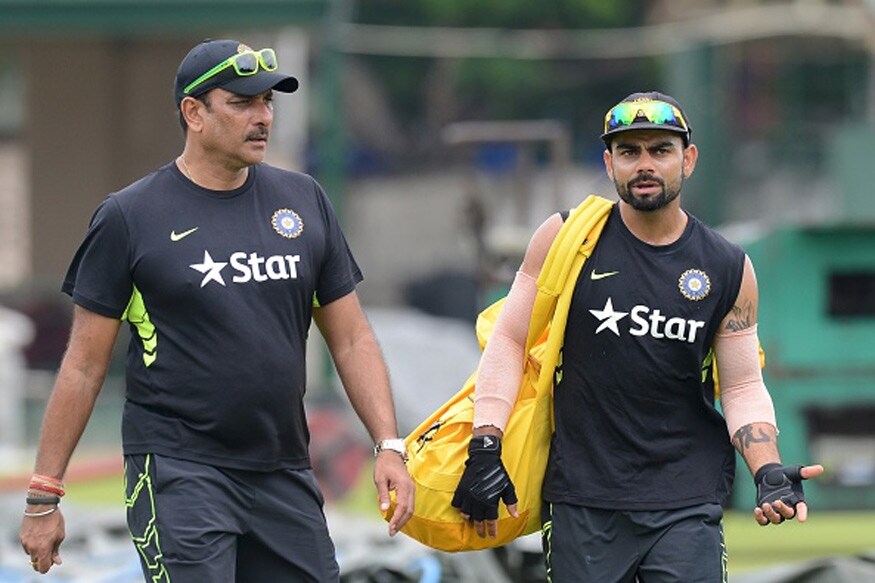 The old cricketing adage - "A captain is as good as his team" can be modified in contemporary times to "A captain is as good as his team and coach". Advancing technology, a rigorous schedule across three formats and higher demands of training and fitness have redefined the role of a coach in cricket.
Apart from focusing on the finer details for each player, a coach, more importantly, has to play the role of a man-manager, keeping various personalities happy and united and motivating them for a common cause.
This, when seen in India's context with its diversity in cultures, regions, backgrounds, languages and the relevance of cricket to the nation as a whole assumes greater significance.
The coach also needs to share a harmonious relationship with the captain having his confidence and goodwill. He has to play the role of a mentor and guide complementing the captain – this is a difficult job because of the aura and the power the Indian cricket team captain enjoys in a cricket-crazy country. And this is where the job of the men's national cricket coach becomes one of the most difficult, challenging and coveted in the country.
With Ravi Shastri re-appointed as the Head Coach of the national team again, we look at the numbers behind some of the most famous captain-coach partnerships in Indian cricket in the new millennium.
1. Virat Kohli-Ravi Shastri (2017-Current)
India has had tremendous success, across formats, individually and combined, under the dynamic duo of Virat Kohli and Ravi Shastri. Under their leadership, India has won 59 of the 91 matches it has played (lost just 26) for a win-loss ratio of 2.269.
India has won 10 Tests, lost 7 and draw 3 under their partnership. This included a series sweep in Sri Lanka and India's first historic series win in Australia (2-1) in 12 attempts. India currently stands as the Number 1 team in the Test Rankings.
Virat Kohli led India to 36 wins (and 12 losses) in 50 ODIs in this time-frame. It is by far, the best win-loss ratio any captain-coach duo have had in ODI cricket for India. India was the best team in the group stages of the World Cup, 2019 before bowing out in the semi-finals. They have won 10 and lost just two series in this time-frame.
This included India's first series triumph in South Africa - a 5-1 thrashing in their own backyard and the win in the Asia Cup in 2018, a rare series win in Australia in 2019 and another series win in New Zealand.
India have also had a great run in T20 cricket in this period having won 8 and lost 2 of the 13 series they have played. They were victorious in a seven series streak form November 2017 to November 2018 with wins in South Africa and England.
2. Virat Kohli-Anil Kumble (2016-17)
This was a rare period where the Indian team did well despite the well published turbulent relationship between the captain and the coach. In terms of win-loss ratio, the Kohli-Kumble partnership was the most successful in India's cricketing history. India won 18 of the 27 matches under this duo, losing just 5.
India won all its 5 Test series under Anil Kumble – they beat West Indies in an away series before winning 4 home-series which included wins against New Zealand, England and Australia. In fact, India lost just one solitary Test match to Australia in Pune in this period.
India also beat New Zealand and England in bilateral ODI series at home before making it to the finals (losing to Pakistan) of the Champions Trophy in England in 2017.
3. MS Dhoni-Anil Kumble (2016)
Kumble and Dhoni barely got to work together and their partnership lasted for just about two months with India winning 3 and losing 3 matches in this time period.
4. MS Dhoni-Duncan Fletcher (2011-15) and MS Dhoni-Ravi Shastri (2014-16)
Duncan Fletcher had a long stint with the Indian team and was coach for a period of almost 4 years. Overall, India won 68 and lost 53 of the 136 matches they played under Fletcher-Dhoni.
India suffered 4-0 drubbings in England and Australia in 2011 and 2011-12 before losing to England in a home series for the first time since 1984. They were again beaten in England in 2014 after which Fletcher was provided the assistance of Shastri as Team Director along with other support staff in Sanjay Bangar and Bharat Arun.
The high point of the Fletcher-Dhoni partnership was the victorious 2013 Champions Trophy campaign where India beat England to lift the trophy.
Under Fletcher-Shastri, India made it to the finals of the World T20 in Dhaka in 2014 where they lost to Sri Lanka and were the semi-finalists of the World Cup Down Under in 2015.
Post Fletcher's tenure , Shastri was solely in charge and this period saw India coming back from 0-1 down to win a Test series in Sri Lanka, beat South Africa 3-0 at home, winning the T20 Asia Cup before making it to the semi-finals of the World T20 at home in India.
5. MS Dhoni-Gary Kirsten (2008-11)
The Kirsten-Dhoni duo achieved the greatest prize in cricket for India – their second World Cup triumph in 2011 at home. India won 72 of the 122 matches under this partnership.
India had a brilliant run in Test cricket under Kirsten losing just one away series in Sri Lanka. They were ruthless at home and their series victories included two triumphs over Australia and one over England. They also beat New Zealand in an away series in 2009 and drew a series in South Africa in 2010.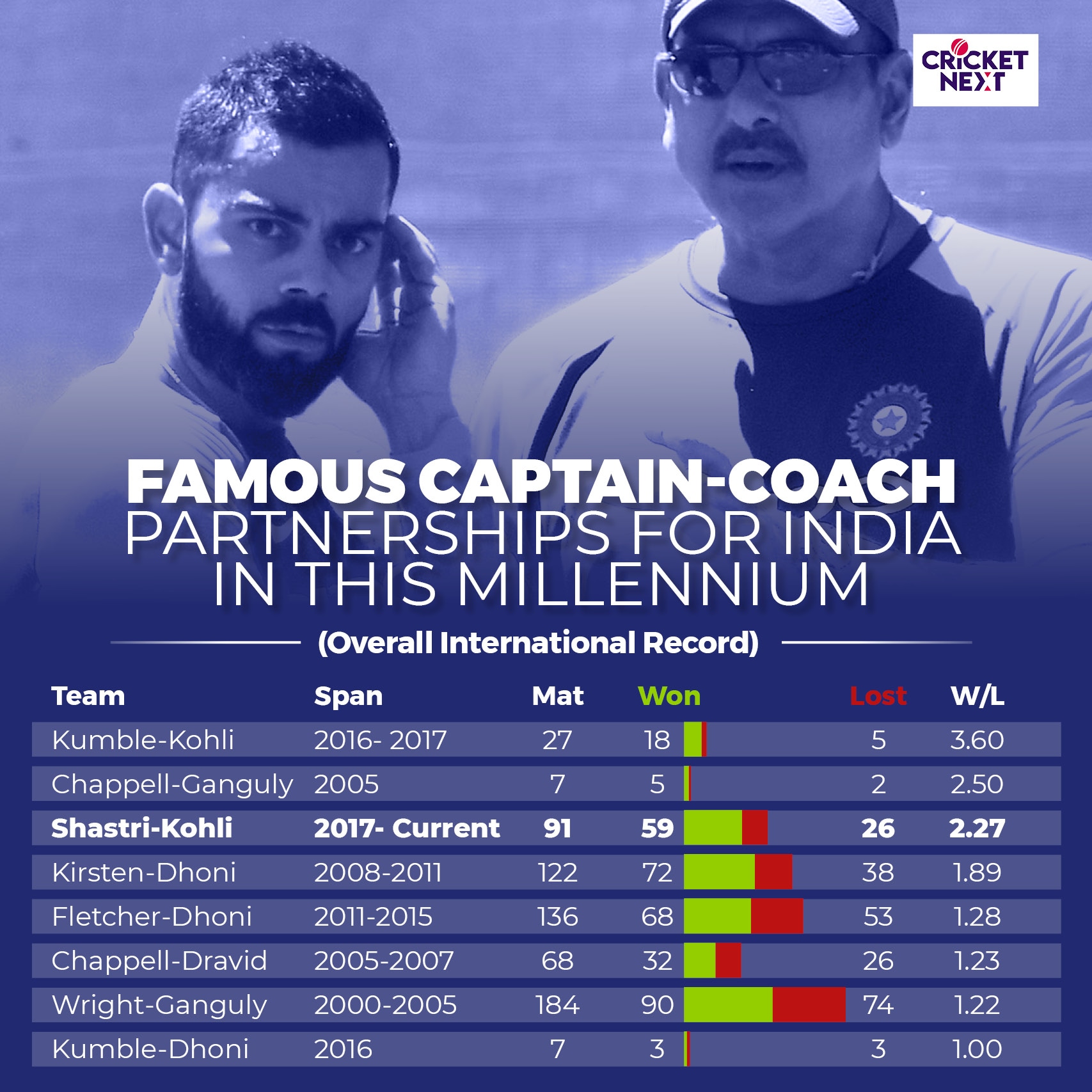 6. Sourav Ganguly-Greg Chappell (2005)
This was perhaps the most controversial and difficult captain-coach relationships in India's cricket history. Thankfully for Indian cricket, it did not last long. India won 5 and lost 2 of the seven 7 matches under the Ganguly-Chappell partnership.
7. Rahul Dravid-Greg Chappell (2005-2007)
The highlight of their partnership was an ODI series win in Pakistan and India's first Test (match) win in South Africa. However, a Test-series loss to Pakistan and then the infamous group-stage exit from the 2007 World Cup meant the end of the Chappell era for India.
8. Sourav Ganguly-John Wright (2000-05)
John Wright was India's first foreign coach and had a long partnership with Sourav Ganguly helping Indian cricket transform giving it the fresh breath of energy it needed after the match-fixing saga.
India won 90 and lost 74 matches under Wright-Ganguly. India, for the first time in its history, had the belief of winning consistently outside Asia and was victorious in Tests in England and Australia. The period coincided with India's most famous Test series win in history as they beat Australia from a Test down to win the series 2-1 (in 2001). India also beat Pakistan (away) in both the Test and ODI series in 2004.
The pinnacle of the partnership was India's run in the 2003 World Cup in South Africa where they went down to Australia in the final.