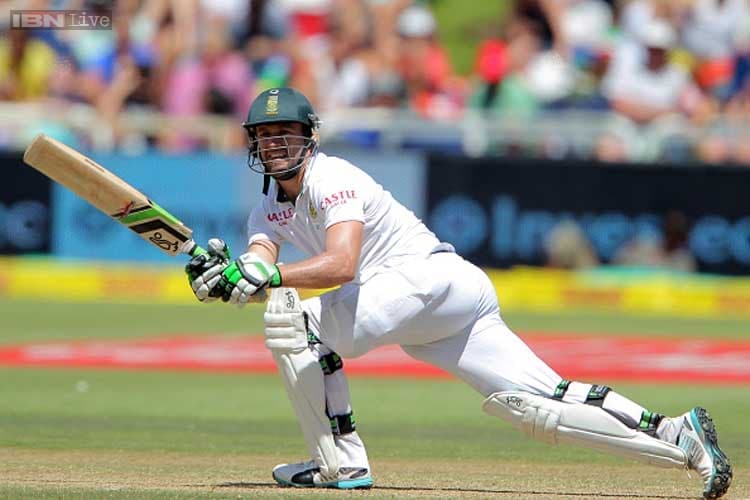 AB de Villiers has been granted paternity leave and wouldn't be available when South Africa tour Bangladesh in July this year. So, when South Africa walk out to play the first Test on July 21, it would be the first time since De Villiers made his Test debut in December 2004 that his name will be missing from a team sheet. That prompted us to dig in and find out what the longest Test match streaks have been.
Allan Border: 153
The 'Man who stood for Australia', according to Gideon Haigh, played 153 successive Tests (out of the 156 he played overall) over a 16-year period. After just one fifty in six innings, Border was left out of the sixth Test of the 1978-79 Ashes, a game Australia lost by nine wickets to lose the series 5-1 to the old enemy. But Border was recalled for the series against Pakistan that followed, and made a mark immediately, bringing up his maiden Test ton in the second innings of the first Test. It was to be a start of a marathon that ended with his farewell Test against South Africa in Durban in 1994.
Alastair Cook: 112 (and counting)
Cook was anointed as the future leader of England shortly after his century on debut against India in Nagpur in 2006. Since taking over from Andrew Strauss in 2012, he's led England to a number of highs, but an equal number of lows as well. And, though his captaincy has been questioned at times, there were never really any doubts about his position in the Test team, not even when he went through close to three years without a Test century. Prior to the home summer of 2015, there was talk about England's search for Cook's successor, but a combative match-winning 162 at Lord's against New Zealand, which was his second ton in three Tests, has set up the summer nicely for the Cook.
Mark Waugh: 107
He replaced his twin brother Steve Waugh in Australia's playing XI for his debut, and went on to make a century against a competent England attack in Adelaide in 1991-92. The lazy whip off his hips, the drives through cover and the delicate chips over the infield defined his batting in an era when Australia boasted of some fearsome ball strikers. In a career that spanned 12 years, Waugh stacked up 8029 runs at an average of over 41 with 20 centuries, but a snub for the Ashes opener of the 2002-03 series signalled the end of his illustrious career that finished on 128 Tests, the streak of 107 fitting in around the middle.
Sunil Gavaskar: 106
Possibly India's greatest opening batsman, Gavaskar made 106 successive appearances over a 12-year period that was broken when he missed the third match of a five-Test rubber against Pakistan. Gavaskar returned to play the next two, and even made a memorable 96 in his final Test in Bangalore, but couldn't prevent a 16-run loss that gave Pakistan their first series win in India.
AB de Villiers: 98
Records and AB are meant for each other. The man with the fastest One-Day International century, fastest 150 in an ODI and quickest to 7000 ODI runs was set to add another feather to his record book by becoming the first to 100 Tests from debut. The paternity leave upsets that plan, but his run of 98 Tests is the best for anyone from his debut Test.
Adam Gilchrist: 96
For nine years since making his debut in 1999 against Pakistan in Hobart, Adam Gilchrist was an unmovable object in the Australian starting XI. His knocks either lifted the side out of a hole or pressed home the advantage. A part of the core group of Australians who dominated the world stage, Gilchrist's belligerence with the bat was unmatched. He was set to surpass the 100-Test landmark, but a grassed opportunity off VVS Laxman behind the stumps during the Adelaide Test of 2008-09 forced a rethink on his part and he announced his retirement after 96 consecutive Tests.
Brendon McCullum: 94 (and counting)
At the start of his career, not many would have expected McCullum to have any serious longevity in Test cricket, mainly due to his style of batting. A fearsome white-ball striker, McCullum slowly made a mark, first as a wicketkeeper, before giving up the gloves owing to back problems and taking on the role of a pivot in the middle order along with Ross Taylor. In 2014, he led New Zealand to series wins at home against India, West Indies and Sri Lanka, and a drawn series against Pakistan in the United Arab Emirates. Among his milestones, a triple century to help New Zealand starve off defeat against India ranks right up there. Despite losing the series opener to England at Lord's, McCullum's streak is set to continue, and with the team rising up the ICC charts across formats, the 100-Test landmark can't be ruled out either.
Rahul Dravid: 93
It needed something as common but as severe as viral fever to end Rahul Dravid's run of successive appearances at 93, which included one Test for a World XI in Australia, since making his debut at Lord's in 1996. Dravid, who was gearing up to lead India in the third Test against Sri Lanka in Ahmedabad after winning the second Test in Delhi, was admitted to hospital at midnight on match day, and was replaced by Virender Sehwag as captain at the last hour. India went on to win the Test and register a 2-0 series win. The only other occasion Dravid would have to sit out during his Test career was when he missed two games at home against South Africa after being hit by a Shahadat Hossain bouncer in Bangladesh in January 2010.
Mahela Jayawardene: 93
For 11 straight years from 2002, Jayawardene didn't miss a single Test. In the interim, he led Sri Lanka across formats with distinction, the appearance in the final of the 2007 World Cup one of the highlights. A record of 100 straight Tests wouldn't have been out of reach, but a dislocated finger while taking a catch in a first-class fixture meant he was forced to miss the two-Test series at home against Bangladesh. He went on to play a total of 149 Tests before retiring in August 2014.
GR Viswanath: 87
Often described as a cricket connoisseur's dream, Viswanath was a delight to the eye. His career spanned 91 Tests, including 87 on a trot. He also scored 13 of his 14 centuries during the 12-year period when he didn't miss a Test. The run came to an end in January 1983 after the sixth and final Test against Pakistan in Karachi. While he continued to play first-class cricket for four more seasons, Viswanath couldn't add to his 91 Test caps.