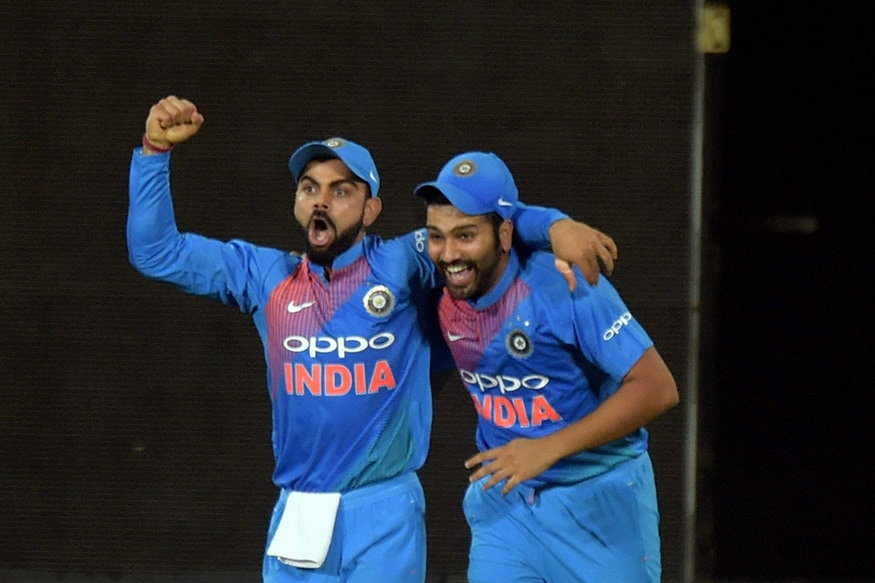 In any sport, it is rare to find two of the world's best of any period to be playing together in the same team at the same time. It is even rarer that they will form a world-beating partnership that will dominate that period.
Richards and Lloyd, Richards and Greenidge, Ponting and Gilchrist, Ponting and Hayden, Tendulkar and Ganguly, Dhoni and Yuvraj Singh and De Villiers and Amla – are some of the very best in the history of ODI cricket.
But there is another pair – whose feats and achievements – eclipse even the greats mentioned above.
The Virat Kohli-Rohit Sharma partnership is amongst the greatest in the history of ODI cricket. And on Sunday night, the packed crowd at Guwahati and a TV audience of millions got another glimpse at just how special their pairing is when they wear coloured clothes for India.
Let us try and dig deeper.
Kohli-Sharma average 65.51 in ODI cricket. Only one pair (minimum 25 innings and 750 runs together) has a better batting average. Amla-De Villiers average 72.34. But the Indian duo already aggregate 3931 runs together and have 15 hundred partnerships. And are at the peak of their prowess. De Villiers has retired from international cricket. So, the Amla-De Villiers pair won't be adding any further to the 3111 runs and 12 century partnerships.
CONTRIBUTION IN WINNING MATCHES
If we see their contribution in winning matches, no pair in ODI history averages more per wicket than Kohli-Sharma (84.05). This shows their relevance and importance in India's success in recent years.
Amla-De Villiers average 77.97 and are at number two. They are followed by De Villiers-Duminy (76.44), Dhoni-Raina (74.54) and Inzamam-Anwar (73.74).
Kohli-Sharma score these runs at 6.20 runs per over. No contemporary pair (except Dhoni-Raina who score at 6.5) has a better strike rate in winning matches. Overall, nine pairs have a higher strike rate in winning matches in ODI history.
It is not surprising that India has the best win-loss ratio in ODI cricket in the last 5 years. They have won 71 and lost 36 matches.
In terms of bilateral series, India won 16 and lost just 6 in this period.
APPETITE FOR BIG RUNS
Kohli and Sharma have five double hundred partnerships in ODI cricket.
No pair in history has more.
Kohli-Gambhir, Ganguly-Tendulkar and Jayawardene-Tharanga have 3 each.
Kohli-Sharma also have 11 scores of 150-plus in just 64 ODI innings together.
Only Tendulkar-Ganguly had more – 12 – but in 176 innings!
This is a mind-boggling statistic. It shows that once they are set, they don't just score big but the numbers assume gigantic proportions.
Dilshan-Sangakkara have seven 150-plus scores in 108 innings while Amla-Kock, Dravid-Tendulkar and Gibbs-Smith have 6 each in 85, 98 and 84 innings respectively.
Kohli-Sharma have scored hundreds in the same ODI on 4 occasions – the joint-second most along with Amla-Kock and Tendulkar-Ganguly. Amla-De Villiers have done this on five instances.
Kohli has been involved in twelve 200 plus stands in ODI cricket. Rohit has been a part of seven such stands.
Kohli and Rohit have both at least scored 30 in an ODI on 30 occasions. India has won 22 of these matches – this shows a high positive correlation between their appetite for big runs and India's victories.
Just for perspective, Tendulkar-Ganguly scored 30 plus each in 54 matches. India won 39 and lost 15. Thus, the win-loss ratio for Kohli-Rohit is better.
Their 100:50 ratio is also the best in ODI cricket history (minimum partnership average 50 and minimum innings together 25) after Gambhir-Kohli (7 hundreds and 4 fifties). The pair have put together 15 hundred plus stands and nine 50 partnerships.
Rohit has three double hundreds in ODI cricket. No batsman has more 150-plus scores in ODI cricket history than the Indian opener (6).
Kohli already has 36 ODI hundreds. Only Tendulkar has more – 49 – but in more than double the number of innings.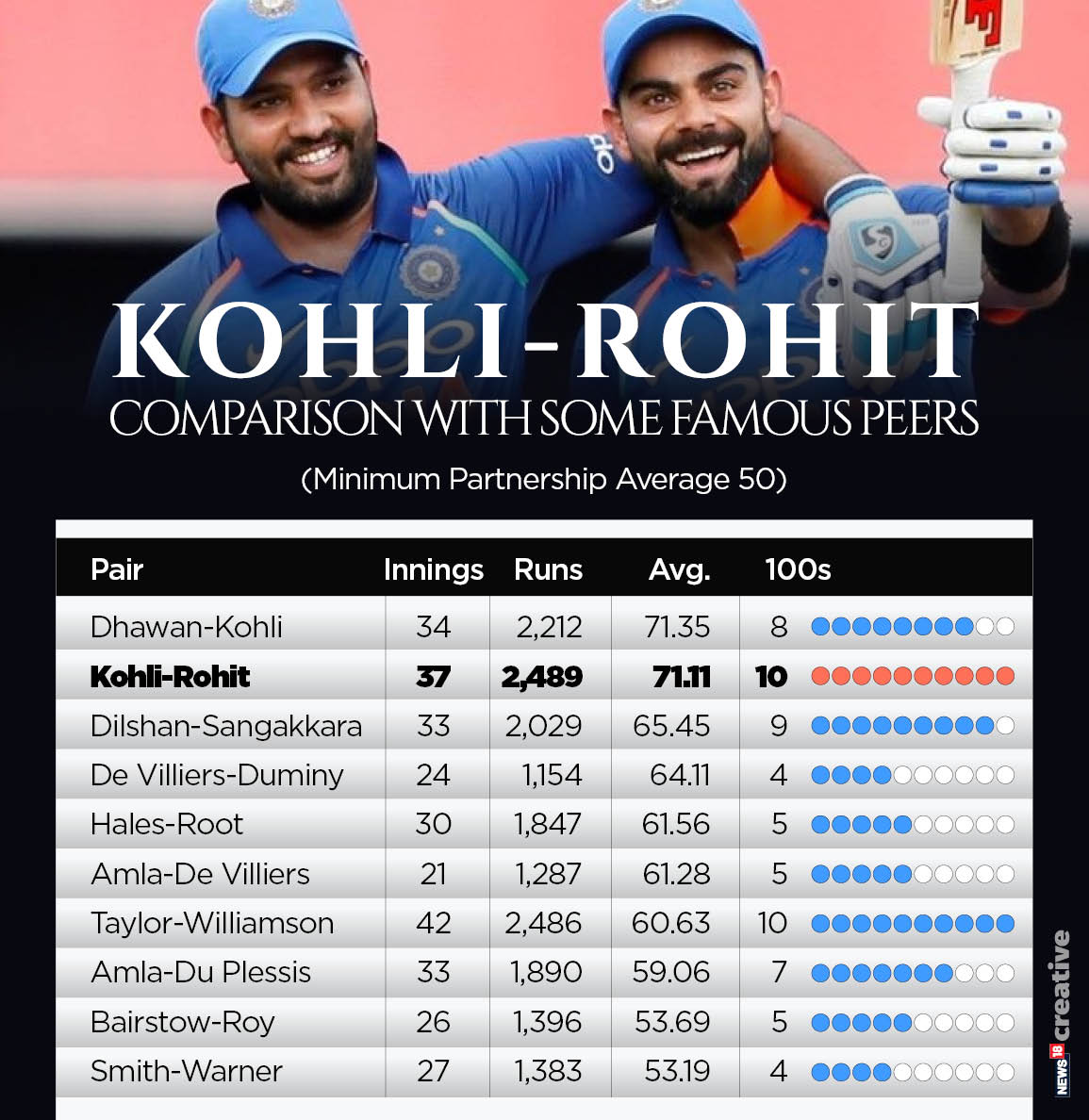 DOMINATING THEIR CONTEMPORARIES
Virat Kohli and Rohit Sharma have, individually been the leading run-scorers in ODI cricket in the last 5 years. Kohli has scored 5115 runs while Sharma has aggregated 4465. No one has scored more hundreds than them in this period (20 and 17 respectively).
Only Kohli (68.20), AB (62.66) and Rohit (62.01) average above 60 in this period.
No batsman has hit more sixes than Rohit (161 in 83 innings) in this period. This means, on an average, he hits almost 2 sixes every time he bats. That is a remarkable feat. It is the best sixes/match ratio by a distance.
Contrast this to Kohli who likes to hit more boundaries. Only Dhawan (502) has hit more fours than Kohli (472) in this period. Kohli's boundary/innings ratio is also amongst the best in this period.
Three of the five highest partnership averages in the last 5 years involve Kohli. Kohli-Dhawan average 71.35. They are closely followed by Kohli-Sharma (71.11) and Kohli-Rahane (66.16).
No pair average more in winning matches in this period than Kohli-Sharma (93.4).
The pair have 10 hundred stands in this period in just 37 innings. Taylor-Williamson and Amla-Kock also have 10 each but in 42 and 82 innings respectively.
THE BEST OPENER-NUMBER 3 PAIR IN ODI CRICKET HISTORY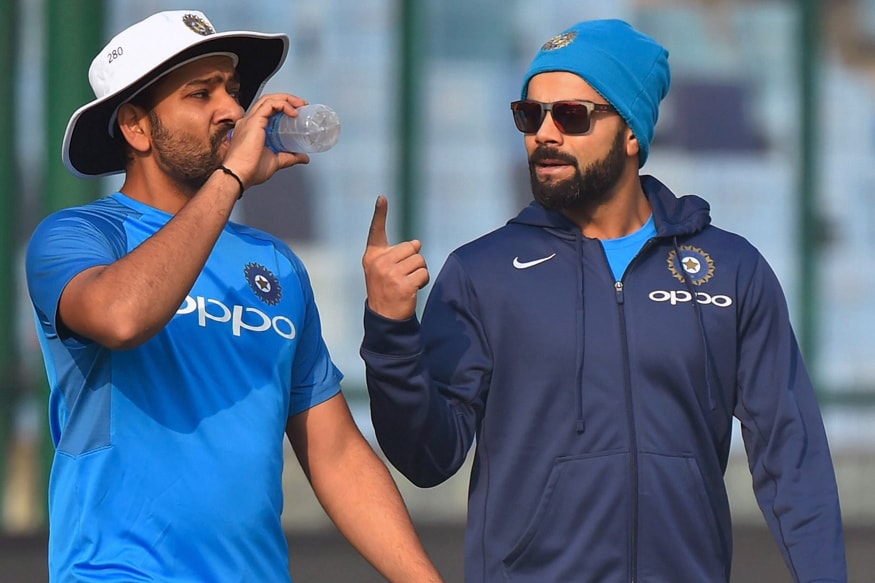 No opener-Number 3 have scored more runs than Kohli-Sharma (2233) in the last five years. In other words no pair has scored more runs for the second wicket.
No one averages more per partnership (minimum 15 innings) than Kohli-Sharma (72.03).
There are some all-time great combinations who are eclipsed by Kohli-Sharma.
Greenidge-Haynes (61.45), Ponting-Watson (58.29), Dilshan-Sangakkara (56.98), Smith-Warner (53.7), Hayden-Ponting (53.07), Jones-Marsh (48.36), Kallis-Smith (47.14), Gilchrist-Ponting (45.7) and Guptill-Williamson (43.41) to name a few.
Only Hales-Root have scored faster (6.09 every six balls) compared to Kohli-Sharma (6.08).
Only two pairs –Kohli-Sharma and Dishan-Sangakkara have put together 9 hundred plus stands in this period for the second-wicket.
Kohli-Sharma partnership for the second-wicket averages 82.32 in matches India has won. Only one pair fares better in their team's victory– Ganguly-Dravid (87.7)
But it gets better.
There are 34 Opener-Number 3 partnerships in ODI cricket history who have batted together in at least 25 innings.
It is the duo of Kohli-Sharma who average the most (67.55) for the second wicket in ODI cricket history.
They score their runs at a strike rate of 99 per hundred balls. It is the second-best scoring rate for the second-wicket only after Ponting-Watson (101).
Only Dilshan-Sangakkara have more hundred plus stands (19). Hayden-Ponting also have 10 but in 29 more matches.
Kohli and Sharma feed off each other. They have mutual respect and admiration for each other on the field and are great friends off it – this bonhomie between them gets translated onto the field.
Kohli has often stated that he regards Rohit as a more talented batsman. He loves to watch him bat from the non-striker's end and is always in complete awe of the Indian opener – his timing, elegance and shot-making ability. Rohit, on the other hand has praised Kohli for his attacking and aggressive captaincy and his ruthless and clinical efficiency and consistency in the format.
There is also a pattern to their batting partnership. More often than not one of them assumes the role of the aggressor and the other plays second fiddle and the role of the anchor – till his partner is dismissed – thereafter changing gears himself. Usually, Rohit has gone after the bowling initially with Kohli anchoring the innings. However, these roles were reversed in Guwahati.
It is also not a secret that the duo hardly converse while batting together in the middle. This is because of the understanding they have of each other's games and the confidence in each other's ability. They are both excellent readers of the game and the situation. And they both love to bat and score big runs.
Rohit feels assured at the crease with the captain and the best batsman in the team at the other end. He can play his natural game and go after the bowling.
Kohli does not feel the pressure to up the ante with Rohit at the other end. He can play the role of the anchor and accelerate later.
Rohit is 31 while Kohli is just 29. With at least 4-5 years of their cricketing partnership still left, one can only wonder how many more records will be broken by the He-Man and Super-Man of India's batting.