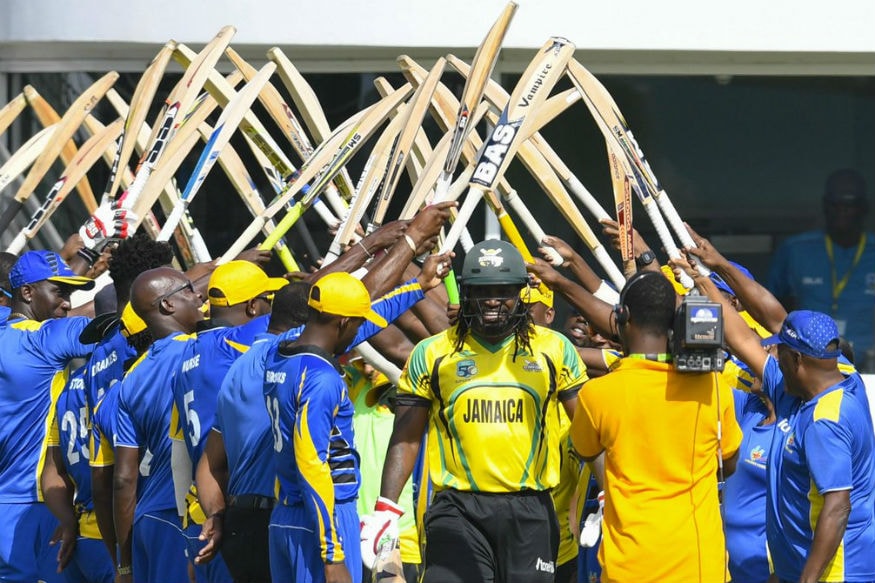 Playing his final List A game for Jamaica, Chris Gayle smoked a 114-ball 122 to help his team defeat Barbados by 33 runs in a Regional Super 50 clash at Kensington Oval.
The 39-year-old had earlier announced that this would be his last 50-over game for Jamaica and received a guard of honour by both his team-mates and opponents when he stepped out to bat in Bridgetown.
As a sign of tribute, regular skipper Nikita Miller handed over the captaincy to Gayle. The destructive opener then smashed his 27th List A century before Jamaica were bowled out for 226 in 47.4 overs. In response, Barbados were bundled out for 193, with Gayle (1 for 31) chipping in with his off-spin.
Speaking after the match, Gayle said he would like to play one more four-day game for Jamaica before signing off altogether. "It's very pleasing to get a hundred in my last 50-over game for Jamaica, it's something I will always cherish," said Gayle, who has 12,436 runs in 356 List A games.
"To lead the team to a win makes it more special. It's been a pleasure representing my country, more so captaining them. I'm thankful and grateful to be standing here aged 39 and still get a century in my last game for Jamaica.
"There's a lot in the tank to be honest, but there's life after cricket, so have to enjoy life as well. Playing cricket for over 25 years has been a great achievement from a personal point of view, but I have a family now. I have to gel with them as much as possible and watch your kid grow.
"It's possible that I'll play a four-day game at Sabina Park. If possible, I will definitely play a four-day game. I don't know when it starts but I'll look into the schedule and make myself available."
When asked about his fondest memory with Jamaica, Gayle said it has to be his record-breaking partnership with Leon Garrick in 2001. The Jamaican pair had shared an unbeaten 425-run stand for the opening wicket, with Gayle, then 21, scoring 208* and Garrick making 200*.
"That's a special partnership, my most special memory is not from international cricket but for Jamaica. That partnership with Leon is special," he recalled. "Also, the two triple hundreds in Tests, the double-century in ODIs (against Zimbabwe at the 2015 World Cup) and the first T20I century by a West Indian - these will all be special, but the 400-partnership will stand out."
Gayle has already expressed his desire to represent Windies in the 2019 World Cup, and despite approaching 40, he is still one of the biggest names in franchise T20 competitions around the world.