There's No Doubt I Should Have Played More Test Cricket: Badrinath
"I'm a fighter to the core. I'm actually a street fighter. I came from nothing, whenever there was no safety net to fall on, it brought out the best in me."
Updated: September 5, 2018, 4:53 PM IST
A colossus of Indian domestic cricket, Subramaniam Badrinath retired from all formats of the game on August 31, a day after he turned 38. Badrinath played 145 first-class matches, majorly for Tamil Nadu and later for Vidarbha and Hyderabad, in a career that began in 2000-2001, scoring 10245 runs at an average of 54.49. His prime coincided with India having a strong middle order in Rahul Dravid, Sachin Tendulkar, VVS Laxman and Sourav Ganguly, leaving Badrinath struggling to find a place.
He did get a chance in the 2010 home Test series against South Africa, and made a gritty 56 in his debut outing in an innings against South Africa where only Virender Sehwag (109) and Gautam Gambhir (12) crossed the double-digit mark. Yet, he got only one more Test and three Test innings in total before being left out again.
Badrinath was also a key player for Chennai Super Kings and played crucial roles in their title victories in IPL 2010 and 2011. He even got a chance in the Indian T20I side, and won the Man of the Match award in his only game, against West Indies in 2011. Badrinath also played seven ODIs.
Badrinath last played domestic cricket in early 2017, before finally calling it quits more than a year later. In an exclusive chat with Cricketnext, the former Tamil Nadu batsman revisits his career and opens up about the disappointment of not playing more international cricket. Excerpts:
What was going through your mind when you were thinking through this, since it's been nearly two years since you played first-class cricket.
I had actually decided one year back that I wasn't going to play, to be honest. The reason for me not playing was purely in my mind because over the last season, when I played for Hyderabad, even though I was enjoying playing, but somewhere in the middle of the season, I started feeling like it was getting to a point where it was getting on me. I was playing first-class cricket continuously for the last 18 years, it was getting on to me. Somehow I felt that I wasn't driven enough. Even though I had the drive, I felt it wasn't enough and what was needed from a professional cricketer. The way I have played my cricket over the years I felt I was not there 100%.
When I'm like that I think it's important not to play because I wanted to be fair to the game. This game has given me everything over the years. That's the reason I made the decision. It was purely in my mind, it's not like I can't play. I can play but I didn't want to play.
Over the years I've been driven by different things. Trying to play for the country, trying to win a Ranji Trophy whether it was for Tamil Nadu, Vidarbha or Hyderabad. Maybe win an IPL or Champions League, or play Test matches for the country. When that kind of drive isn't there to do something special, that's when I decided. When those options weren't there, it was important to take a call.
This last one year I've been thinking but somehow I just couldn't sit down and send the letter. I don't know why, but something was holding me back. I just couldn't do it. August 30, I turned 38 and decided that on this day, from my birthday I will start the next phase of my life. There was no special reason, it was just that I couldn't get my hand to write it.
What were the flashes of memories that ran through you when you penned down the farewell message?
Many, many memories. The first time I was sitting behind my dad and going for an Under-13 selection trial. I was perhaps 10-11 years old. It was like a dream, me going on to play for the country, and I went through it and here it is, it has happened. My first first-class 100 when I was 20 years old... that gave me a lot of satisfaction and a good stable base. I started believing personally that I can do well in first-class cricket.
Playing for India A in the tour of Australia in 2006. I did really well and it was a big moment for me. Playing in Australia against good fast bowlers. I was the highest or second highest run-scorer in that tour, it was satisfying against the likes of Mitchell Johnson, Shaun Tait and Shane Watson. Winning the IPL tournament in 2010 and 2011 are close to my heart. Receiving the Man of the Match in the only T20I I played was a great moment.
And of course, receiving my Test cap from Sachin (Tendulkar) and going on to get the 50. Incidentally, I went in after Sachin got out. Even the time when I played with my brother in the backyard... there are so many memories that went through my head.
What would you rate as your best knock over the years?
There are many knocks, I can't single out one. One of the best would be my highest first-class score. It was a 250 against Bombay in Bombay (in 2009). Tamil Nadu were reeling at 50 for 5 at lunch on the first day. From then I went on to score 250, we scored in excess of 500 and we won the game.
My innings in the T20I where I got the Man of the Match (in West Indies) is close to me. Of course, the Test 50 is right up there. There is another knock where I got a 100 in Duleep trophy where we chased 500+ against England A - it was a record for the highest ever chase on Indian soil. Venugopal Rao got a 200 and I got a 100. S Sriram also got a 100. If I'm right, England A had Simon Jones, Sajid Mahmood... and we scored it down in hardly 110 overs.
My first first-class century, against Karnataka, I'll never forget that. There's also one T20 innings I played in Durban in a Champions League match. It was really moist wicket, very bouncy and really helpful for fast bowlers. We were 10 for 3 or something, I went on to score 60 and we won the match on a really hard track. These knocks are up there.
These are so typical of you, you were one of those players who could bail the team out of trouble, across formats.
To be honest, I don't know why. It just got the best out of me. When I went in, there were people behind me... I always need a contest to get the best out of me. I really relished it. People were coming at me, they were attacking, and the game kind of opens up for me. I don't know how, but it happens and I relished it.
It was instilled in me from a young age. My dad was really hard with me when it comes to cricket. When I lost my wicket he would be really hard with me, he told that you have to be at the wicket to get the runs. That really got instilled like a tattoo in my memory. That I have to put a price tag on my wicket and be there to score the runs. From a young age, the mental toughness was there and I always felt better when there was a contest, a trouble and the battle was heating up. I always felt that this is my day.
Who is the best bowler you've faced in the Indian domestic circuit?
Quite a few bowlers that I've faced over the years. In the recent times, Pankaj Singh was one of the better bowlers I've faced. He was relentless and always there at you. I'm trying to think... 18 years is a long time. I've played from the times of Javagal Srinath, Venkatesh Prasad and Dodda Ganesh so I'm not sure who to pick. I'm unable to point out one bowler, but one that comes to my mind is Pankaj Singh.
How would you sum up your India experience? Your supporters felt you were not tested enough in the format that was best suited for you.
I should have played more, for sure. There's no doubt that I should have played more Test cricket. I played the three innings in 2010. And then I came back, in the 2011 season I was the highest run-getter in the domestic circuit. I scored about 1200 runs, I still have that award in front of me. The Madhavrao Scindia award that I got for the highest aggregate of runs. But I didn't get to play a Test match after that. That I feel is a little bit harsh.
I should have definitely played more Test cricket. You can't judge a player unless he's made to play Test cricket. A player can only play that sort of bowling and that level of cricket can only be played at that level. I don't think a batsman can straightaway get to Test level and say he belongs there and play a brilliant knock in the first innings. I don't think anybody has done that, except maybe Sachin. I would say only Sachin, who just stepped up and played that first knock like he belonged there. The important thing is to be given a proper run.
Maybe I should have played more. I was given (opportunities) in a format which is not my No. 1 format. And then decisions were taken based on that. The important thing is to judge a player where he is more suited and where he belongs. It's always the case in India, I don't know why. Even now it's happening. A player does well in ODIs, and he keeps playing Test cricket. A player does well in T20s, he keeps playing Test cricket. Whereas a player who does well in first-class cricket gets a chance in ODIs.
It's kind of become a matter of convenience. It's like showing account, they're trying to show accounts that he (a player) has played for the country. The important thing is to give a player a run in the correct format. That's where the system is important, there has to be a proper system. But honestly, it's much better now than how it was five-six years back. It's a little better but a proper system should still be there where a player is given a chance where he exactly belongs.
How did you accept the rejections, even when you were scoring plenty of runs in domestic cricket?
What else can you do? Whatever was in my control, I did. I can't go and select myself. I can only score runs. Especially at that time in 2010 and 2011, those were the best years. I was batting really well, I was on top of my game, seeing the ball like a football. That's when I think I should have got the chance. But that was beyond my control.
That's when interactions with Michael Hussey and Matthew Hayden helped. They were in a different line of thinking, the Australians. Hussey told me that he relished whatever cricket he played. I asked him how he kept playing till 30 and remained motivated. He said 'I'm blessed, I get a chance to play the game I love'. That itself was a big motivation for me. I played a game that I loved. I loved batting, I loved going to the middle and being in a contest, and I was getting paid for it. What else can I ask for? That's how I started looking at it.
I must thank god or whatever for there was T20 cricket which gave me a lot of cushion, limelight, name, and fame. That's what you want as a cricketer and I got it. Otherwise, I would have definitely been far more frustrated.
Were you in many ways proud of your T20 career? You were an under-rated big player for CSK.
Yes, I have surprised myself. If you had asked me in 2004 or 2005 whether I would go on to play the amount of T20 cricket I did and even represent the country, I would have said no, no chance. Perhaps Test cricket, yes. But not T20s. It didn't come easy. I worked really really hard on my T20 game, spent a lot of time and energy.
I always wanted to be a complete player. When there was a format, I never wanted to be rated as I can't do well in the format. I wanted to belong in all formats. I worked hard and it's fair to say I am proud of what I achieved in T20 cricket. Even I wouldn't have believed it 12-15 years back that I did.
You've seen through different generations of cricket for Tamil Nadu. How would you sum up the different eras?
TN cricket, when I started off, they were a far far superior side to what it is now. Without a doubt. The quality and caliber of players in the early 2000s was something phenomenal. If you make that side play against today's side, they will just smash the current team hands down. Especially the batting, it was on a different level. S Sharath, Sriram, Hemang Badani, Sadagoppan Ramesh, Robin Singh... these are the names you're talking about. I don't see any kind of names like that now. The quality in that time in batting was on a different league. Even the bowling, there was Ashish Kapoor, S Mahesh, Robin Singh, MR Shrinivas, L Balaji, Balaji Rao... that talent was phenomenal.
In early 2000s till about 2010 you could have said that TN was talented and still didn't justify the potential by winning the Ranji trophy. But the last three-four years, you can't say the TN team is talented and still not winning the Ranji trophy. For the ability they have, they are actually justifying it. I don't see anybody who is really special who can turn the tables over. This is my honest opinion. It's not fair to say you have such a great team and not winning the Ranji Trophy. That's not the case right now. It's just that there is not so much talent, but they are trying. The first-division cricket is trying to provide a feeder system.
I don't know what the reason is. I missed out names like Dinesh Karthik and Abhinav Mukund. When they came in, they were phenomenal. Now we don't have that kind of youngsters who come in and push the seniors. The talent pool has definitely come down. That's the difference I see in TN cricket.
Tamil Nadu is supposed to have a strong system and a history, but the trophies keep eluding them. Are you still not able to pinpoint a reason?
Definitely, I don't know what the reason is. When we played in the late 90s and early 2000s, when TN played against Andhra, Kerala or Hyderabad, the batsmen used to just feast. This was a nice chance to get some 100s, double-hundreds and smash 500, 600 and 700. And then get them all-out within a day. These were the kind of games.
The only big game was against Karnataka. TN v Karnataka was the match where TN was actually tested. But now, I see that not only in Ranji trophy but also in under-23s and under-19s, they're regularly losing to Keralas, Andhras and Hyderabads and the smaller states.
It's like they're going there and facing tough opposition. Maybe Andhra and Kerala have upped their cricket, I don't know. What is the reason I don't know, but as I see it, the early 2000s scene and the current Tamil Nadu side, it's way apart.
Do you regret retiring without a Ranji trophy?
Yeah, maybe...it's not a regret but it was something I badly wanted in my career. I always wanted to win that trophy for the state. To be honest, when I played for Vidarbha and Hyderabad, it wasn't so much because I was a professional. But TN was a place where I was born and brought up. I really wanted to get that trophy.
I've actually dreamed so many times of sipping from the Ranji trophy cup. Unfortunately, it didn't happen but to be fair I did my best. Whatever I could in my control, I did. We had a few golden opportunities, even in semifinal games. But unfortunately we couldn't convert. There was always some small thing that was lacking as a team.
To win the Ranji Trophy, it wasn't just about the talent. You need to be resilient, you have to want that trophy. It's not just about the talent or shots you can play, it's about the reliant batting at times, disciplined bowling. Disciplined cricket is what is needed to win the Ranji Trophy. I felt as a team, Tamil Nadu lacked the discipline in our cricket a little bit. I won't say lack of talent, especially when I played. But maybe at times lack of discipline in the cricket, not outside.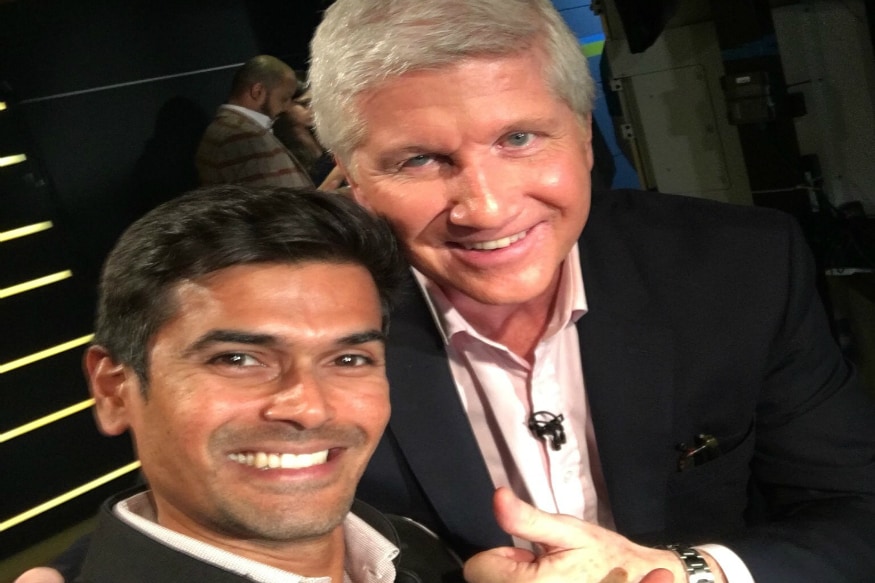 We've already seen you do some commentary, a bit of coaching in the TNPL and also play some golf in your post-retirement life. Have you zeroed in on one career?
I've signed up with Star Sports, I've been lucky and blessed that just when I was retiring Star Sports came up with a broadcasting role. I've signed with them for the next two years, that will be my main job for now. I'll continue to do TNPL coaching if needed, it's only for a month. I love golf too.
It's about time I did whatever things I like. In the last 20 years, I've not done anything I've liked.
You scored 10000+ first-class runs and say you've not done anything you've liked!
No no, apart from cricket I mean! Cricket is something else... nothing can match that. The smaller things that I like to do. I love wildlife photography as well. Basically, I want to pursue my hobbies, read more, watch movies.
Spending more time with my daughter is top priority. She is nine years old and I want to spend more time with her. I missed out on a little bit of her childhood. My biggest regret is that. Rather than not winning Ranji trophy or playing for the country, the bigger regret is when she was growing up, the first two-three years I couldn't spend much time with her. That was the busiest time in my life and I want to make up for it now.
Finally, how would you like to be remembered for your cricket career?
I don't know what to say but I always thought of myself as a fighter. I'm a fighter to the core. I'm actually a street fighter. I came from nothing, whenever there was no safety net to fall on, it brought out the best in me. That's the way I am. I never had any cushion in my life, there were big decisions to take all the time and hurdles all the time. That got the best out of me and that's what made me. I would like to be known as a fighter with a great attitude. I don't know about the talent, I always felt of myself as not so talented. But I was hard-working and pretty tough. That's how I'd look at myself.
---
---
Team Rankings
Rank
Team
Points
Rating
1
New Zealand
3198
118
2
India
3765
118
3
Australia
3498
113
4
England
4326
106
5
South Africa
2499
96
FULL Ranking
Rank
Team
Points
Rating
1
England
5405
123
2
India
6102
117
3
New Zealand
3716
116
4
Australia
4344
111
5
South Africa
3345
108
FULL Ranking
Rank
Team
Points
Rating
1
England
6877
275
2
Australia
6800
272
3
India
10186
268
4
Pakistan
7516
259
5
South Africa
5047
252
FULL Ranking