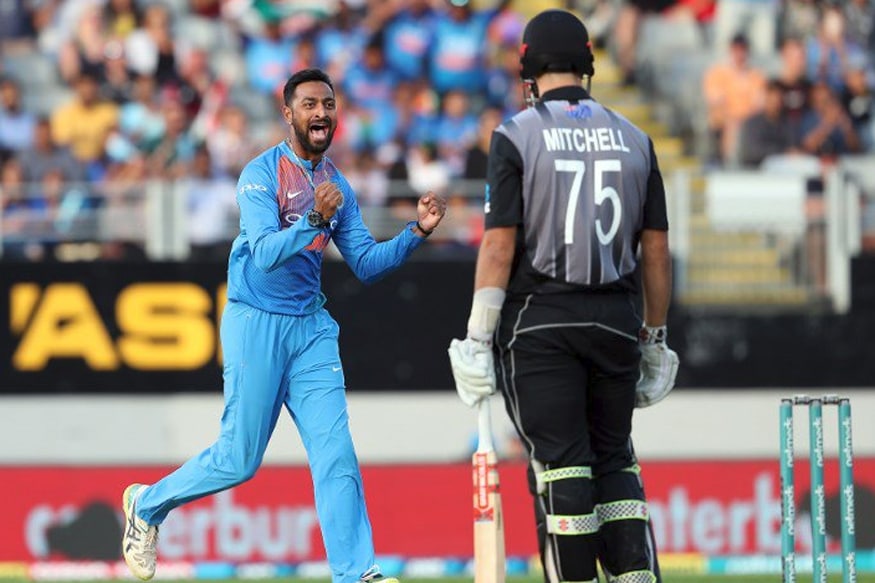 Sheldon Eden-Whaitiri, New Zealand Cricket's (NZC) match officials manager, has said that Daryl Mitchell's controversial lbw dismissal during the second Twenty20 International between New Zealand and India should have been overturned on DRS. He further admitted that third umpire Shaun Haig had made an error and was "really feeling it" after the game.
All-rounder Mitchell having been adjudged lbw off Krunal Paandya by the on-field umpire immediately opted for a DRS review. Replays then showed a slight mark on the hotspot but with the Snickometer showing no movement, Haig decided to uphold the on-field decision leaving, Mitchell, Kane Williamson, at the non-striker's end and the commentators baffled.
There was a huge uproar on social media as well and Eden-Whaitiri said that Haig was really affected by the whole outcome.
"Shaun was really feeling it in the 24 hours post the match," Eden-Whaitiri said in an interview with stuff.co.nz.
"He felt he let his umpire team down that night by not interpreting the information to get the right outcome. That's in hindsight.
"He had to get back on the horse less than 48 hours later because he was on-field in Hamilton. Shaun took it the right way - how am I going to get better?"
For T20Is in New Zealand, all the umpires appointed are from the host country and it is NZC who makes the appointments. Eden-Whaitiri said that the umpiring standards in the country had been really good over the last few seasons and that one blemish will not tarnish all the good work.
"We made a lot of changes three seasons ago and in those three years, this is probably the only story that's been on the back page," he said.
"So the umpiring standards internationally have been pretty strong the last three years - just one error by a TV umpire isn't going to diminish all the good work we've done with Chris Brown, Shaun Haig (both former players) and Wayne Knights.
"Wayne hasn't made an error since December 2017. People can't understand - all this technology, how are you going to make an error? But sometimes it happens and we've just got to learn from it."
Eden-Whaitiri further elaborated saying that he had no issues in coming out and admitting that they had made a mistake as the "stakeholders" of the game deserved it.
"I've got no issue coming out and saying when we make an error; it's part and parcel of sport, officials make errors. However, there are times when observations by commentators, journalists, etc aren't quite correct."