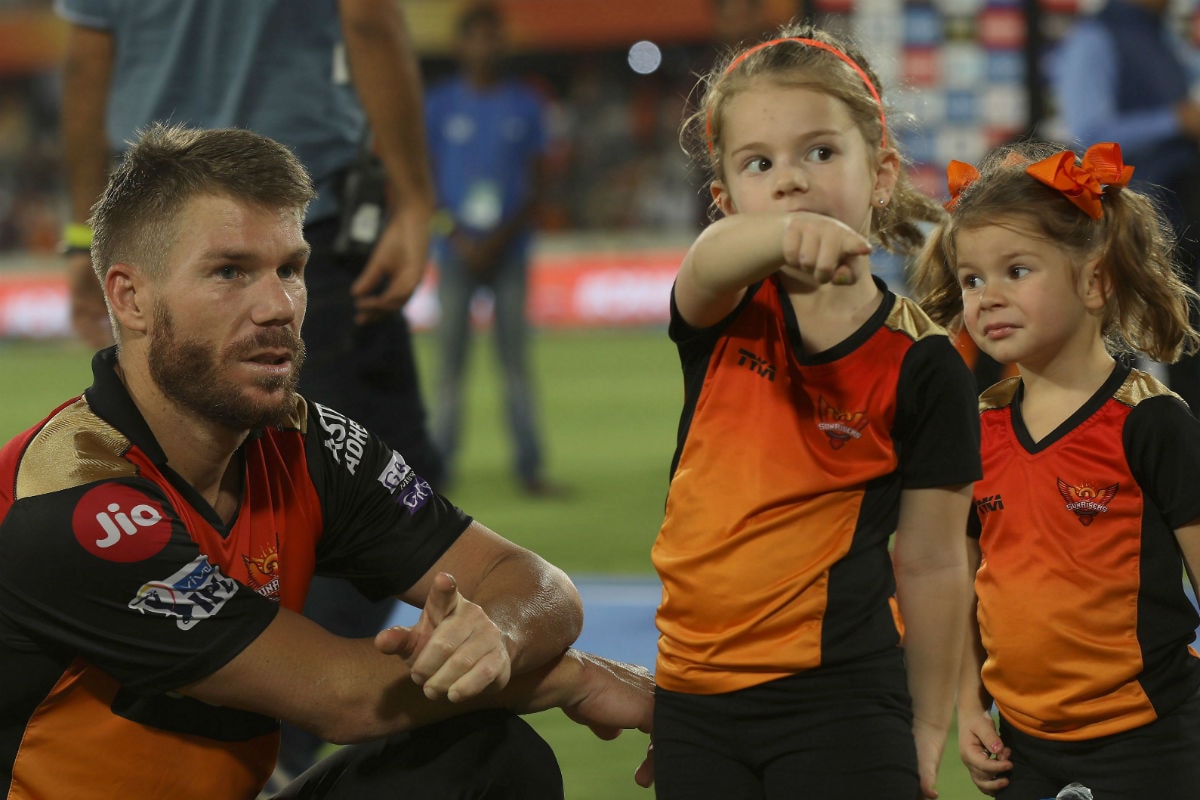 Australia opener David Warner said that lack of family time during cricket tours due to the bio-security bubbles in the COVID-19 times will play a big part in his decision on his international future.
Australia are set to tour England in September followed by the Indian Premier League in UAE. Warner said spending time with wife Candice and his three daughters will be a big influence in his decision on his career.
Earlier in the year, Warner had hinted at retirement from T20Is following the two T20 World Cups originally scheduled in 2020 and 2021.
"Obviously three daughters and my wife, who I owe a lot to, has been a big part of my playing career," he was quoted as saying by ESPNcricinfo. "You've always got to look out for your family first, and with cricket and these unprecedented times, you've got to weigh up these decisions. Look, at the moment, I'll keep continuing to aim for that. Obviously the T20 (World Cup) is not here at home, which would have been ideal to play that and win that here. Now that gets pushed back. I will have to have a rethink about that when it comes to India.
"I'll see where I am and where the girls are at with school as well. A lot of that is a big part of my decision. It's not just when the games are being played and how much cricket's being played. It's a big family decision for myself. There are times when you go away and miss your family a lot and at the moment with all these biosecurity measures that are in place, we're going to not be able to have the luxury of our families coming away with us now and it could be for the foreseeable future."
Warner also said the Australian team could be facing lack of red-ball cricket preparation ahead of India's tour down under later this year.
ALSO READ: David Warner is Like Floyd Mayweather: Australia Coach Justin Langer
"Usually you have a couple of Shield games leading into a Test series, especially at home," he said. "So I think the unique thing about it is the Indian team and ourselves are going to be in the same boat really. We're going to have a lack of red-ball cricket preparation and end of the day we have to make the most of that time training in the lead up to the Test series.
"We've played enough high-level cricket to adapt to red ball. But there are obviously guys back in Australia who won't be playing in the one-day series or the IPL, who have to try and get ready to prepare. Hopefully there are a couple of games they can play interstate against each other, if something is put in place. We're obviously unsure and unclear given states are in lockdown or not letting people from other states go interstate."
The situation is such that Australia could have to get ready for a Boxing Day Test outside Melbourne, said Warner.
"Yeah, we have to look at it like that. I'm sitting here and you guys are too today looking at how many cases are happening in Victoria at the moment," he said. "Even the guys trying to get out of Victoria, it's very, very challenging as well. It's going to be challenging for everyone. I think we spoke about state cricket. That's the perfect example. How is Victoria going to be able to start (Sheffield) Shield cricket down there. At the moment, it seems like it'll be impossible.
"But I think they'll have to put things in place to play it somewhere else. Even if we do play down there, then coming out of Victoria you'll have to quarantine for 14 days into other states. There are so many elements to it that it's out of our control and hands at the moment. Whatever happens, if you put something in place now, it's going to change tomorrow. It's very, very difficult to process. We'll have to see and adapt. And you might see the first Boxing Day Test not in Melbourne."