Bigger Than Ever, Ranji Season Kicks Off Amidst Administrative Chaos
The pathway isn't easy, and performance in Ranji is definitely no guarantee of a spot in the bigger teams.
Updated: October 31, 2018, 11:39 AM IST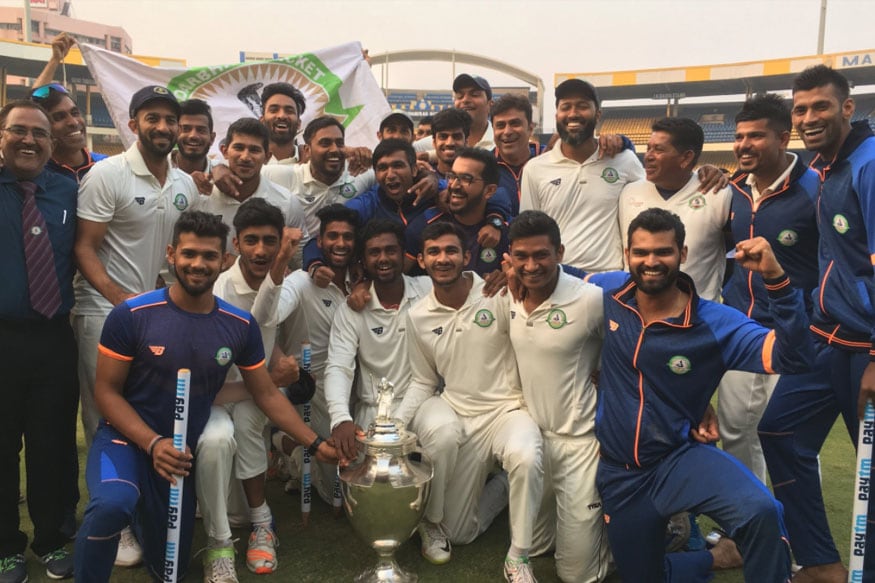 A record 37 teams, including eight from a much-neglected part of the country for the first time ever. More than 550 players ranging from 40-year-old Wasim Jaffer to 18-year-old Prithvi Shaw. Around 80 to 90 of them will be making their first-class debut on the same day, which too is perhaps a record. More than 50 venues spread across the country like never before. Not many of those will see sizeable audiences, but that's a story for another day.
Welcome to Ranji Trophy 2018-19, the premier domestic first-class tournament in India that's set to kick-start on November 1.
From an administrative point of you, everything about this year's tournament is a logistical challenge, even nightmare, especially given the confusions surrounding the powers in control. Two days before the Ranji season, Sourav Ganguly expressed 'deep sense of fear' over state of affairs in Indian cricket. Such are times.
The more important perspective though is the one that focuses on the on-field cricket. In that sense, the Ranji Trophy is yet another opportunity for India to add on to their talent-pool. It's another season that could give the senior team more options.
While that could happen in the short term, the season will also sow long-term seeds for the talent pool to spread to regions that haven't yet been known for cricket.
Seven teams from the north-east - Manipur, Arunachal Pradesh, Mizoram, Uttarakhand, Sikkim, Nagaland and Meghalaya - along with Bihar and Puducherry will make their Ranji debuts thanks to the fast-tracking by the Committee of Administrators. They aren't exactly expected to compete with the established sides - they're placed in a separate Plate group - but this is a giant step for the sport in the region.
The rise of north-east cricket makes for a great story, but the bigger focus will be on the bigger boys, spread across Elite Groups A, B and C.
A quick glance suggests Group A is almost a group of death, with defending champions Vidarbha, perennial champions Mumbai, heavyweights Karnataka, 2016-17 champions Gujarat and 2015-16 runner-up Saurashtra all there. Can Vidarbha have another dream run this year and show they're here to stay at the top? Or will Mumbai win No. 42? They, after all, started the season with a victory in the Vijay Hazare Trophy.
Upcoming teams like Hyderabad, Kerala and Andhra, long-time underperformers Tamil Nadu, and teams that are there and thereabouts like Delhi and Bengal form Group B. Jharkhand, Haryana, Uttar Pradesh and Rajasthan are among sides in Group C.
As always, the Ranji trophy coincides with a busy season for the senior team. The Ranji season starts on the day India play Windies in the final one-dayer. By the time the tournament ends, India will be in New Zealand, and would have also completed a three-format tour of Australia. It means the Ranji Trophy will continue to remain in the background, while the eyes of the public are trained elsewhere.
But there's still a bit of excitement with a few international players set to feature on and off. Tamil Nadu, for instance, have R Ashwin, M Vijay and Dinesh Karthik in the squad for the first game. Mumbai will be led by Shreyas Iyer. Saurashtra will have Cheteshwar Pujara before he departs for Australia.
There could be more big names too, but it's hard to know for an average fan given the paucity of information available about the teams. Many teams don't have official websites. Even the ones who do don't always update about the latest developments. Compare that with the Indian Premier League, who keep their social media pages active even in the 10 non-tournament months.
Not too long ago, there was a sense of redundancy about the Ranji Trophy. With the IPL growing in stature, the significance of the other domestic tournaments reduced drastically.
That, fortunately, has changed a little over the last two seasons or so. It has a lot to do with the systems brought in place with Rahul Dravid taking over key roles to identify talent. Unlike the case a few years ago, there is a proper pathway in place now. Domestic competitions to India A to India. Of course, the IPL is still there in the selectors' radar but the pathway cannot be compromised.
The senior team is more or less settled, but there's always a demand for certain slots. Technically sound batsmen who can bat in different conditions are always in the race given India's struggles overseas. Fast bowlers are always in demand, as are wicketkeepers. That India are still in the Parthiv Patel – Karthik era says a lot about the options there.
The pathway isn't easy, and performance in Ranji is definitely no guarantee of a spot in the bigger teams. Ask Mayank Agarwal. But at least there is a pathway, and by the end of three months, Indian cricket could have a few more Agarwals.
---
---
Team Rankings
Rank
Team
Points
Rating
1
Australia
3028
116
2
New Zealand
2406
115
3
India
3085
114
4
England
4326
106
5
Sri Lanka
2454
91
FULL Ranking
Rank
Team
Points
Rating
1
England
5405
123
2
India
5819
119
3
New Zealand
3716
116
4
Australia
3941
109
5
South Africa
3345
108
FULL Ranking
Rank
Team
Points
Rating
1
Australia
6047
275
2
England
5959
271
3
India
9319
266
4
Pakistan
6009
261
5
South Africa
4380
258
FULL Ranking