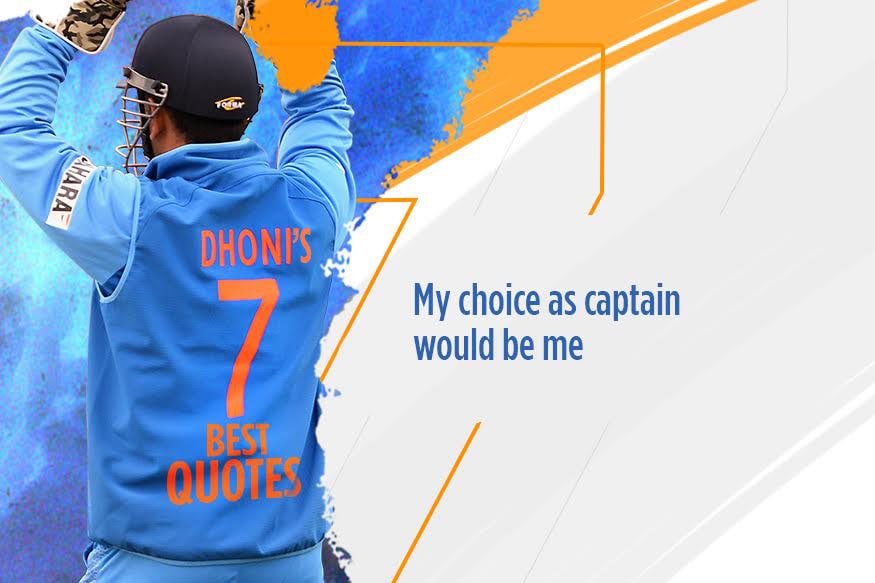 New Delhi: Mahendra Singh Dhoni might have stepped down as skipper, but he was known as Captain Cool as much for his tactical acumen as he was for his quick wit off it.
Dhoni didn't just catch opposition teams off guard with his decision-making, but also stumped scribes and media personnel with his sense of humour.
In fact, his wit has made him an instant hit with fans of all ages.
CricketNext takes a look at some of his best quotes that will remain etched in the mind of his fans even after he hangs his boots:
1. On balancing life: I don't like discussing cricket off the field.
2. On his hectic schedule: Since 2005, I have not spent much time with my family. In fact I have spent more time at the Taj Landsend in Mumbai. It was my 100th visit recently, which means I have spent more than 400 days in that hotel, and that is a lot more than I have spent with my family.
3. On the importance of trusting gut feelings as skipper: Gut feeling is all about the experiences that you have had in your life. It is about being in difficult scenarios, knowing what worked, what did not work, and then taking a decision.
4. On his batting overshadowing his wicket-keeping: Maybe because I bat aggressively and go for big hits at times, people tend to remember my batting. But I have always done well as a stumper, too.
5. On fame versus money: You may earn whatever money you earn as a cricketer, but you want to play for your country. At the end of the day, you want to do something special. There are plenty of people who earn 50 crores or 100 crores as businessmen or big professionals or who are really doing well in business. But what gives pleasure to your mom and dad is the fame.
6. On building partnerships: For me, it's important to build good partnerships rather than score centuries. Once, you have those partnerships, you will also get centuries.
7. On enjoying the moment: I love being in the present. When I was playing for my school, the only thing I wanted to do was get selected for the under-16 or the under-19 district teams. When I was selected for the district team, I would think about the next level, which was getting selected for the state side. I'm a person who lives in the moment.
8. On the need to have a dream: If you don't really have a dream, you can't really push yourself; you don't really know what the target is.
9. On unconditional love: I have three dogs at home. Even after losing a series or winning a series, they treat me the same way.
10. On competing against big names: For me, opposition is just another opposition.
New skipper Virat Kohli clearly has big boots to fill, both on and off the field.
First Published: January 8, 2017, 3:20 PM IST