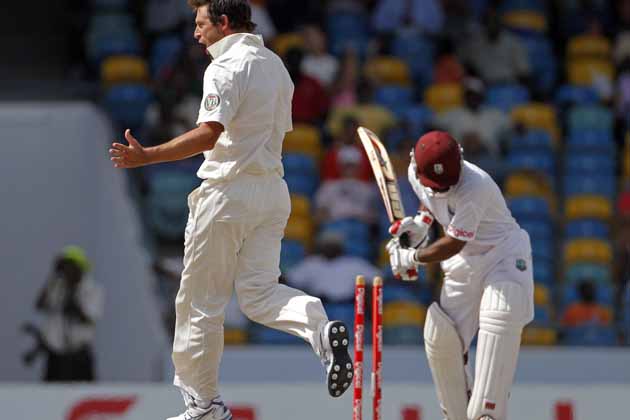 Roseau: West Indies again showed they have developed an impressive team spirit and quality bowling attack but the lack of top-order runs cost them dearly in the 2-0 Test series defeat to Australia.
Openers Adrian Barath and Kraigg Brathwaite managed just one half-century between them in the three Tests while Darren Bravo made just one fifty and Kieran Powell's top score from four knocks was 40. Shivnarine Chanderpaul, who passed 10,000 Test runs during the final Test, was the standout batsmen of the series. Chanderpaul scored three half-centuries and an unbeaten century from five innings and averaged 86.50, but his fellow-Guyanese Narsingh Deonarine could only manage one fifty.
"The top six is where we should get the bulk of the runs," said skipper Darren Sammy. "Shiv [Chanderpaul] batted really well for us again but we didn't have consistent contributions from everyone there. We have youngsters at the top and like Shiv said, they're learning their skill at the international level. With more experience hopefully things could get better," he said.
The 19-year-old Brathwaite, still finding his feet at Test level, will return to the A-team for their series against India rather than be exposed to England's full strength attack on next month's tour. "He's definitely one for the future for us. He's out of form and in England where the ball tends to swing a bit more...this series he was getting out to the swinging ball a lot," said Sammy.
The pressure will be on Barath, Kieran Powell and Kirk Edwards to give West Indies better starts in England than they had in the Caribbean against the Australians. "At the end of the day, it's up to each individual to go out and do what is necessary for the team and to try to perform and score runs," said Sammy. "No one wants to go out and fail - it's about getting your mind right and going out and executing properly. We talk, we develop a plan, a formula to go out and play with, most times we don't execute properly," he said.
The positives West Indies take with them to England are their improvement in the field, their more focused approach to the game under coach Ottis Gibson and a bowling attack that has plenty of quality and options. Dominican spinner Shane Shillingford's ten-wicket haul on his home ground at Windsor Park solidified his return after his suspension due to problems with his action.
Ravi Rampaul and Fidel Edwards didn't get much reward but should be effective in England but it is Kemar Roach who has developed into the best pace bowler West Indies have had for some time. Roach had 19 wickets in the three Tests, including his ten-wicket performance in Port of Spain, as he banished the memories of his difficult 2011.
"Last year he had a tough year in Bangladesh, he broke down in tears but this year he has come back really, really strong," said Sammy. "People might say well he bowled more overs than me, but he keeps asking me for the ball and that is the sort of attitude I really like to see. When I thought he was tired, he said 'No, I really want the ball' putting his hand up. His wickets show the hard work throughout this series."