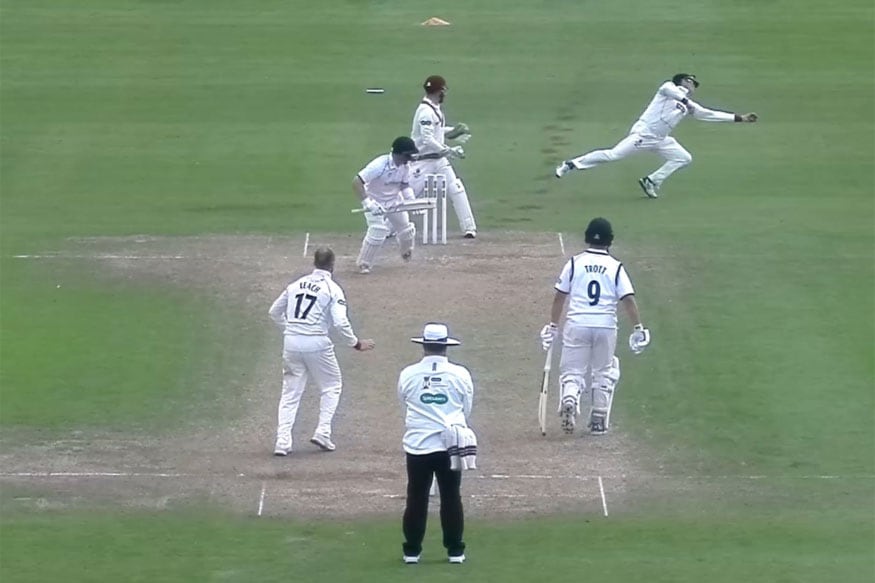 London: Craig Overton and Marcus Trescothick joined forces for a first-class hat-trick the like of which had not been seen for more than a hundred years as Somerset completed an innings win over Nottinghamshire in their final County Championship match of the season at Trent Bridge on Wednesday.

England paceman Overton's treble came just a day after Somerset captain Tom Abell had achieved the same feat and was remarkable in that all three of his dismissals were achieved via catches from Marcus Trescothick.

In the process veteran former England batsman Trescothick became the first outfielder since GJ Thompson of Northamptonshire in 1914 to be involved in three consecutive dismissals off as many balls.


🚨 SECOND SOMERSET HAT-TRICK KLAXON! 🚨

Slater c Trescothick b C Overton 49
Patel c Trescothick b C Overton 0
Wessels c Trescothick b C Overton 0

Having fun, @Trescricket & @craigoverton12?! pic.twitter.com/SkZiuFRJCM

— County Championship (@CountyChamp) September 26, 2018



Nottinghamshire started the third day on 115 for three but within 10 minutes the hosts had been reduced to 119 for six as Somerset, the First Division runners-up behind champions Surrey, surge to an innings and 146-run win.

Left-hander Ben Slater fell for 49 when he edged the ninth ball of the day to Trescothick at second slip.

The next two balls produced near identical dismissals, with right-handers Samit Patel and Riki Wessels nicking into the safe hands of Trescothick, who at the age of 42 has signed a new contract that will extend his career with south-west county Somerset into a 27th year in 2019.

This was Overton's second first class hat-trick, after he took one for MCC against the-then champion county Middlesex in Abu Dhabi last year.

First Published: September 26, 2018, 7:14 PM IST