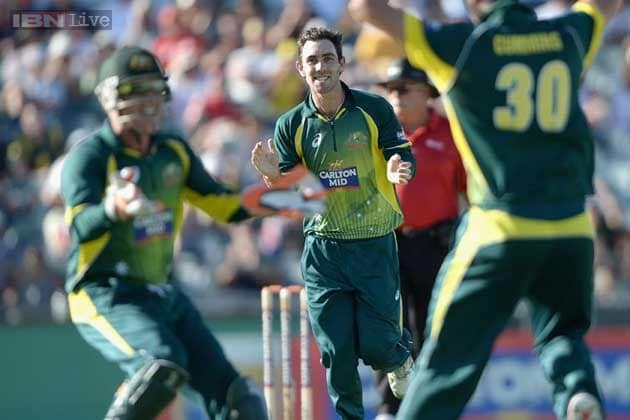 Perth: Having gone through a rough patch with the bat in recent times, Australia all-rounder Glenn Maxwell was happy to put up an all-round show in his team's dominating performance against England in the tri-nation cricket tournament final, here on Sunday.
Maxwell scored 95 in Australia's total of 278 and then took four wickets with his off-breaks.
"My batting has let me down a fair bit. I thought I have been bowling pretty well in the last 12 months. It was nice to put in a good all-round performance. I thought the whole team was pretty much outstanding. After the little collapse at the start, from then on, we really dominated the game all the way through," Maxwell said at the post-match presentation ceremony.
Maxwell admitted that a bit of luck at the start of the innings is always helpful after a collapse led the home team to being reduced to 60 for four.
"I think when you have those situations, when you get out early you think all the bad luck you had. I think the last two times that I have had the opportunities early at the WACA, I chopped on both occasions really early for a duck. You sort of think about that, if you just get past that a little bit of bad luck and you could be away.
"I had a couple of chop-ons today that went close to the stumps. They miss the stumps and all of a sudden, you are away. So it's a little of luck in the game, I felt it was with me today and it?s nice to get through that," said Maxwell.
But luck didn't last long enough for him to get a maiden ODI hundred as he fell for 95 runs.
"Yeah, I was a little bit annoyed that I didn't bat till the last 10 overs. I think I did a lot of the hard to work to get myself to that stage, allow myself to have that bit of fun at the end where I could express myself and take advantage of the team that I had basically negated for 20 overs.
"So I felt like I earned the right to bat in the last 10 overs and to get out in a pretty soft way," he added.
While England skipper Eoin Morgan said that facing Mitchell Johnson wasn't a worry, Maxwell did take a dig at the opposition rival.
"Mitch did it, so he (Morgan) should be (worried). He (Johnson) had 3/11 at one stage and tore through their top order. So they can be not worried at all but if they are getting skittled by him, they probably should be."
The only worry from this game for Australia was perhaps the minor set-back to Faulkner as he walked off the park during the English innings with a possible rib-injury.
"I think he (Faulkner) is pretty down at the moment. With obviously such a home World Cup coming up, I think the thought for any of us being ruled out so late with an injury would hurt a lot of people.
"I know a few of us were out there hurting for him when he went off. He is a super cricketer and he is a vital cog in this Australian outfit. We just hope it is nothing and he is being soft and he gets back and trains hard with us next week," said the all-rounder.
Even so, this win sets up the World Cup build-up perfectly for Australia who will play co-hosts along with New Zealand.
"I think we are in a very good place. We set ourselves a goal to win every game from now on for the rest of the summer.
We have done that very well so far, we have played some very good cricket across this tri-series.
"We have won games in different ways and different people have stood up. I think everyone's in a pretty good place heading to the World Cup," Maxwell signed off.