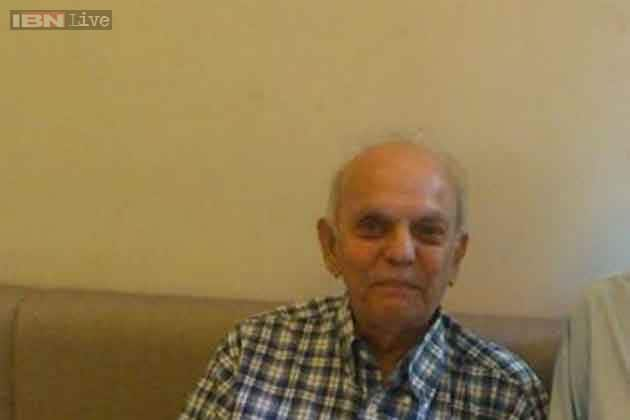 Single malt is what he'd rather have, but in the right company, even tharra, the local alcohol, works just fine for him. Brought up in a Brahmin household, his nose revolts against seafood, but otherwise he eats everything, and is partial to a good chicken steak. Badminton every day, an active schedule, and insulin to keep the diabetes under check ensures that a genial face and twinkling eyes are the multi-faceted Madhav Apte's constant companions.
Occasionally, he spends a summer at his London home, and walks down the road to Lord's on match days - he is a member of the Marylebone Cricket Club - or visits Wimbledon to watch Roger Federer, his favourite, play.
At two months short of 83, Apte is one of India's oldest living Test cricketers. He insists there is no routine to his buzzing life. He spends his days as they come, remains a child at heart and can be as irregular with his habits as the next person.
Lithographs of a game in England from the 18th century and of WG Grace, the ball with which he took 10 for 10 in a Giles Shield match, along with a portrait of Don Bradman occupy the white walls of Apte's spacious living room in his 25th floor sea-facing apartment on Mumbai's busy Peddar Road. Those two lithographs were presents on his birthday from younger brother Arvind - unlucky to play just one Test, according to Madhav - who succumbed to prostate cancer last year.
His brother's death brought the ultimate truth closer home for Apte than it had before, but he is not worried about the end. "Fate can affect you in many ways, so live life the way you want to. His going away, which was very sudden, certainly makes me feel that obviously we all have to go, and silently death can come and take you away," Apte tells Wisden India.
"I am not scared because I think it's a part of life. If you are born, you are going to die. So, why should one fear it? Face it when it comes. At 83, I don't have to discipline myself. I was privileged to have been born in this family, lead a good varied life, rich with experiences both as a sportsperson and a businessman. I will die a contented man."
Even as the waves from the Arabian Sea hitting the shores on a rainy day make for a wonderful background noise, and his granddaughter hovers around, Apte, a supreme raconteur who understands the significance of being close to both Prof DB Deodhar and Sachin Tendulkar, explains why his recently released autobiography titled As Luck Would Have It, took so long to come.
"Only after Nandu Natekar, a badminton star and my good friend, wrote down his memoirs that I took the idea seriously," explains Apte. "My initial idea was to print 100 copies and distribute it only among relatives as the primary purpose was to archive our family history so that future generations, if interested, would know more about our roots."
Apte's paternal grandfather was a self-made man, who put in the hard yards to set up a textile business and sugar factory. Not surprisingly, he had little interest in sport, but was proud when Apte became the first from the family to be selected to represent India. He wanted to be there for Apte's debut against Pakistan at the Brabourne Stadium on November 13, 1952 but passed away a fortnight earlier.
That Apte was made his debut has an interesting backstory to it, with his grandfather unwittingly a part of the plot. He had just finished his final year Bachelor of Arts examination and scored a century on first-class debut when Vijay Merchant, a family friend, asked his parents to send him to England on his own during the Indian team's 1952 tour.
"Vijay bhai suggested that I travel with the team, pay for myself, watch cricket and play whenever the opportunity came, and who knows if an opener is injured, being at hand I might get a chance," remembers Apte. "I stayed with the team, travelled in the same bus, enjoyed for six months and came back in September."
Apte had received his examination results while he was in England. That opened up his options, and he loved the place so much that he almost decided to stay back.
"I was in two minds whether to join Oxford or Cambridge purely because I wanted to experience what it is to play cricket in England," Apte goes on. "But, the other attraction was that the Indian openers on the tour had not done well and there was a window of opportunity when Pakistan came to India later that year. At the same time, I got a letter that grandfather had a stroke. So, I came back and as luck would have it, I was selected for the third Test. I got runs and was selected for the West Indies tour."
The Indian team flew to England, and from there went by ship on the Atlantic ocean to the Caribbean island. Apte vividly remembers the voyage.
"The board did not have money to buy our plane tickets. It was a ten-day voyage on a banana boat. It was only a 10,000-tonner, like a tub, which was going empty," recalls Apte. "We were only 60 of us on that including Frank Worrell, who was returning after six years, Sonny Ramadhin and Everton Weeks. Even Valentine and Marshall were there, and some elderly Britishers, who were returning to their plantations.
"For the first five to seven days, most of us were sea-sick because the boat would rock and roll. But as it was a small ship, we developed friendships, played cricket with a ball made of strings on the deck and some played bridge. It was enjoyable."
Apte would go on to put up his best performance on the tour. His rearguard unbeaten 163 was made through three big partnerships, as India batted out 200 overs in an innings for the first time ever to save the Port of Spain Test after they were 10 for 3 at one stage. That innings cemented his status. But what was to follow is well documented.
He was never selected after that series, his Test career stalled at seven matches with 542 runs scored at an impressive average of 49.27.
To this day, the curtailing of his international career remains a mystery, even for Apte. But he is grateful to the game for imbibing a sense of fairness in him. It helped him handle his family business, his stint as Cricket Club of India's (CCI) president, and the titular post of Mumbai's Sheriff with sincerity.
"Through our mills and sugar factory we came in contact with 10,000 employees from a wide spectrum of the society, including farmers and trade unions, and cricket, which is a great leveller, inculcated a sense of fairness no matter who I was dealing with. That became a part of my mental makeup and approach to life."
Apte carries no regrets in life. Instead, anecdotes from the bygone era are all at the tip of his tongue and he remains ever eager to narrate them with such lucidity that the clock itself turns back.
Ask him about Merchant, Vijay Hazare, Vijay Manjrekar and he goes on a monologue spree.
"I had joined Merchant's club so that I could just play with him. He was the most complete opening batsman. Technique wise, he was as perfect as anyone, as were Sunil (Gavaskar), Hazare and Manjrekar," explains Apte, who won seven Ranji Trophy finals with Mumbai overs 17 seasons, "Merchant scored more than 2,000 runs on uncovered wickets in England in 1956 and that endorses his technique to be able to play in all kinds of wickets.
"In case of Sunil, he did not use the helmet. And, Vijay Manjrekar was a terrific player, but could have done more justice to his talent," adds Apte. "I consider myself very fortunate to have witnessed some of his best knocks in person including the century in Leeds in 1952 against (Fred) Trueman, when he was 19 or 20 years old."
From the past stalwarts, the talk automatically veers towards Sachin Tendulkar. It is well known that Apte and Raj Singh Dungarpur initiated a rule change to make the 15-year-old Tendulkar CCI's youngest playing member, but Apte plays it down.
"Giving Sachin a chance to play at Brabourne at an early age is the only thing CCI can claim to have offered, and ML Apte happened to be the president at that point of time. Any other president would have done the same too."
Apte says that no one has excited him on the cricket field as much as Worrell, Peter May, Neil Harvey, Subhash Gupte, Garry Sobers, Ramakant Desai, Gavaskar, Gundappa Viswanath and Tendulkar, because it was a "pleasure to watch them".
"There was something different about them. You may have a different set of players, but the common factor is who gave you more pleasure. Ultimately, that is the bottom line."
Jack Fingleton and Nevill Cardus pop up in the chat, before the interaction drifts towards the present. He is unhappy with the negativity that limited-overs cricket breeds, as it takes away the focus of the bowlers from picking wickets to restricting batsmen, but feels that Twenty20 is the future, and the format could overtake 50-over cricket because of the changing lifestyle where aggression is viewed differently as opposed to in his youth.
"I expect that possibly in the next five years or more, T20s may squeeze out ODIs. Test cricket is like a classical music mehfil, while this is pop music," visualises Apte. "Test cricket will still be five-day affair, but may be it will be restricted to 100 overs per side per innings or something like that, which would mean it would be a combination of results from limited-overs cricket brought into Test cricket. That would be an added attraction for spectators, sponsors and television. I am not saying draws will no more be a part of Test cricket, but they could be out."
He is sympathetic about the claustrophobia the celebrity cricketers have to deal with even though they are hugely compensated. At the other end of the spectrum, Apte believes school cricketers should be offered better playing conditions so that their initiation to the game is not fear driven.
"As a child I may be talented, but if I have to play on a bad pitch it will shatter my confidence and weaken my technique," tells Apte. "If we consider school cricket as the nursery, then the associations should provide the best because if the child's confidence is broken then the talent is gone forever."
After an exhaustive and enriching conversation, we walk up to the terrace and gaze at the vast expanse of the water body in front of us, a constant for Apte since he moved to this house in 1938 even as the city's skyline continues to change at a rapid pace. The scenic view of the Arabian sea aptly defines a man who has adapted with the waves of time and lived a full life.