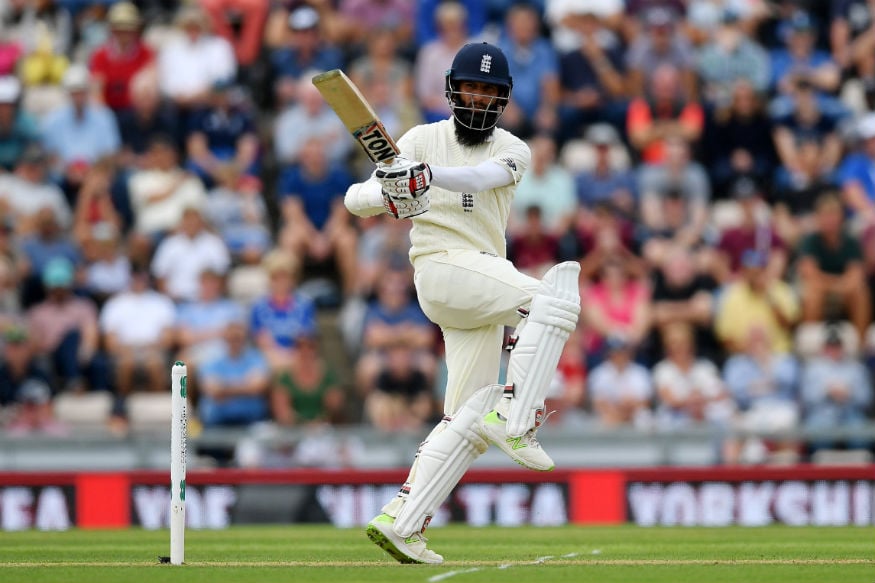 England all-rounder Moeen Ali has backed the idea of turning up the stump mics in the wake of Shannon Gabriel's controversial sledge of Joe Root.
There have been talks about turning down the microphones in order to protect players after recent incidents like Sarfaraz Ahmed's racial remark to Andile Phehlukwayo and Gabriel's homophobic comments to England's captain which have handed them suspensions.
While Moeen is not against the idea of sledging, he said the things should never get personal or abusive.
"It's time for people to behave themselves," Moeen said. "Turn the stump mics up. Why turn them down? So people can swear? There is no reason to get personal.
"It's a shame because Shannon Gabriel is a really nice guy and a quiet person. But it's the way society is: things come out of people's mouths.
"You're not going to get away with it now. You have to be careful."
In his autobiography that was published towards the end of 2018, Moeen had mentioned that he was called "Osama" by one of the Australian players during the first Test of the 2015 Ashes series. The incident wasn't broadcasted and the Australian player later denied the claim.
The 31-year-old feels amplifying the stump microphones will help the broadcasters to capture some entertaining exchanges between players - like that between Tim Paine and Rishabh Pant in the Test series between Australia and India.
"Imagine all the legendary old stories, if we had them recorded," Moeen said. "We can do the same now. It doesn't have to be swearing. Keep it funny. We want people to be attracted to the game. There are brilliant ways to sledge.
"If you don't think they are good, tell them. Sledge them about their cricket. Just don't go personal. Turn the mics up!"
Moeen also revealed that chief selector Ed Smith's comments in May about him not being a first-choice spinner hit him hard, but those same words also motivated him to become a better player. The 31-year-old missed the entire Test series against Pakistan in May and didn't feature in the first three Tests against India. He was finally called back for the Southampton Test and he responded with nine wickets to play a key role in England's 60-run win.
"It hit me hard. It was disappointing. I felt like they were looking for someone else. But it spurred me on," Moeen said.
"I did need that break at the time. Maybe if I'd been picked versus Pakistan I wouldn't have bowled well. But I came back against India fresh, scoring runs and taking wickets and I felt at the top of my game.
"I still had the belief. So to get back in the side and prove I can do the job is... [pleasing]."
Moeen has scalped 177 wickets in 58 Tests and he didn't shy away from admitting that he has managed to surprise himself.
"I've done better than I thought I ever would. I must have done okay to get that many wickets. I remember reaching 50 and thinking that was a massive achievement. Someone said 'maybe 100?' and I thought no chance.
"But when you go past some of the greats (Tony Lock, Monty Panesar, Fred Titmus and John Emburey), you think 'maybe I am a good spinner?'
"I feel like I belong. People might think I don't because they think I'm not a proper spinner. There will always be good days and bad days but I am improving. I think I can get into the side as a bowler now, even if I didn't bat."
Moeen also admitted that he needs to work on his batting considering he has only hit one fifty in his last 12 Test innings.
"It needs working on," he says. "But I feel set. I will stay at No. 8 and I know it. I have got my head around that and it feels natural now. Being a bowler: I'm very happy with that. Even if I do well people may say I should move up. But I'm happy."