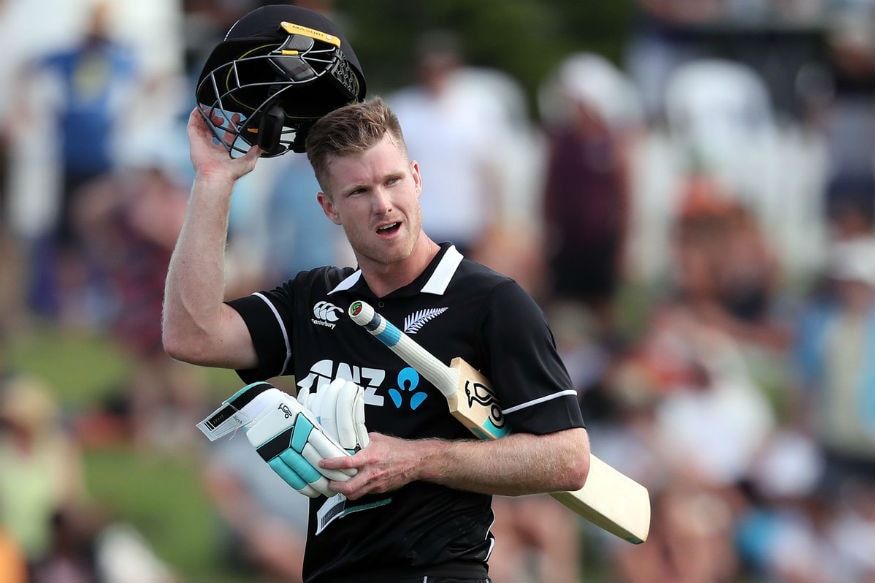 James Neesham's blitzkrieg 47 off 13 balls was instrumental in New Zealand posting a total of 371 against Sri Lanka in the first ODI of the series at Bay Oval. He was at the centre of one of the most expensive overs in the history of ODI cricket en-route to his knock.
That Sri Lanka lost the match by 45 runs is further proof that Neesham's innings was make-or-break in swinging the result in the Black Caps' favour. And naturally, Twitter was gung-ho about his innings.
The ICC was prompt in documenting his achievement –
🔥 6 6 6 6 2nb 6 1 🔥

New Zealand all-rounder Jimmy Neesham smashed an incredible 34 runs in one over in the first #NZvSL ODI!

Details 👇 https://t.co/y63eGUnd6D pic.twitter.com/QJcYIPAhfB

— ICC (@ICC) January 3, 2019
While this statistic shows where Neesham's innings will find its place in ODI history –
Most runs in an over in ODIs:

36 (666666) HH Gibbs off DLS van Bunge (2007)

35 (6 wd 66466)Thisara Perera off RJ Peterson (2013)

34 (66662nb61) JIMMY NEESHAM off Thisara Perera (2019)

34 (4nb62nb44426) AB de Villiers off Jason Holder (2015)#NZvSL

— Sarang Bhalerao (@bhaleraosarang) January 3, 2019
An interesting coincidence, this. New Zealand played the first ODI of 2014, where Corey Anderson smashed a 36-ball ton against West Indies. Fast forward five years, and it was his compatriot Neesham's turn to go hammer and tongs on the opposition bowling attack.
1st ODI of 2014: Corey Anderson show

1st ODI of 2019: Jimmy Neesham show

NZ all-rounders just love playing the 1st ODI Match of the Calendar Year...#NZvSL pic.twitter.com/spkJsHYUTk

— Brutal Batsman (@BrutalBatsman) January 3, 2019
This is surely worthy of a mention!
Highest batting SR in an ODI innings: (Min. balls faced 9)

361.53 - Jimmy Neesham v SL, Mount Maunganui, 2019* (47* off 13)

355.55 - Nathan McCullum v SL, Hambantota, 2013 (32* off 9)

338.63 - AB de Villiers v WI, Johannesburg, 2015 (149 off 44)#NZvSL

— Umang Pabari (@UPStatsman) January 3, 2019