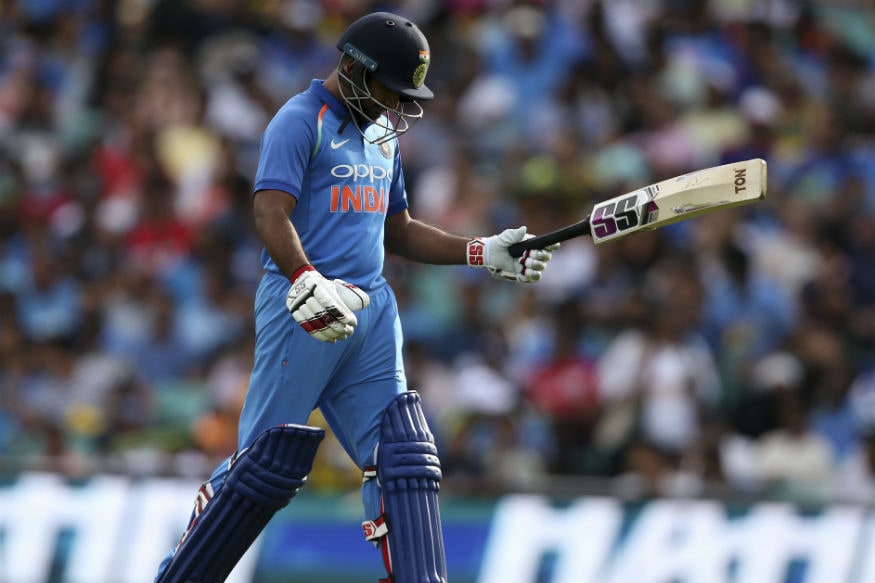 After being ignored continuously for the World Cup squad, Ambati Rayudu announced his decision to retire from all forms of cricket through an email to BCCI.
"I would like to thank the captains I have played under, MS Dhoni, Rohit Sharma and especially Virat kohli who always had shown great belief in me throughout my career with the Indian team."
The 33 year old was being considered as a top contender for the No.4 spot just months before the World Cup. However, loss of form resulted in him being dropped from the preliminary fifteen member squad.
While he was a part of the standbys list in the World Cup, Rishabh Pant was called in to replace Shikhar Dhawan and quite recently, Mayank Agarwal is expected to join the squad for the injured Vijay Shankar.
Rayudu retired with an aggregate of 1694 runs in ODIs coming at an average of 47.05, with three centuries and ten fifties. The right handed batsman has been a force to reckon in the Indian Premier League over the years, having represented Mumbai Indians and Chennai Super Kings.
Twitter was extremely shocked by the decision as they felt bad for the middle order batsman not getting his due. Here are some of the reactions with regards to his retirement:
This World Cup would most likely have been #Rayudu's last international tournament, being 33 yo before it began. Just saying.

— Snehal Pradhan (@SnehalPradhan) July 3, 2019
It was already on the cards. Hope he plays for CSK for a couple of years more https://t.co/I3Gzt4OK7m — Adharsh Bharadwaj (@cricadharsh) July 3, 2019
What a turbulent career for Ambati Rayudu...

Seen as extremely talented, joins ICL, comes back into the fold, impresses with IPL performance, then struggles in International cricket and is then axed from the World Cup squad. Now comes retirement. Feel for the bloke.

— Omkar Mankame (@Oam_16) July 3, 2019
What could have been a good career , ruined by unfortunate events. All the best Rayudu. — Naveen (@ImNsamy) July 3, 2019
Rayudon't! Wish it wasn't true! 😞 #AmbatiRayuduRetires

— Chennai Super Kings (@ChennaiIPL) July 3, 2019
You feel for Rayudu. Yes, many would say he didn't fulfil his potential. However, I never felt he was that good. Of course, you feel for him. — Bharath Ramaraj (@Fancricket12) July 3, 2019
So Ambati Rayudu has retired from cricket. Poor guy, deserved to play this World Cup #Ambatirayudu

— Manak Gupta (@manakgupta) July 3, 2019
From retiring from first class cricket to being India's No. 4 to not even being picked in the squad to being overlooked twice, all this in a span of 1 year has ultimately taken its toll. Rayudu is a fine example of a talent that could have been. Damn, I feel bad. #Ambatirayudu — Manya (@CSKian716) July 3, 2019
One feels bad for Ambati Rayudu - he definitely had the spunk, just riled up BCCI with bad choice of decisions (or words) and never got his timing right in real life.

Wish him best in IPL - where maybe he can still be the dark horse that BCCI missed capitalising on. https://t.co/vbw2kSyBbA

— richa singh (@richa_singh) July 3, 2019
Rayudu bids adieu to cricket. Must be heartbroken. Damn! — Silly Point (@FarziCricketer) July 3, 2019
Next Sachin, ICL, Hyderabad Ranji Politics, IPL revelation, ICT free fall, the guy is literally the Arjun Reddy/Kabir Singh of cricket. Farewell Rayudu Garu.

— Varun Parkal (@VarunParkal) July 3, 2019
Thank You Rayudu. Lead Indian team in 2004 under 19 world cup, piller of Mumbai Indians middle order, helping Chennai Super Kings to win the title. Lots of good memories, have a great second innings. pic.twitter.com/eCG2kFmrZX — Johns (@CricCrazyJohns) July 3, 2019
Feeling absolutely sorry for @RayuduAmbati , a young man with a promising career denied of opportunities so many times that he gave up and quit international cricket. Hope we continue to see him rock in IPL & wish him all the luck for his future endeavours. #AmbatiRayudu

— Roshan Rai (@RoshanKrRai) July 3, 2019
I hope that cricket fans will remember him for more than his 3D comment. He had a chequered career.. Should have played for India much earlier than he did. He was badly treated by Hyderabad cricket association & Arjun Yadav. Opted for ICL. Got banned by BCCI. Made a comeback... https://t.co/Fx6mGVsBMD — Navneet Mundhra (@navneet_mundhra) July 3, 2019
Sorry end of a career. If he was not good enough to be replaced then why he was kept in standby. something selectors and team management need to answer. Feel sad for #AmbatiRayudu

— Kuptaan 🇮🇳 (@Kuptaan) July 3, 2019