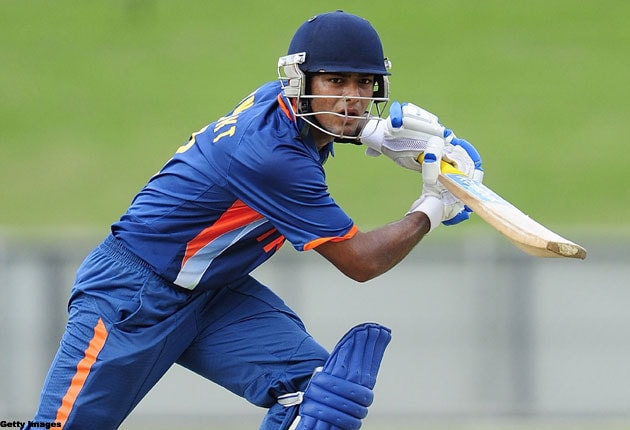 The continuation of bilateral ties between India and Pakistan remains in the balance after inconclusive discussions between BCCI and PCB officials in Kuala Lumpur this week, but don't tell their respective Under-19 teams that.
On Sunday at the Kinrara Academy Oval, the Indian and Pakistan junior teams will play out the final of the 2012 Asian Cricket Council Under-19s Asia Cup in a marquee clash that the tournament organisers could only have hoped for. If India and Pakistan's previous match in the competition is any yardstick to judge the teams by, then we're in for a cracker.
Pakistan are the only unbeaten team in the tournament, India have lost only once – to Pakistan. That game was a thriller, in which India came up one run short of overhauling Pakistan's total of 287. On that occasion, India needed 17 runs off the final over and ended up on 286 with the final ball of the match being driven straight back to the bowler. If India and Pakistan can play out another gripping match it would be a great end to a tournament dedicated to promoting the best young talent in Asia.
On the face of it, Pakistan appear to be the more talented team. Their margins of victory – eight wickets, one wicket, 249 runs and 151 runs – suggest they are a side bristling with promise and aggression. They have been carried to the final largely on the strength of their batting line-up, most of which have domestic List A experience.
Their openers Sami Aslam and Babar Azam – also the team's captain - have averaged 64.25 for the first wicket and barring one match, have been instrumental in laying the platform for large totals, while the No. 3, Imam-ul-Haq, has scored 215 runs in four innings. Pakistan have lost more than four wicket just once, highlighting the production from the top order. Aslam, particularly, has been in tremendous form in the Asia Cup, reeling off scores of 82*, 121, 47 and 77 and the fact that he scored a century against India in the narrow win will give him confidence heading into the most important match of Aslam's career.
Pakistan's bowling has been less spectacular, if only in the sense that wickets have been almost equally distributed. There has been no stand-out bowler or flashy five-wicket haul – the best has been right-arm medium-pacer Azizullah's 4 for 44 against Afghanistan in the semi-final – but Pakistan's attack has been controlling and effective. The highest they have conceded was the 286 that India came up with on June 24; otherwise the opponents have struggled to scores runs off them. Afghanistan made 145, Nepal 156 and Malaysia a paltry 53. Pakistan have only had to bowl 50 overs in one match – against India. Without being flash, this looks the tighest bowling attack in the tournament.
India, seeking to win a third consecutive Asia Cup, are deserved finalists having played good cricket without totally overwhelming their opponents the way Pakistan have. They began the tournament with an eight-wicket win over Malaysia, ended up one run short of Pakistan, beat Nepal by 81 runs and knocked off Sri Lanka in the semi-final. Only Pakistan have won more matches in the Asia Cup, so statistically the two best teams have reached the summit.
India's success has owed more to the bowlers, namely left-arm spinner Vikas Mishra who has ten wickets at an average of 14.60. His two four-wicket hauls against Malaysia and Nepal earned him Man-of-the-Match awards. Against a side that has played spin very well, Mishra's first-class experience – he has played 15 Ranji Trophy matches for Delhi – could count for more than form, though. India will need more from the likes of Sandeep Sharma and Mohsin Sayyed, who have shown flashes of brilliance, to stem a very strong Pakistan batting line-up.
India's batting has been inconsistent, and that is a worry for the team. They have managed just four fifty-plus scores so far, two of which were converted into centuries. The very talented Vijay Zol so nearly took India to victory against Pakistan with a century, and when India really needed runs from their captain Unmukt Chand they got it in the semi-final against Sri Lanka. Chand had failed to reach 50 all tournament but picked the big stage to produce a match-winning century as India chased 245 with six wickets in hand. Chand had produced a similar century to deliver victory in the Quadrangular Series final in Australia in April, and his ability to produce big innings in clutch situations could be vital for India as they seek to seal a third consecutive title.
Probable XIs:
Pakistan: 1 Sami Aslam, 2 Babar Azam (capt), 3 Imam-ul-Haq, 4 Mohammad Nawaz, 5 Umar Waheed, 6 Ehsan Adil, 7 Usman Qadir, 8 Saad Ali, 9 Azizullah, 10 Salman Afridi (wk), 11 Akhtar Waheed
India: 1 Manan Vohra, 2 Unmukt Chand (capt), 3 Baba Aparajith, 4 Vijay Zol, 5 Akshdeep Nath, 6 Sanju Samson, 7 Rush Kalaria, 8 Smit Patel (wk), 9 Sandeep Sharma, 10 Vikas Mishra, 11 Mohsin Sayyed