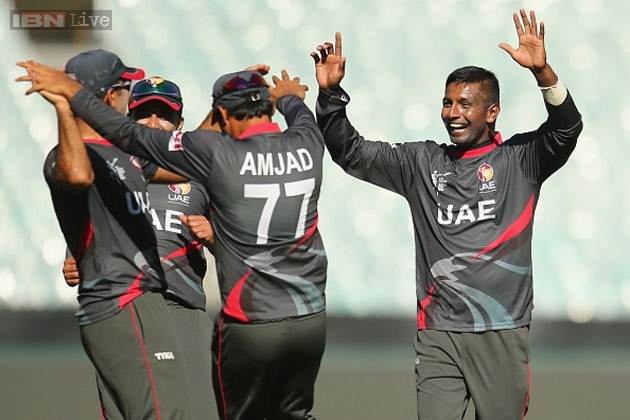 Nelson: United Arab Emirates team composed largely of expatriates and semi-professionals will meet Zimbabwe on Thursday in their first World Cup match in two decades, determined to show that they aren't at the tournament merely to make up numbers.
UAE last played at a World Cup in 1996, beating the Netherlands by seven wickets for their only win. But they come into the current tournament with a mature squad - captain Mohammad Tauqir and leading batsman Khurram Khan share the distinction of being the World Cup's oldest players at 43 - and with a solid preparation.
Zimbabwe, coming off a 62-run loss to South Africa in their opening Pool B match, faces pressure to revive their Cup campaign, ensuring the match at Saxton Oval will be earnestly contested.
The deficit between the teams in experience broad, epitomized by the respective captains. Zimbabwe's Elton Chigumbura has played 170 one-day internationals, considerably more than the entire UAE squad. Tauqir has played only five official ODIs since his debut 11 years ago, most recently in its win over fellow World Cup qualifier Afghanistan in November.
UAE lost narrowly to Afghanistan and were beaten heavily by Australia in their two informal warm-up matches ahead of the World Cup but showed potential by finishing second behind Scotland in the qualifying tournament in New Zealand in October.
Tauqir expects his players, many whom have to balance their cricket careers with fulltime jobs, to savor a rare opportunity to play on a big stage.
"It's an honor for me and for the whole team to represent the country," he said. "It's long back we last played World Cup. Everybody is excited and looking forward to participating in this event."
Tauqir said his players, being "mature characters", could "handle a pressure situation and be calm on the ground, don't get over-emotional."
The UAE have set goals for the tournament that are ambitious. Like the other associate nations - Ireland who beat the West Indies in their opening match and Scotland who ran New Zealand close on Tuesday - they hope to prove that they can compete with cricket's top-eight teams.
"Collectively we are looking forward to at least having a couple of wins against test nations," Tauquir said. "That's what we are targeting."
The team's participation in the World Cup also has a larger purpose: to give exposure to cricket in the United Arab Emirates in the hope of inspiring youngsters to take up the game. Tauqir is a rarity in that he is a Dubai native and not one of the many expatriates who have helped to transplant the game to the nation.
"Predominantly it's an expat game in the UAE, a lot of Asian, a lot of English, Australian people play there, but I believe our participation in the World Cup would inspire many more Emirati nationals to follow the game with passion," he said.
Chigumbura said Zimbabwe took a lot out of a competitive opening match against South Africa but now had to ensure it asserted its superiority over less-experienced teams.
"Every team that is here is capable of winning games," he said. "We have to take every game seriously and ... make sure that when you get into good winning position you are ruthless."