Vanuatu set a new record when they successfully defended the lowest score in the history of List A cricket against Malaysia in Kuala Lumpur in the ICC Men's Cricket World Cup Challenge League Group A.
Vanuatu were bowled out for 65 by Malaysia and then defended that by skittling out the opposition for 52 and winning the contest by 13 runs.
It was the lowest total defended by any team in a List A game, improving on the 76 that proved enough for Middlesex against Northamptonshire back in 1972.
Opting to bat first Vanuatu struggled to build partnerships and went from 26/1 to 26/4 in the space of five balls. No batsman scored more than 12 runs.
For Malaysia, Pavandeep Singh and Nazril Rahman took four wickets each to bowl Vanuatu out in 25.1 overs.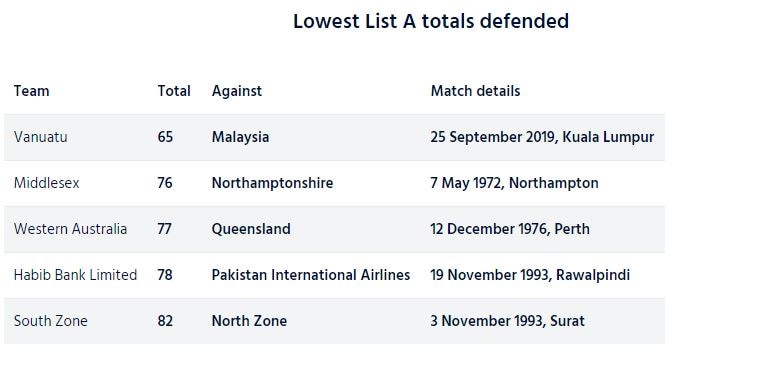 (Image: ICC)
However, Vanuatu did not give up and medium pacer Patrick Matautaava struck with the first ball of the second innings.
He returned in the third over to reduce Malaysia to 5/3 in 2.3 overs.
With AL Stephen joining in the fun, it quickly became 7/5 in 4.5 overs. Aminuddin Ramly resisted from No.6, striking two fours and two sixes in his 35-ball 25, but when he became Matautaava's fifth scalp of the day, Malaysia's hopes were dealt a blow.
Matautaava finished with 5/19 while Stephen returned 3/30 as Malaysia were bowled out in 21.4 overs.