These are rare times in Indian cricket when the fast-bowling stocks are in abundance. Times are such that even a bowler who picked up ten wickets in a Test match isn't a guaranteed starter for the next.

Bhuvneshwar Kumar, Jasprit Bumrah, Ishant Sharma, Mohammed Shami and Umesh Yadav have formed a deadly combination as senior pacers, while the likes of Mohammed Siraj and Khaleel Ahmed are also making their way up.

Amidst all this, one pacer who was in the mix not too long ago is taking small but important steps towards joining the race. Varun Aaron has begun the domestic season on a solid note, picking up 18 wickets from eight matches to be fourth in the tournament's wicket-takers list. The numbers are impressive considering a bulk of the wickets came on spinner friendly tracks in Chennai. The performance helped Jharkhand to the semifinals, where they narrowly lost to Delhi, and also earned him a place in the India B side for Deodhar Trophy.

Aaron was one of the favoured pace options in Virat Kohli's early days as captain. But as India developed a strong pace unit, Aaron drifted away and fell out of favour. He hasn't played for India since November 2015, and missed majority of the subsequent domestic season due to a familiar hurdle – injury. A raw pacer, Aaron has had seven stress fractures on his back, but this time it was a bruised heel which kept him away. To make things worse, he went unsold in the IPL 2018 auction – something he had termed a "little shocking".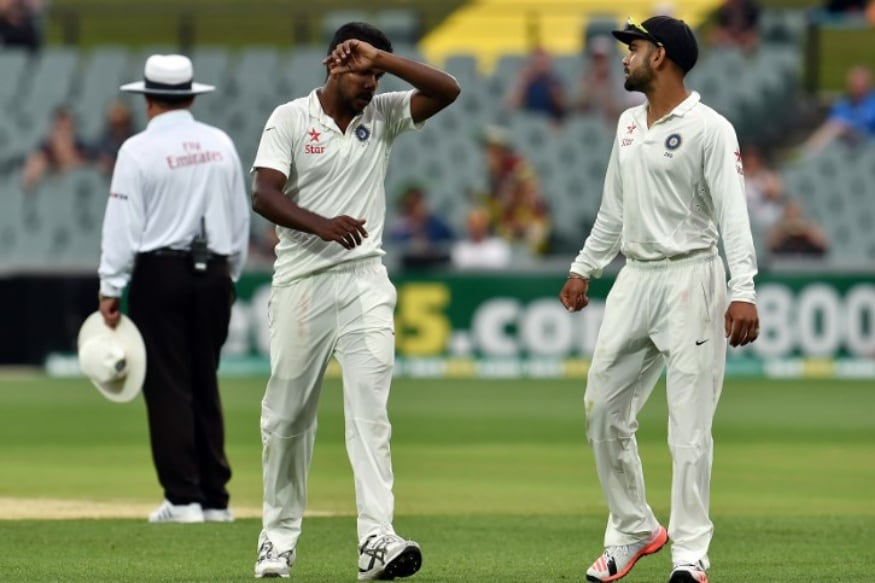 IMAGE: AFP

But Aaron moved on from the setback, calling it a 'massive blessing in disguise'. He signed up for county cricket with Leicestershire where he played three first-class matches for nine wickets and six one-dayers, and followed it up with a fairly successful Vijay Hazare campaign.

"It's been a very nice journey. Ever since I was out of IPL, I've enjoyed my cricket," Aaron tells Cricketnext. "There has just been time to introspect and find more things which work for me. Not playing the IPL just gave me that much more time to think about myself instead of thinking about what's ahead of me, and what I have to do, how I have to get back into the team and this and that, which is something that's usually on your mind. That just clouds a lot of thoughts which could be really good for your self-development.

"Not playing the IPL was a massive blessing in disguise. I truly believe that was the best thing that happened. For a fast bowler, a cricket journey will be 15-20 years. This was just one small blimp which wouldn't matter if I achieve my potential and have a killer six-seven years."

Aaron's main aim while signing up for county was to develop his skills. But deep within, he knew that the only way he could make a comeback was through sheer numbers. His numbers in Indian domestic circuit have never been extraordinary – something he puts, partly rightly, down to the dead tracks and his aggressive style of bowling.

England gave him a chance to correct that.

Aaron couldn't play the full season as it ended abruptly due to a 'stress reaction' on the foot. He did have his moments while he was there though; his six-wicket match haul against Glamorgan helped his club win their first match in 19 games and he also got a four-fer in a one-day game against Derby.

"Going to county was more about developing myself and my skill-set, getting to know myself better," he says. "Because I hadn't had a long run of cricket in a long time with injuries and stuff in the past when I played for India. On the contrary, this time I had the time with me, and I'm enjoying my bowling. Basically it was just mental cures which work more than anything else.

"The season was good. Sadly I wasn't there for the whole season but I did whatever I could do best in the time I was there. The win over Glamorgan was massive for the club and contributing to that was a special feeling. When an English club wins a game after 19 games, it's basically winning a game after an entire season. In the one-dayers I was bowling really quickly. It was a brilliant experience for two months in England by myself, learning a lot about my body. It's holding me to real good stead at the moment."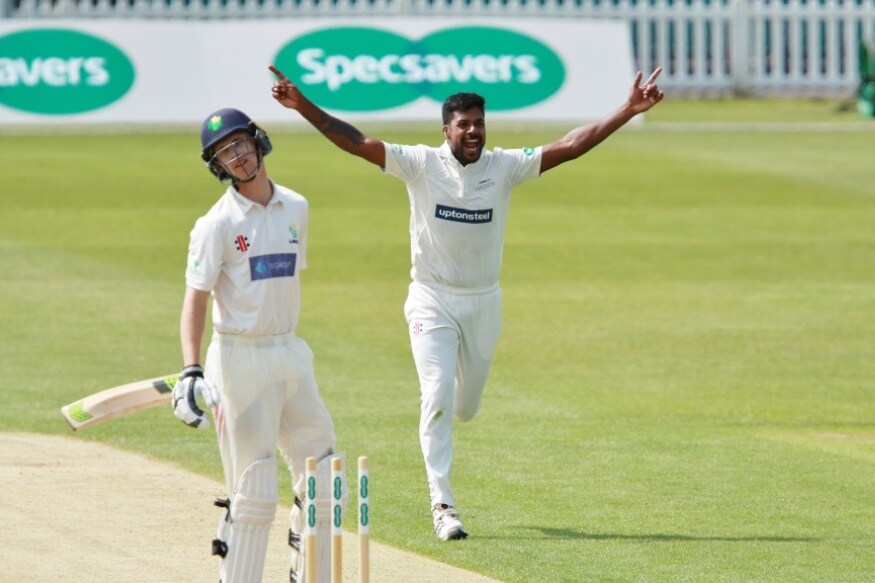 Leicestershire CCC

The nature of injuries have varied over time, but one thing doesn't change – Aaron's desire to bowl fast. It started at a young age when he went to the MRF pace foundation and worked under Dennis Lillee – who he still talks to. Pace is a high he enjoys, and vows never to compromise on.

"That won't change. It's something I really enjoy. Until I see the ball flying to the keeper and I hear the sound of his gloves… I really enjoy that. If you start worrying about what people are saying, you stop enjoying it.

"I was clear in being aggressive from a young age. I've never been an in-between person. All or nothing. That's something I can't change. Also the fact that I've been in MRF pace foundation since I was 14. I had to be away from home since 14 and make my way through everything, get my thinking right.

"After so many injuries, you get clarity because it's a reality check. You're doing well and suddenly everything comes crashing down. You learn to understand that things aren't permanent especially in cricket. Can't take anything for granted. After your career, you're a human at the end of the day. Cricket is a massive part of my life - nothing comes before cricket, it's my first love. But at the end of the day, cricket is not a constant. It's going to change at some point. You don't know when you're going to die. You live life to the fullest, and I follow the same for my cricket. I don't want to reach a point when I'm not enjoying. I'm still enjoying it."

What he didn't enjoy, though, was the snub and lack of communication by the selectors and team management. When this writer had spoken to Aaron in April this year, he had expressed his disappointment at not even being kept in the loop by those in power, saying the least he deserved was a chance at India A.

"There hasn't been any communication," he had said. "In 2016, I played against Australia A in the four-dayers, after that there has been no communication. It has been that way for the last one and a half years.

"Every selection committee comes with a different view of looking at things. I don't know what the views of the current committee are. The previous selection committee believed a lot in me - Sandeep Patil, Saba Karim and those guys. Back then, if I was not in the Indian team, I used to get a chance in India A or Irani. At least back then, I was getting chances to prove myself at a proper level and make comebacks.

"The last year has been a little different. I've not been given a shot at all to prove myself. That has been a little disappointing. I'm pretty young - I'm not past 30, fit and bowling well. Looking back, I feel the least a selection committee should give somebody who has played for India or who has done well in the past are games like Irani Trophy or India A."

It's this backdrop that makes Aaron's selection in the Deodhar Trophy – however minor it might appear – important.

"After being nowhere in the past season and a half to getting picked... it wasn't like I didn't have wickets in the one-dayers last year, but I wasn't given a look in. This year I wanted to make a really good case for myself. I've been fortunate and worked really hard to be among the top 5 wicket takers in India. Getting a place in the Deodhar Trophy was something I really wanted. I wanted those extra opportunities to prove myself and get back into the (Indian) team at the end of the day.

"I feel I have a long journey to go. I have a real belief in myself. That's why I'm still playing the game. I don't want to slog on till 35 just playing Ranji Trophy. I want to win games for India. I want to be one of India's fast bowlers to remember."

First Published: October 20, 2018, 8:54 AM IST