When Virat Kohli's batting was first compared to that of the great Viv Richards, there was a touch of blasphemy in the air. Surely, no-one would ever come close to King Viv. And then Sir Viv Richards went and said that he saw a bit of himself in Kohli.
When Virat Kohli's hunger for runs was compared to the appetite of Sachin Tendulkar, there was a touch of incredulity in the air. Surely no modern cricketer could emulate the longevity and consistency of the ultimate run machine. Then Tendulkar suggested that if anyone bettered his numbers, it would be Kohli.
By the end of 2018, Kohli could have 50 One-Day International centuries to his name. At age 30. Let those words sink in. He only has 40 to his name at the moment, but there's a World Cup and six ODIs against West Indies before it's time to ring in 2019. Whenever Kohli gets there, it will be a monstrous achievement, not least because he still has so much cricket left in him and is likely to raise the bar so high that a player starting off in the game will consider the mark unreachable.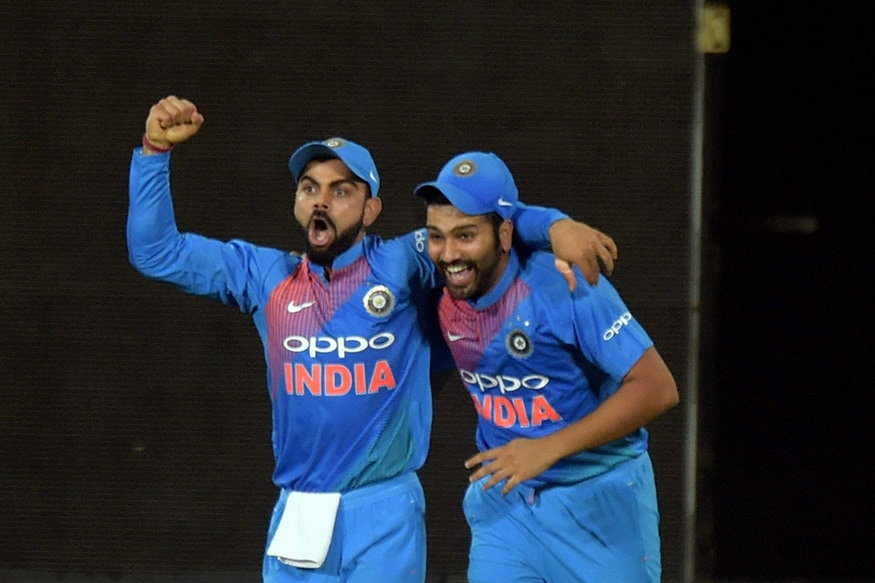 Virat Kohli and Rohit Sharma. (Photo Credit: Twitter)[/caption]
But, even as Kohli's place in the pantheon of batting greats is sealed in the time it takes some players to just make a name for themselves, there is another major opportunity ahead of the Indian captain.
Kohli's leadership, and this includes team selection, taking a group of players with him, marshalling resources on the field and absorbing the pressures of constantly being in the limelight, will be in sharp focus in the World Cup. The format, a repeat of 1992, means that every team will play all their other opponents, allowing a team to grow in the tournament, undergo course correction where required and even come back after a couple of losses.
What this also means is that Kohli's captaincy will be under the microscope. While he has let himself down with selections and on-field strategy in the past, it does appear that Kohli is finally settling into the job. The manner in which the Indian team used the lead-up ODIs to plug the gaps in their eleven — Kedar Jadhav and Vijay Shankar taking their chances and shaping the line-up — showed that there was a clear plan in place. There was less impetuosity in terms of change for change's sake, less taking a punt or working off a hunch and more of a long-term vision.
On the field, Kohli is still learning. Fortunately for him, there are two players in the team he can lean on. Behind the stumps, Mahendra Singh Dhoni directs traffic like a policeman in peak-hour traffic: with precision, with authority and with a method that is proven to work. In the infield there is Rohit Sharma, who always offers an alternate view, bringing to the game a natural instinct for captaincy. Remember the time he suggested Jasprit Bumrah try a slower ball on the final ball of a session in a Test in Australia?
The India-Australia ODIs have shown that Kohli fully understand the value that these two players bring, and his collaborative approach has ensured that India are making the most of what they have. Dhoni will not be around much longer, and Kohli will want to learn as much as he can from the senior pro during the World Cup.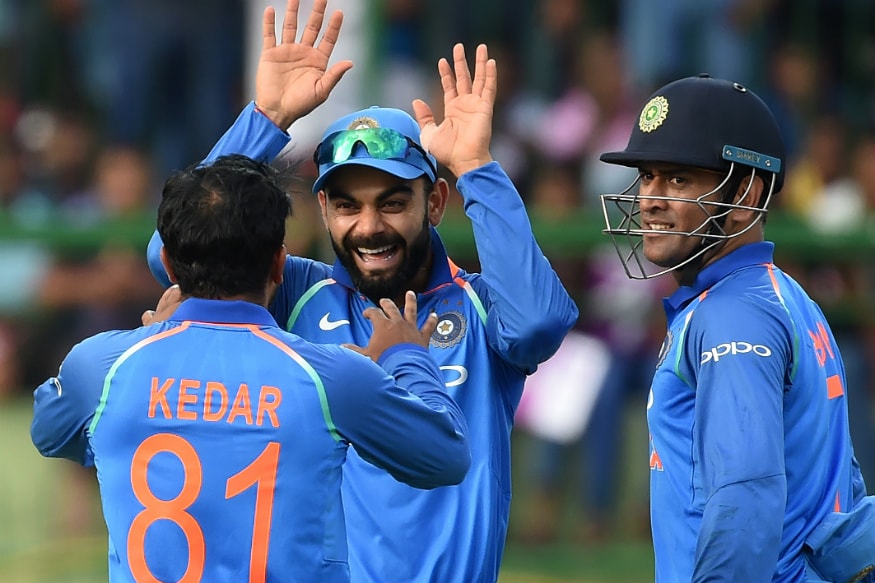 Image: Twitter
A case in point of Kohli's approach to captaincy came in the Nagpur ODI. Vijay Shankar did not merely stake his claim for a World Cup spot with an all-round performance, he ensured that Kohli's decisions on the field paid dividends.
"Vijay Shankar batted outstandingly, but he was unfortunately run out and we lost Kedar and MS in quick succession," Kohli said after the game. "I was thinking of using Vijay in the 46th over, but I spoke to Rohit and MS, and they said, let's stick with Shami and Bumrah, and if they get some wickets we're on top, and that's exactly what happened."
Kohli also explained that he was unafraid to lean on his senior players when the moment called for it.
"Both [Dhoni and Rohit] are experienced, it's always nice to speak them," he said. "Rohit is the vice-captain and MS has been there for a long time. These guys watch the game so keenly. I have a word with the bowler as well, invariably all of them are on the same page."
When the leadership group is on the same page, it always bodes well for a team. When they work together to deliver results, it becomes less important who contributed how much and who had the brightest ideas. Kohli has realised this, and it can only be a good thing for India's World Cup prospects.