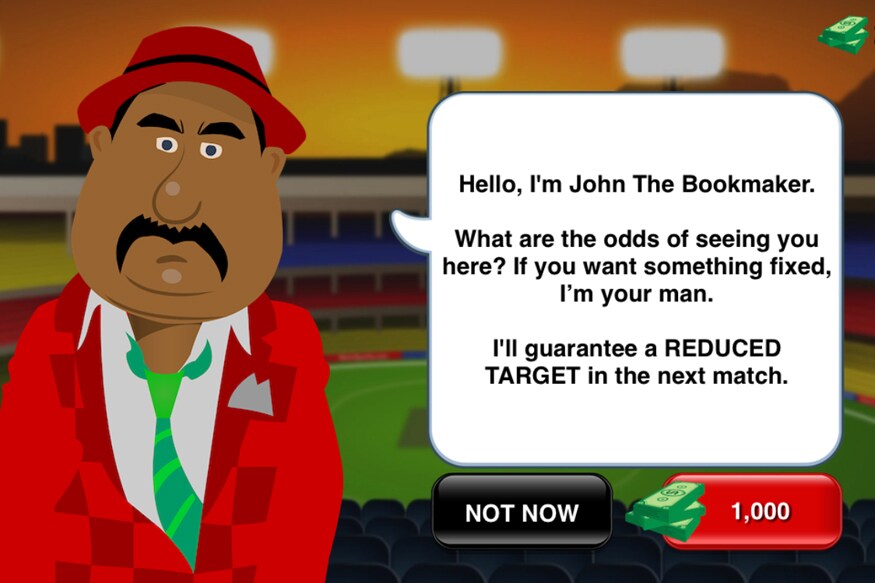 It's funny sometimes how differently a problem can raise its head despite putting all your might to keep it down. This has been symbolic of the menace of 'fixing' the game of cricket has been fighting.
First it was 'match' fixing and then the game was impregnated with 'spot' fixing to keep the International Cricket Council (ICC) on its toes, and eventually gave birth to the Anti Corruption Unit (ACU).
The ACU came to life in order to curb corrupt practices and approaches, and to its credit has put measures in place that have managed to set the cat among the pigeons. But the enormity of the task at hand for the ICC can be gauged from the fact that even video games are now potential source of stench, if not actually.
Games like the Grand Theft Auto (GTA) have had a permanent relation with controversy. The kind of freedom it allows the users has often been condemned on grounds that it's too explicit on the sexual aspect and involves way too much of violence, which can affect the young minds that are majorly hooked to their playstations.
But in the midst of all that, GTA has been one of the best-sellers and continues to thrive, possibly on the grounds that every criticism related to it is a hyperbole and it has nothing to do with reality.
The fact of the matter, though, is that in today's disturbed world of campus shootings and terror attacks, future generations should not be exposed to watching or virtually doing acts that can affect their psyche. Video games allow them to do that.
In terms of fixing in cricket, which is the topic of discussion here, something similar, though not violent, is happening through Stick Cricket's video game - SPL Premier League.
Cricket may not be as global a sport as football, but when broken down into regions, it takes gigantic proportions. The Indian subcontinent is one such place.
Sports fans in India, Pakistan, Sri Lanka and Bangladesh feed primarily on the game of cricket, and it's in these four countries chiefly that the sport has been fighting to protect its 'gentleman' status.
So quite naturally the consumption of cricket video games also peaks when we take the above region into account. On that note, how disturbing it is to come across a game that has a feature to fix a match.
"Hello, I'm John The Bookmaker. What are the odds of seeing you here? If you want something fixed, I'm your man. I'll guarantee a reduced target in the next match."
That's the message which pops up before starting a match of SPL Premier League.
"Spend your stash? Buy a match fix." That's if you say yes to spend some of your bills on 'fixing'.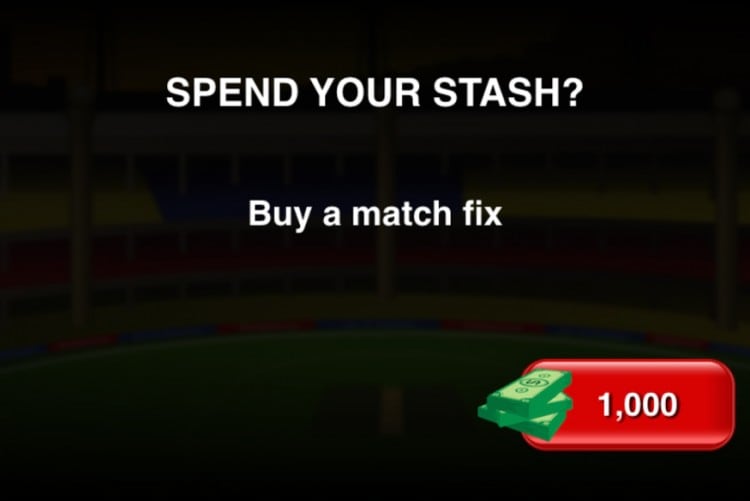 Cricket betting is legal in some regions, like the UK, and illegal in many others, like the Indian subcontinent. Irrespective of that fact, betting in cricket is on the rise in all major cricket-playing nations.
The ICC acknowledges that and is wary of corruption mongers trying to find different ways to escape the eye and make corrupt approaches to affect results or proceedings in a game.
"With many, many millions of dollars being bet on every match, the threat of corruptors seeking to influence the game has not gone away," the ICC says on its official website.
"It is for these reasons that the ICC's Anti Corruption Unit (ACU) continues to pursue the three objectives of investigation, education, and prevention," it adds.
Among the three objectives mentioned above, keeping an eye on video games like the SPL Premier League surely comes under the purvie of "prevention". But how far the ICC can interfere in the virtual world of gaming seems a hard nut to crack.
@media only screen and (max-width:740px) {
.quote-box{font-size:18px; line-height:30px; color:#505050; margin-top:30px; padding:22px 20px 20px 70px; position:relative; font-style:italic; font-weight:bold}
.special-text{font-size:24px; line-height:32px; color:#505050; margin:20px 40px 20px 20px; border-left:8px solid #ee1b24; padding:10px 10px 10px 15px; font-style:italic; font-weight:bold}
.quote-box img{width:60px; left:6px}
.quote-box .quote-nam{font-size:16px; color:#5f5f5f; padding-top:30px; text-align:right; font-weight:normal}
.quote-box .quote-nam span{font-weight:bold; color:#ee1b24}
}